Tracking mileage can be tedious–but it's also necessary, whether you need to report it to the IRS or file for reimbursement from your employer. And if your system involves scribbling odometer readings and meeting names on scraps of paper, I have good news for you: There's an easier way. Here are three apps that make tracking and reporting your miles a whole lot easier.
TaxMileage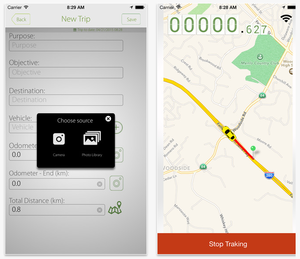 TaxMileage is all business. And for users who need to keep a complete log of their miles and get reimbursed for them, that's a good thing. This free app for Android and iOS will handle those tasks with ease.
TaxMileage lets you enter the purpose, objective, and destination of a trip before you begin tracking. You can also select which vehicle you're using, as the app lets you add multiple vehicles and companies. You can record the odometer reading at the beginning and end of the trip or allow the app to automatically track the miles for you.
The interface is simple and attractive, making TaxMileage easy to use, though I was slightly alarmed that the app spells "tracking" wrong. When you're using the GPS to track your route a button, at the bottom of the screen allows you to "Stop Traking." This seems like a simple oversight that should have been fixed, but wasn't. And while I didn't see any typos elsewhere–like on the reports that the app created–I wasted time looking for them. The last thing a professional needs is to file an expense report with typos on it.
Luckily the reports were polished enough to file without concern, but they aren't free. TaxMileage requires a paid subscription, starting at $10 per year, before you can create any reports. Without ponying up that dough, the app is very limited. But with the paid plan in place, TaxMileage will prove useful to anyone who needs to file multiple mileage logs to multiple companies.
Mileage Log+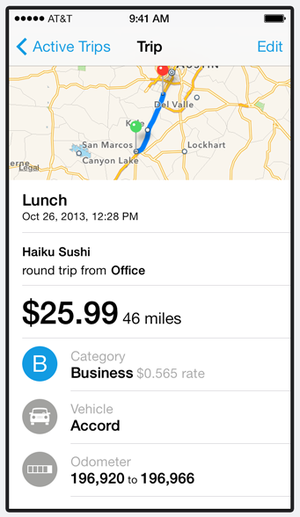 Mileage Log+, an iOS-only app, costs $10 upfront. That's expensive, but you get a lot for the price. This app lets you track business, charity, and medical miles, and lets you save frequent trips so you can track them again.
Like TaxMileage, Mileage Log+ lets you enter the purpose and location of a trip, as well as the odometer reading of your vehicle. I like that it lets you add a contact for each trip, and that it supports multiple vehicles and lets you add expenses that you encounter along the way. I also like how easy it is to export a trip directly from your iPhone, which creates a report–both in PDF and CSV format–that you can email right from the device. The resulting report is simple but effective, reporting the details that you need.
Mileage Log + isn't the most user-friendly app around. I found TaxMileage, with its step-by-step guidance, easier to use initially. Mileage Log+ threw me directly into creating a trip, without any introduction. But once I took the time to play around with Mileage Log+ and really got to know its features, I was impressed with how much this app really offers.
Klicks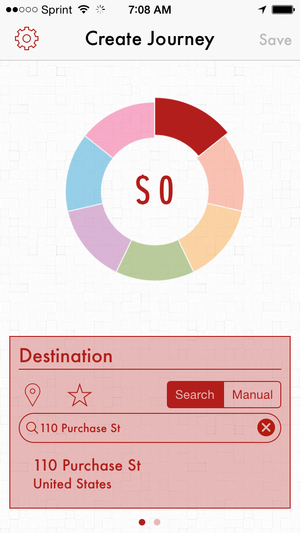 Klicks makes tracking your mileage about as streamlined as possible. Unlike its competitors, which ask you to enter a lot of information before you start driving, this $3 iOS app does most of the work for you.
Klicks lets you create a journey by entering an odometer reading or a destination address. It uses your current location as your starting point, and tracks the miles as you drive. If you've enabled it in the settings menu, Klicks automatically tracks your return drive, too, allowing you to quick and easily track an entire trip.
Once your trip is done, you can edit its details by adding notes about the reason for travel. You also can choose between miles and kilometers, and can select the currency to be used, from an impressive list of choices.
Klicks lets you export your travel data to CSV format. Its report capabilities are not as slick as those offered by the more expensive Mileage Log+, which displays your mileage logs in neat PDFs that are easy to file with an employer. It also lacks the level of detail offered by both Mileage Log+ and Tax Mileage, which let you enter multiple vehicles and more specific bits of information about each trip. But what Klicks does offer is a slick, attractive design that's easy to use, and a mileage tracker that's as speedy as traveling on the freeway.