When you're dropping a cool grand on a graphics card, you're probably not too worried about spending a little extra cash to snag some games to play on it. Perhaps because of that, Nvidia's game-slaying Titan graphics cards haven't traditionally been bundled with freebies. But now, Nvidia's offering owners of the $1000 Titan X—the most powerful single-GPU graphics card in the world—a chance to snag a free copy of The Witcher 3: Wild Hunt in exchange for beta testing the GeForce Experience (GFE) software.
To be clear, this isn't a bundle like Nvidia's other free Witcher 3 offer. Anybody using a Titan X can claim it, even if you've already purchased your graphics card.
The redemption process is pretty straightforward, though it requires a number of steps. Start by making sure you're using the latest available GeForce drivers—which, not-so-coincidentally, are game-ready drivers featuring Witcher 3 optimizations—as well as the newest version of GFE. Once that's all in place, you'll see a notification appear in the lower-right corner of the screen prompting you to participate in the beta test to redeem your free Witcher 3 copy.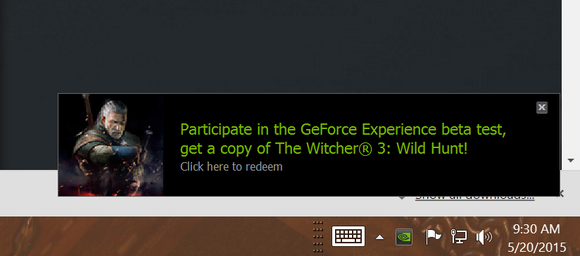 Just follow the instructions from there and you'll eventually wind up with a digital copy of the game in your virtual hands. (Nvidia posted step-by-step instructions on its website, as well.) Be aware: You'll need to have a GOG.com account to redeem the game, and you'll need to grant Nvidia permission to access that account's username, email address, and avatar. The offer's good through June 19.
I've been playing Witcher 3 on a Titan X and it's utterly gorgeous—though playing at 4K resolution, turning on all the bells and whistles, and cranking up the detail settings can make even this beast of a GPU waver from time to time. Nvidia's released a stunningly comprehensive graphics guide that can help you determine which settings are worth dialing down if you need to.
The story behind the story: It'll be interesting to see if this new GFE-driven redemption system is a one-off or a harbinger of how Nvidia's game bundles are distributed in the future. Nvidia obviously wants as many people as possible using its software, and switching to this method could mean the end of pesky vouchers and resold game keys to unauthorized markets, an issue CD Projekt grappled with in the run-up to Witcher 3's launch. Offering this to Titan X owners alone is a smart way to trial the system in the wild while still limiting it to a comparative handful of users.