At a Glance
Expert's Rating
Pros
Makes an excellent (portable!) demo kit for virtual reality
No wires
Cons
No guarantee Samsung will support old editions in the future
Store not very extensive compared to the desktop VR community
Our Verdict
Should you buy a GearVR? Eh. Should you try a GearVR? Absolutely. As soon as you can.
I'll admit: When Samsung first announced it was creating its own virtual reality headset, I rolled my eyes. "Oh great, another me-too product from Samsung," I thought, envisioning a future where people's first taste of virtual reality came from some half-baked piece of garbage Samsung pushed out the door to capitalize on the VR craze.
The irony? I now use Samsung's GearVR almost exclusively to introduce someone to the world of virtual reality. It's perfect for that purpose, even if it lacks the specs and depth to be a true enthusiast device.
Untethered from reality
GearVR is the best thing to happen to virtual reality so far, but not—I think—for the reasons Samsung intended.
See, Samsung is selling GearVR as a consumer device. If you have a Note 4 (or an S6) you can buy a GearVR right this moment. Officially. That's more than can be said about either the Oculus Rift or Valve/HTC's Vive.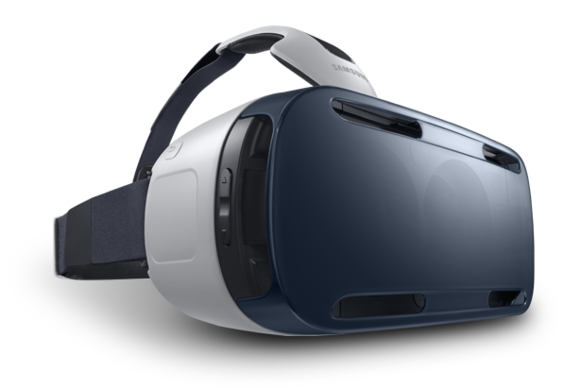 But you shouldn't buy GearVR, probably. It's not a great consumer device. We've only had our GearVR review unit for a few months and it's already been outclassed by the new S6 version. Mobile and virtual reality developments are so rapid, your brand new GearVR is bound to be outmoded in a year at most—and there's no guarantee new apps will continue to support old GearVR hardware.
Speaking of apps, developers haven't exactly rallied to the GearVR's store the way they've rallied to Oculus Share (the DK1/DK2's official app portal). Despite the fact you can sell GearVR apps, there are still (as of this writing) merely 39 games, 11 apps, and 13 "experiences" in the entire store—many of them made by Samsung itself. Contrast that with Oculus Share's 500 or so DK2-compatible demos, most of which are free and far more extensive.
Suffice it to say, I don't use GearVR much at home. I've got a DK2 sitting on my desk, and it's my VR platform of choice.
On the road? It's a different story.
The biggest problem facing virtual reality is convincing people to try it. Every day I meet (whether online or in person) skeptics. "We've tried VR before," they say, or "I don't think this will ever take off." And maybe they're right.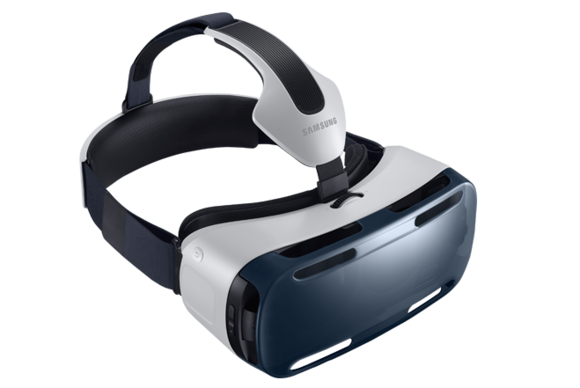 But I've also met a fair number of people who were skeptical until they tried an Oculus Rift for the first time. I've also met tons of people who have no idea what to expect, don't even really understand what VR is, or are laboring under the misconception it's only for games.
What Samsung and Oculus have done with GearVR is make an ultra-light, ultra-portable demo unit. It's the perfect device to get people over the "try it, I swear it's cool" hump and give them their first taste of virtual reality. How do I know? Because I've taken it on trips and done literally just that.
Listen, I love my DK2 but anyone who owns one can tell you it's sort of a nightmare to demo, especially on the road. It's a hydra of wires, especially once you add in the position-tracking camera, headphones, and a controller or mouse/keyboard. At any given moment, I'm using between two and five of my computer's USB slots for the DK2. That's not demo-friendly—both because it's intimidating to anyone who's not a hardcore PC gamer/tech enthusiast and because it's a huge pain to haul around.
The software experience? Just as bad. You're ever-conscious of the fact you're running demos that may or may not work on your machine. After two years of VR I have a stable of favorites I trot out for people who're interested, but even then there's a 50-percent chance something goes wrong before we're done.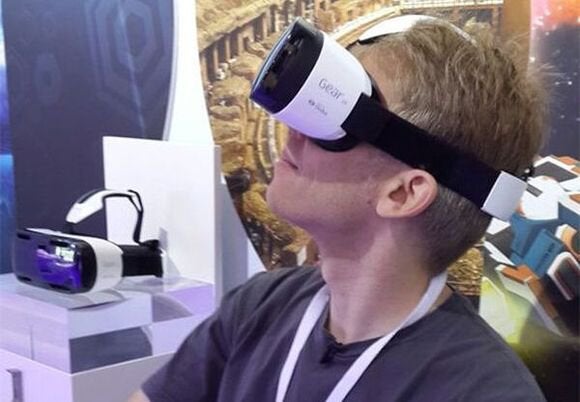 By contrast, no other VR device is as sleek or easy to set up as GearVR right now. Your Note 4 (or S6) simply slides into the familiar MicroUSB slot on the headset and clicks into place. Voila. You're done. Put it on (it's not too heavy) and you can control all of the GearVR's functions with the controls on the side of the headset—a touchpad for swiping/tapping, a back button, and a volume rocker.
And because it's a phone, you can plug headphones right into the 3.5mm jack, pair a Bluetooth controller if you want, and off you go. There's no positional tracking unfortunately, but there is head tracking, thanks (again) to the fact it's a phone with internal gyroscopes.
Some other neat phone-only perks that aren't in the DK2: The back camera can act as a video pass-through, allowing you to walk around and do tasks with GearVR still on your face if you're so inclined. The front camera senses whether you've removed the device and automatically turns off the screen and pauses what you were watching.
My favorite addition is a built-in focus adjuster, though. With both the Rift DK1 and DK2, demoing to someone with glasses means literally removing the lenses from the headset and replacing them with a different pair. What happens when you remove the lenses? Well, if you're not careful hairs and dust fall inside and end up on the screen, and become an enormous pain to clean out.
GearVR with glasses? "Turn this knob until the words look clear." Brilliant, and something the Oculus Rift/HTC Vive consumer versions definitely need to ape.
It's also impossible to overstate how freeing GearVR feels with no wires attached. Even with SteamVR's single cord, I was constantly aware of something tethering me—and afraid I'd get tangled in it. With GearVR, I never have to pause someone's demo to say "Wait, you're getting wrapped by the cable. Spin the other way."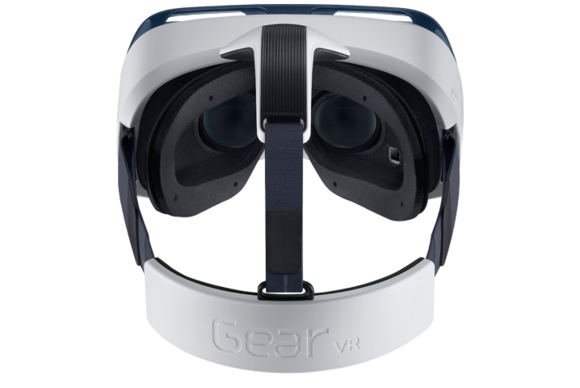 Software-side, GearVR is just as easy. When you plug the Note 4 into the GearVR headset it launches a VR-specific dashboard controlled by aiming your head at specific options and tapping the touchpad to confirm your choices. It's elegant and a far cry from getting kicked back to Windows after exiting a DK2 demo, or fumbling for a mouse/keyboard with the Rift over your eyes.
Even better, Samsung and Oculus created a fantastic "Welcome to VR" video that's the perfect demo for those who've never experienced virtual reality before. It's just a short little film (three minutes or so) that kicks off with you floating above Earth before running through a few other experiences (a Cirque du Soleil performance, a man playing music in a studio apartment, et cetera).
I've shown that film to probably three dozen people now, from teenagers to grandparents, from people who can barely work a cellphone to those who play games all day, from friends in San Francisco to distant relatives in Italy. Every single one of them, at some point during the video, has smiled and said something like "Wow" or "Fantastic" or (in the case of the aforementioned Italian relatives) "Bellisimo."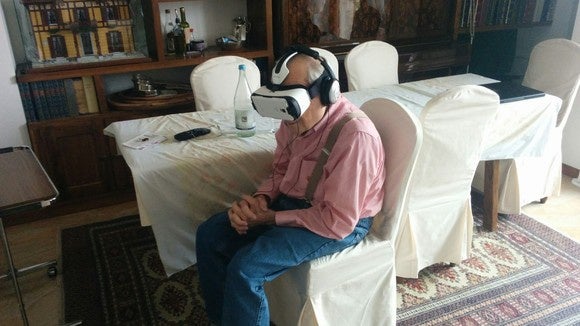 And I get it, because that's how I felt when I first tried VR. The difference is I was strapped into a comparatively low-res DK1, wrapped in wires, and walking around the Unreal 4 demo.
There are a few other apps worth recommending, despite the GearVR's paltry selection. Oculus's official movie app comes preloaded with some trailers and is an excellent showpiece for the potential of VR cinema—watching Interstellar on the moon, for instance. Darknet is a fun puzzler. Samsung's MilkVR app updates weekly with new 360-degree videos, and is a great resource once you've exhausted the Welcome to VR video. And a few desktop favorites have been ported over—Titans of Space and Ocean Rift made it from my stable of DK2 demos to my stable of GearVR demos.
But all that comes later. First things first, you need to convert people to VR believers. GearVR is the best way I've found to start that process.
Bottom line
Do you need GearVR? Probably not, unless you're deep into virtual reality already and are of the "collect-them-all" mindset. There are too many unknowns for me to recommend GearVR as a consumer device—especially considering Samsung's bound to release an exponentially better version next year. Thus goes mobile development. Thus goes the breakneck pace of virtual reality.
That doesn't mean GearVR is bad,though. Far from it. GearVR is a fantastic device—and maybe the most important step VR's taken since the DK1, as far as consumer appeal. The problem is it only fills a certain, very small niche. One you probably (statistically) don't fit into.