It's a well-known fact that the more lights your computer has, the better it runs. Lights on your fans. Lights on your keyboard. Lights on your mouse. Lights on your…mousepad?
Has science gone too far?
Get ready: Razer announced today it's releasing a light-up mousepad. No, it's not a delayed April Fool's joke. Yes, it is a tangible good which you can buy in stores. It's called the Razer Firefly, and in fact you can buy it right now—it's available for preorder in the Razer store for $60, with an estimated release set for June 2015. Here's another photo, with a mouse for scale: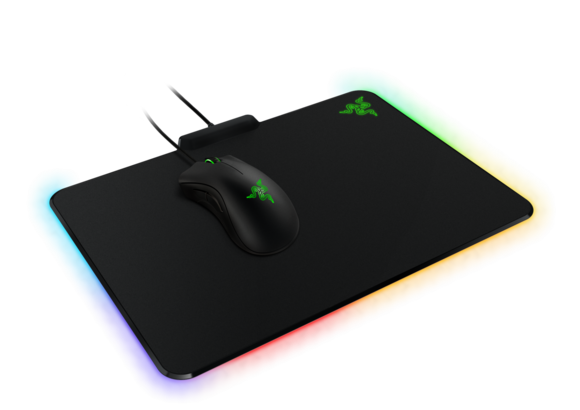 From the press release:
"Razer Firefly has lighting along its left, right and bottom borders and can sync up with other Chroma enabled Razer devices for virtually limitless color combinations. The Chroma feature adds 16.8 million color options and numerous customizable lighting effects to the mouse mat, including reactive, wave and spectrum cycling.

'The Razer Firefly opens up a new category for the Chroma family,' says Min-Liang Tan, Razer co-founder and CEO. 'We've designed the Razer Firefly with the best components for a gaming mouse mat, along with the new, fully-customizable Chroma lighting. No one said you can't win with style.'"
And he is right. Nobody ever said you can't win with style. However, I have to think that somewhere along the line someone said "I am not paying $60 for a mousepad, no matter how many damn lights you add to it."
Then somebody else said "But come on, it looks like something out of Tron!" Then someone—maybe the first person again—yells "Yeah, but sixty dollars?" and someone else says, "What are you poor?" and a fourth person says "Can we just talk for a second about the fact that it's a mousepad that you need to plug in?" and then a guy walks in from the kitchen carrying a bag of Doritos and wondering why everyone is screaming.
What I am saying (and all these other people too, I guess) is this: I'm stopping here. I've ridden the LED train as far as I feel comfortable going, and it's time for me to get off. I accepted light-up fans. I was okay with the light-up mouse. I'd kill someone for a backlit keyboard if I had to.
But I cannot get behind the light-up mousepad. Maybe some of you feel different, and in that case vaya con dios. Enjoy winning with style.