There's apparently a new look coming to Windows 10's Music Preview app in Windows 10, and it's awfully reminiscent of Spotify. We're not talking a complete copy mind you—more like what Spotify might look like if Microsoft designed it.
The new app hasn't yet popped up in the Windows 10 Technical Preview—at least in my tests. Microsoft did, however, post an image of the new build to its Xbox support page for the new music app.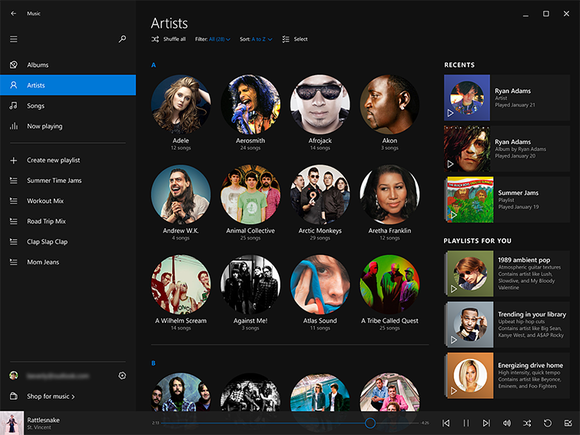 The most obvious changes are an all-black theme and three-column view similar to Spotify. Also like Spotify—and many music apps, including Google Play Music, really—the main column of the Artist section in Music Preview (seen above) has circular images.
As with previous versions of the app, Windows 10's Music preview is designed to be your central hub for ripped CDs and the rest of your DRM-free digital music collection, as well as provide access to the Xbox Music catalog.
The basic navigation doesn't look like it's changed much in the new version; you still have the basics such as Artists, Albums, and Songs on the left-hand side. There's also a link to the Window Store as part of Microsoft's decision to create a one-stop shop in Windows 10 for apps, games, music, and videos.
The biggest change here is Microsoft's Spotify-inspired visual look. It also looks very similar to the Xbox app for Windows 10, as The Verge's Tom Warren—who first reported on the Music Preview screenshot—pointed out.
The impact on you at home: Keep an eye out for the new look to the Music Preview app if you're using the Windows 10 Technical Preview. As we're still in the technical preview phase, Microsoft may not stick with the new look, or it may let you decide between the black and the current white motif of the Music Preview app once Windows 10 rolls out later this summer.