Microsoft began rolling out a slew of updates to selected users on Outlook.com on Thursday, including plug-ins or "add-on" apps soon to come from Uber and PayPal.
Some of the new changes have appeared in the preview of Office 2016, such as simplified sharing from OneDrive—where users send a link to a file that lives in the cloud, rather than downloading and emailing the file to a friend or colleague.
In general, however, the new Outlook app represents Microsoft's shift to Office 365, both in infrastructure as well as the look and feel of the site.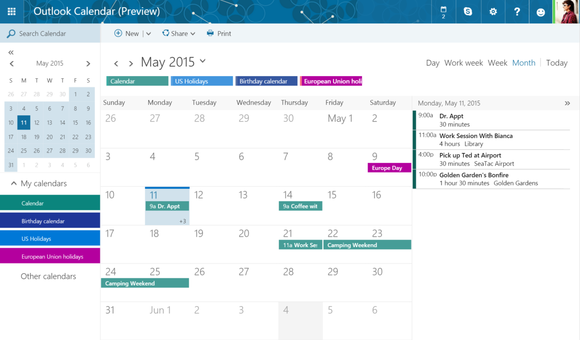 Why this matters: As usual, some of the latest features of Microsoft's Office apps are rolling out first to the online site, where they can be most easily deployed. Right now, they're off-limits to most users. Microsoft said you'll have the choice to opt in to those features over the next few weeks—there's no reason that we can see why you wouldn't want to. And if you don't like what you see, Microsoft has launched an Outlook UserVoice site, so that you can give feedback.
A laundry list of changes
While rivals like LibreOffice and OpenOffice try to replicate the core functions of Office, Microsoft's new emphasis has been on context and collaboration. Some of the add-ins that Microsoft debuted at its Build conference now make an appearance. Bing Maps and Suggested Meetings pop up (as shown in the image atop this article), for example, to show you where exactly that big client conference will be held, and what free blocks of time you'll have. Likewise, Clutter tries to remove the chaff and weed out email that just isn't relevant to you or your job. (And in my experience, it does a great job.)
The Outlook.com preview also includes the ability to preview links (including embedded YouTube videos), suggests frequently mentioned contacts, and even adds inline images. Likewise, the Calendar app has been redone to make meetings easier to find.
Finally, there's closer collaboration with other apps, including the ability to quickly launch either a Skype messaging session or call, and also to open attachments like Word in a "snapped view" alongside the email. They're all small changes, but they add up.