Electronics maker Sharp is showing off smartphones that can play back video at rates up to 2,100 frames per second (fps) for a smoother slow motion effect.
The struggling manufacturer's latest Android flagship phones, Aquos Zeta, Aquos Xx and Aquos Serie, have cameras that can record at 210 fps in 854 x 480 pixel resolution (FWVGA mode) or 120 fps in full HD mode.
When combined with frame compensation technology, the phone can play back video in slow motion at 2,100 fps in FWVGA or 1,200 fps in full HD. Sharp calls it the world's highest-rate super slow motion playback for smartphones.
At a press conference in Tokyo on Monday, Sharp officials played video on the Aquos phones that showed water droplets and fireworks exploding in extreme slow motion. The slow motion plays at one-seventieth of regular playback speed. The imagery in the video was smooth and sharp.
In slow-motion video, higher frame rates create smoother motion effects. Professional high-speed cameras can capture video at thousands of frames per second for high-quality slow-motion imagery.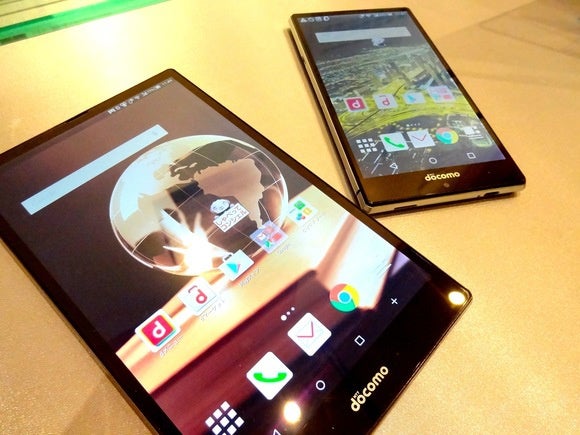 The ability to shoot video with a high frame rate that can be played back in slow motion is a fairly new feature for smartphones, seen in devices such as the iPhone 6.
Sharp's frame compensation technology, however, is an image-processing program that copies the frames in a video and adds up to 10 of those copies alongside each frame, resulting in high frame rates for playback.
The phones are set to be released in the coming weeks by Japan's three main mobile networks, NTT DoCoMo, SoftBank and KDDI.
Sharp also showed off a 7-inch tablet that it describes as the world's lightest for its size. The Aquos Pad SH-05G weighed 213 grams, less than the 222 grams for a canned drink, when both were compared on a scale.
Built with lightweight materials, the Android tablet is 8 millimeters thick and has a high-resolution 1,200 x 1,920 IGZO LCD display, 3,900 mAh battery and an 8-megapixel outward-facing camera. It will go on sale through DoCoMo in July.