Microsoft already let the cat out of the bag by pushing out a next-gen Atom-based "tablet" months ahead of OEMs, but it looks like PC makers are finally starting to catch up.
Lenovo tonight announced a new ThinkPad 10 using Intel's new "Cherry Trail" Atom CPUs. Aimed at business users, the ThinkPad 10 sports either the Atom X5-Z8500 chip or the Atom X7-Z8700.
Why this matters: Atom has been the engine in many low-cost econobox laptops and tablets for years, but the updated chip is expected to give it a nice performance shot in the arm for basic computing needs. Despite its Atom chip, for example, Microsoft isn't shy to charge a hefty price for the Surface 3.
Those looking for a more affordable version probably won't find it in the ThinkPad 10. Aimed at business and enterprise users, Lenovo's new tablet seems to mimic the Surface 3's pricing scheme.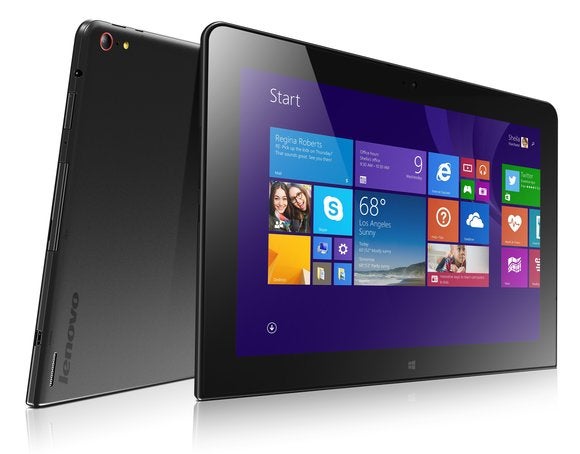 Specific configuration pricing wasn't disclosed by Lenovo, but I imagine the base model of the 10.1-inch tablet will come with 2GB of LPDDR3/1600 RAM and the X5-8500, along with 64GB of eMMC storage, for $550. And like the Surface 3, that's without the keyboard.
Lenovo also offers a configuration that doubles the system RAM and storage, and ups the processor to the Atom X7-8700. The new ThinkPad 10's screen has a resolution of 1920×1200, 10-point touch, and is protected by a layer of Corning Gorilla Glass 3. It has 802.11ac and Bluetooth 4.0, and a version will come with 3G or 4G LTE cellular support. The new tablet has a Micro-HDMI 1.4 port, Micro-SD, a USB 3.0 port, and analog audio.
Pen aficionados will be happy to know the ThinkPad 10 supports an active stylus. That pen though, the ThinkPad Pen Pro, will set you back an additional $40. Lenovo said the new ThinkPad 10 will be available this "summer," which means the new tablet may be timed to ship with Windows 10, which is also on schedule for a summertime release.