Chevrolet will have 14 cars in its 2016 model year with Android Auto compatibility, General Motors CEO Mary Barra announced at the Code conference in Rancho Palos Verdes, Calif., on Wednesday. This will be the largest number of vehicles from any automaker so far to feature Google's smartphone-car solution, which was announced almost a year ago at the Google I/O developer conference in San Francisco.
There's a small catch: Android Auto will come later to cars that feature only the 8-inch MyLink infotainment system (as noted in the list, below). The other listed cars will also have a 7-inch system available, and Android Auto will come first to cars equipped with those smaller-size systems.
The specific 2016 models with Android Auto compatibility will be:
Camaro and Camaro Convertible
Colorado (8-inch only)
Corvette and Corvette Convertible (8-inch only)
Cruze
Impala (8-inch only)
Malibu
Silverado and Silverado HD
Spark
Suburban (8-inch only)
Tahoe (8-inch only)
Volt (8-inch only)
Why this matters: Android Auto may still be working through its first-gen growing pains, but it still offers a much safer way to use your phone in your car than perching it on your thigh or sticking it onto your windshield with a suction cup. (You know who you are.) General Motors has made a point of being early with 4G LTE connectivity and other new technologies, so the automaker's positioned to grab early adopters who also happen to be in the market for a new car.
From the Spark to the Suburban
The compatible models range from the entry-level Spark hatchback to the hulking Suburban, offering choices in every category of car Chevrolet sells. "We're going big and expect big things for this year," said Chevrolet's Dan Kinney at a press event in San Francisco on Tuesday. The 14 cars listed above accounted for 2.4 million units sold in 2014, Kinney added.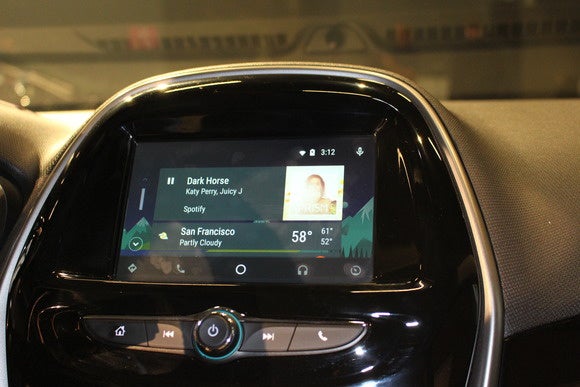 While the delay in deploying Android Auto in some of the listed models is disappointing, Kinney said it took a lot of advance planning to prepare the infotainment systems. "We had to make sure the hardware can handle it," he explained: "We had to work on touch latency, provide a good color gamut, and build in capacitive touchscreens."
Kinney also hinted enticingly at infotainment advances to come. "As phones get more powerful, you may see larger screens in our cars," Kinney said. "Right now phones cannot drive a larger display in size or resolution, but we've told them we're ready."
Chevrolet isn't just sticking Android Auto in the car and saying Mission Accomplished, either. The company is setting up technical support to help car buyers get comfortable with the new technology, from phone assistance to onsite help at selected dealerships, which will have dedicated Connection Centers with trained staff.
The company also announced that all the listed models would have Apple CarPlay compatibility off the bat, with no delay based on the infotainment system. Note that while both Android Auto and Apple CarPlay will be available in the cars, you'll be able to use only one of them with one phone at any one time. Will that ever change? "We're working on that," Kinney promised, but Google and Apple probably have a say in this as well.