Sick of wasting time searching for your files like some sort of 1996-era plebe? Are you willing to give up another shred of your ever-shrinking privacy for a bit more digital convenience?
Because if so, golly gee do Lenovo and Microsoft have a deal for you. Today at Lenovo Tech World, the two companies announced a partnership to integrate REACHit and Cortana, allowing Lenovo users running Windows 10 to search basically every single piece of their digital lives to find whatever miscellaneous file they're trying to locate.
Seriously, your entire digital life. Between REACHit and Cortana you'll be able to search any cloud storage services you use (Dropbox, Box, OneDrive, Google Drive), email (Gmail, Exchange, and IMAP), and Lenovo Windows 10 devices.
And say goodbye to the days of searching by file name. Thanks to the Cortana integration you can for example search for that picture you edited last week by saying…"Cortana, find that picture I edited last week." Simple.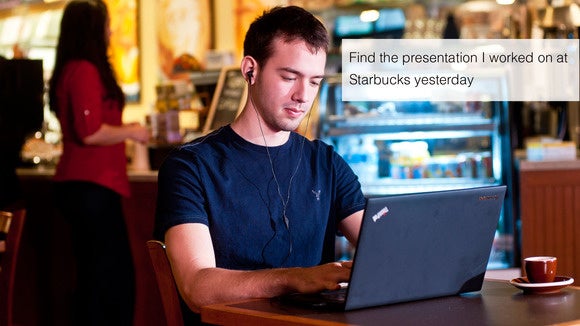 From the press release:
"For example, a user wants to find a photo that she edited on her Lenovo ThinkPad X1 Carbon laptop last week. Now she can access it while she's away from her laptop at the coffee shop by using her Lenovo ThinkPad 10 tablet. She no longer needs to go home and work on the laptop. And by using Cortana and REACHit, she doesn't even have to remember the name of the photo file – just the location where she edited it, or the date or another piece of relevant information. For example, she could search by saying: 'Cortana, find the picture I edited last week on my ThinkPad X1 Carbon.' Or 'Cortana, find the picture I worked on at Starbucks last week.'"
Cortana, find the picture I worked on at Starbucks last week. Or, more likely, "Cortana, find the Next Great American Novel I worked on at Starbucks last week."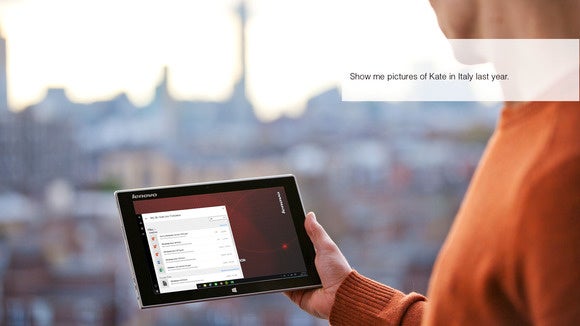 We haven't even gotten to the best part:
"We are living in a world where technology has made it easy to amass unprecedented amounts of personal digital content," said Mark Cohen, Vice President, Ecosystem and Cloud Services, Lenovo. "So much information that it can be extremely difficult to remember where it is stored. What you need is an assistant – a friend – who is always at the ready to help. That is where Cortana and REACHit comes in, enabling people to find their personal content in an incredibly natural way – by asking a friend for help."
A friend. Lenovo wants you to think of Cortana and REACHit as a friend. One who, presumably, comes to your house and rifles through all your drawers and your medicine cabinet taking a full inventory of everything you own so that when you go "I can't remember where I left that Stevie Nicks album" she can go "It's under your bed in the box labeled 'STUFF FROM EX – THROW AWAY.'"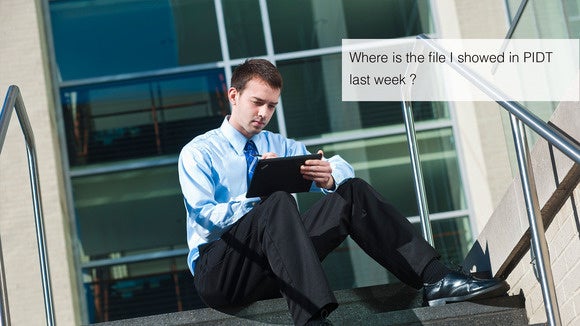 Jokes aside, I'm torn. On the one hand I'm impressed by the technology behind both these services. And I certainly understand the need for better search indexing. I have 5TB of storage in my computer, most of it full. Finding a file at this point is like searching for a single book in a poorly-organized used book store.
Or a chain of bookstores, really. In addition to my desktop I have two laptops, a tablet, and two phones. Yeah, I feel lucky finding anything in that morass of devices.
But on the other hand, there are legitimate privacy concern questions that need to be answered. Lenovo's release is light on details, but I imagine for REACHit to work you need to give the company permission to cloud-store a full map of all your hard drives—to say nothing of the fact it apparently geotags your documents.
Whether you're willing to allow Lenovo that sort of power—especially in light of the recent privacy-invading Superfish scandal—is a judgment call you'll have to make.