On Thursday, AMD quietly launched the A10-7870K, a $137 desktop chip that AMD claims is a cheap, effective choice for building PCs designed for online gaming.
What's referred to as the "Godavari" chip represents a slight bump in terms of the CPU and GPU clock speed compared to the existing A10-7850K, which uses AMD's existing Kaveri architecture. It's available to buy through channel sources now, and will be sold into PCs that you can buy starting June 2.
Godaveri uses the 12 compute cores (4 CPU, 8 GPU) as the A10-7850K does, but bumps the core CPU clock from 3.7GHz to 3.9GHz, and turbo speeds from 4GHz to 4.1 GHz. AMD also sped up the graphics chip from 720MHz to 866MHz. It uses AMD's existing FM2+ motherboard socket ecosystem, however, which makes it a relatively inexpensive upgrade.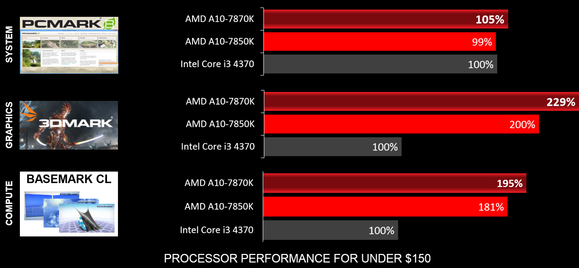 That's a marginal speed increase, though, across the board. And AMD isn't making any claims about attacking the high end of the APU market. Instead, AMD is positioning the chip against a combination of an Intel Core i3 and an Nvidia GeForce GT 740 discrete GPU. At 1080p "max" settings, AMD is claiming frame rates of 35 frames per second for StarCraft 2, 49 fps for DOTA 2, and 89 fps for a 5×5 League of Legends match.
AMD also claims that the APU can power Dirt Rally at 1920×1080, medium settings, at about 40 frames per second. Naturally, AMD still recommends a discrete graphics card; pairing it with a Radeon R7 250, for example, ekes out 45 fps or so on High settings.
"AMD takes a major step forward today by unveiling the world's most advanced eSports and online gaming processor technology in the A10-7870K APU," said Matt Skynner, corporate vice president and general manager of the Computing and Graphics Business Unit at AMD, in a statement. Skynner positioned the APU as the economy choice, "giving players the ability to game like a pro without spending like one."
The chip supports AMD-specific technologies including Virtual Screen Resolution for gaming at lower resolutions, as well as FreeSync on compatible displays. Not surprisingly, the chip supports DirectX 12 (and Windows 10), Vulkan, and AMD's own Mantle API, which will bump frame rates further on supported games.
Why this matters: The new chip appears to be a somewhat half-hearted effort, given the current computing landscape; we'd doubt that this will do much to render The Witcher III, for instance. But this is AMD's legacy: cost-effective, unobtrusive APUs that provide decent performance at decent prices. For something more aggressively competitive, you'll have to wait for the Zen core in 2016. Look for the next-generation AMD "Carrizo" notebook chips in the near future, too.