Think of Intel's Core chips as the giant's massive broadsword, cleaving through the ranks of high, midrange, and low-end PCs with ease. If that's so, then AMD's Carrizo chip is AMD's epee, skewering a very specific notebook segment with a pointed thrust: longer battery life.
AMD is expected to launch Carrizo, or what the company formally calls the sixth-generation A-series chips, at an event in Computex in Taiwan Tuesday night. There, company executives will explain how they've painted a bullseye on the mainstream notebook, specifically the $400 to $700 segment that should represent about 38 percent of all 2015 notebook sales. Partners will include Asus, Acer, HP, Lenovo, and Toshiba, which will ship Carrizo-equipped notebooks this month.
"We think [the notebook] is a key device for 2015," said Jason Banta, AMD's mainstream product line manager. "We think it is a segment to get right, and we think our competition has gotten it wrong."
AMD's secret? Hardware optimization. Carrizo combines 4 "Excavator" CPU cores with an additional 8 GCN graphics cores, all integrated onto a single piece of silicon. (Carrizo technology, optimized for 15 watts, will be built into mobile FX processors, plus A10 and A8 chips.) But AMD also built in a dedicated hardware decoder for movies encoded with HEVC, including Amazon Prime's streaming service and even Windows 10 itself. The upshot? About five more hours' worth of continuously streaming 1080p movies compared to AMD's older GPUs, executives said.
AMD also said that it would launch its "Fiji" GPUs later this month at the E3 conference.
Why this matters: In the past few years, AMD CPUs have acquired a certain bargain-bin odor. You could argue that AMD's image has stumbled, tripped, fallen, and rolled, head-over-heels—only to end up in a position to catch the PC market as it, too, plunges from lofty heights. Because let's face it: Windows tablets, Chromebooks—they're all arguments that we've reached a plateau in what we're asking of our PCs in terms of computing power. Instead, we want to perform our everyday tasks without worrying about digging out our power cord. AMD didn't exactly lead the pack to this point, but Carrizo could be in the right place at the right time.
Tops on the wish list: Lowering power
Intel accomplishes much of its power savings through steady process shrinks in its own fabs, which fabless AMD can't rely upon. Instead, AMD leaned on its design kung fu: A Carrizo reference system uses half the power of a current "Kaveri" system, while performance has increased 1.5X—all within the same 28-nm manufacturing technology of the prior generation. That took "engineering courage," according to Joe Macri, AMD's chief technical officer.
"When I first heard about this product, and staying at the 28-nm node, when Intel is at 14-nm, you think, 'My god, they're really falling behind,'" said Nathan Brookwood, an analyst with Insight 64. "But when you think how they've been able to reduce the size of the die, and increase the transistor count within the same size, and reduce power, you really have to give them credit for cleverness. Most people think of cleverness as how you design the material. But designing the circuit really does matter."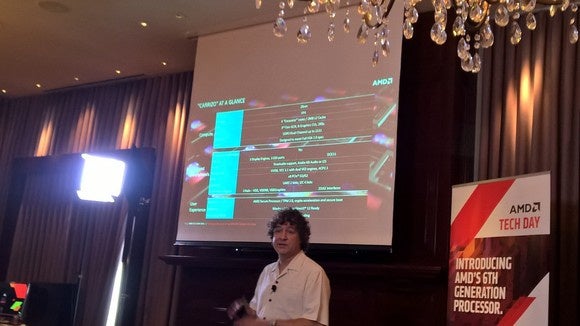 By designing the Excavator core with some of the same tools AMD uses to lay out its GPU cores, for example—something that AMD had never considered previously—AMD engineers made the Excavator layout far more efficient, saving power and space, Macri said. AMD also managed to cut the idle power of the CPU from 4.5 to 2.7 watts. That's an important step, because PC microprocessors sit idle most of the time—as you read this story, for instance.
On the flip side, AMD was able to rework the Excavator cores to improve their performance, doubling the L1 cache, maintaining the latency and even cutting power yet again. All told, Macri said, the Excavator cores offer 9 to 13 percent more instructions per clock than the Bulldozer cores used in the Kaveri chip, and 39 percent more performance overall.
In specialized applications like watching movies, AMD says, performance will improve even further.
All-day movies?
AMD executives said they expect to have about a year's head start over Intel in adding in specialized decoder logic for movies encoded with the High Efficiency Video Codec, or HEVC. Offloading that task from the main CPU to specialized logic cuts power dramatically. With Kaveri, decoding and playing back a 1080p movie required close to 5 watts; with Carrizo, it's just under 2 watts, Macri said.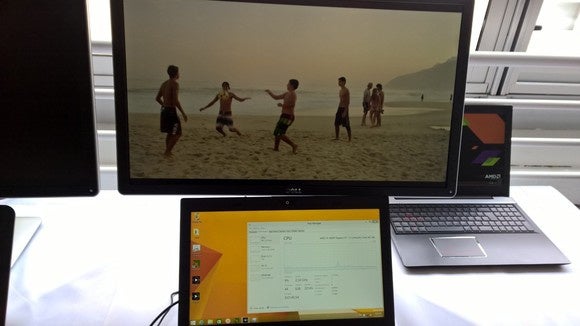 That's important in two scenarios: with HEVC-encoded movies that a Carrizo laptop is streaming, or for travelers who may download a few HEVC-encoded movies to their laptop. In both, you'll get far more playback time with a Carrizo laptop compared to a Kaveri laptop—AMD looped the public "Big Buck Bunny" movie on a 15-watt FX-8800P and eked out 9.5 hours of HD video playback.
(It's important to note that while Amazon uses HEVC, and Netflix is moving to HEVC for 4K-encoded movies, Google's YouTube has chosen to use the VP9 codec instead. Carrizo won't offer any extra benefit there.)
AMD also claims that Carrizo's ability to transcode movie information is several times faster than its older FX chips achieved. In addition, what AMD calls "Perfect Picture" helps improve video quality by upscaling 1080p to 4K-like resolutions.
Your mileage may vary
The confluence of AMD's own microprocessor design, Windows 10, and new APIs couild mean a wide disparity in how AMD's chips perform in the real world. AMD's Carrizo is HSA 1.0-enabled, which means that apps can theoretically tap into both its CPU and GPU cores to accelerate performance.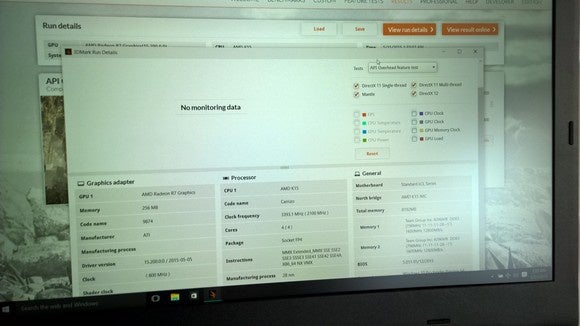 Adobe Premiere CC, tuned to take advantage of AMD's hardware, runs 6.5 times faster than a similar Kaveri chip, Adobe Photoshop CC can run up to 17 times faster. AMD also claims that using the "Smart Sharpen" tool in PhotoShop, an AMD FX-8800P chip is about as twice as fast as the Intel "Broadwell" Core i7 5500U chip Intel launched in January.
Of course, Intel just announced its faster Broadwell-H chips at Computex on Monday night. And when we quietly ran some benchmarks on the Carrizo chip at AMD's event, the performance was rather lukewarm: 2,388 for 3DMark's "Sky Diver" test, 959 for the Fire Strike test, and 282 for the Fire Strike Ultra test, using a processor 3DMark reported as the AMD K15 "Carrizo," running at 2.1GHz (and at 3.3GHz "turbo" speeds), and with the integrated, 256MB of Radeon R7 graphics inside running at 800 MHz.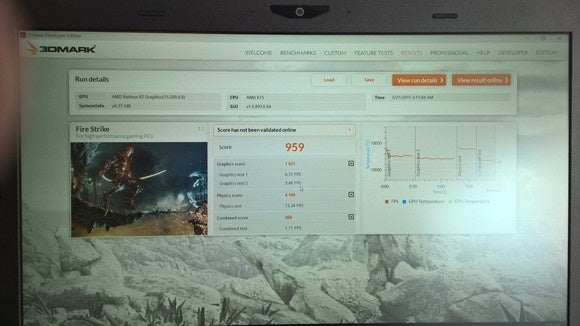 We didn't have any AMD Kaveri chips on hand to test, but the Kaveri-based A8-7600 runs at speeds of up to 3.7GHz to 4GHz. Hot Hardware reported that that A8-7600 chip generated a score of 1,320 to 1,336.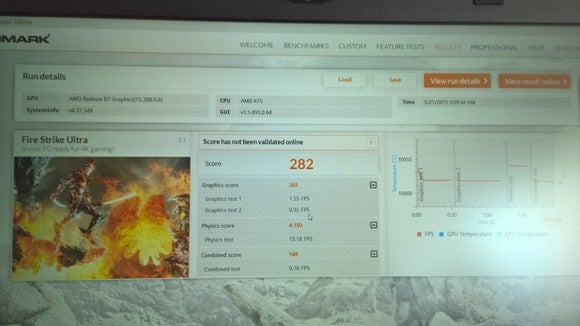 Draw your own conclusions: It certainly appears we'll need to lab-test this one.
Other goodies: Gesture control, visual search
Carrizo chips will also support two interesting, proprietary AMD technologies called AMD Gesture Control and Looking Glass, although neither were demonstrated in advance of the launch. Gesture Control uses the webcams already inside laptops to interpret your gestures, rather than the more expensive RealSense depth cameras Intel wants to build inside them. The "Looking Glass" technology could even more useful: It promises to tag your thousands of photos by recognizing the faces of the people within them (similar to what the new Google Photos app does).
For business, Carrizo also includes a Trusted Platform Module 2.0 and Drive Key Encryption to secure the laptop's content.
But one of the key obstacles for AMD will simply be how to tell consumers that they're better than the competition. AMD executives quietly grumble how Best Buy and other retailers banish AMD to a back shelf, reserving pride of place for Intel. For their part, AMD executives said they'll continue to use stickers touting the fact that Carrizo is a "sixth generation product" (Intel's is shipping its fifth-generation Core chips) and will bundle games to sweeten the deal.
"A big part of our retail plan, big part of our social plan, is really giving the message about the flexibility of the product," Kozak said in an interview. "If you look at our messaging, again, retail, social, digital, it's also about all that flexibility, all in that one platform."
The problem AMD faces is that it looks like a "me-too" supplier—even when, as Brookwood pointed out, AMD's own technologies are superior. For example, he said, AMD's Wireless Display allows you to stream games, while Intel's WiDi is restricted to movies only.
And that's where AMD's Computex launch will help AMD: If it has caught up to Intel in chip technology, it still needs a public forum to get the word out.
Updated at 12:28 AM on June 3 with additional details.