Although Windows 10 will be a free upgrade for those who own a Windows 7 or Windows 8.1 PC, someone will have to buy a copy at retail—and on Saturday, Newegg accidentally published the price and ship date for Windows 10.
WinSuperSite appears to have been first to discover the pricing information. What hasn't been confirmed, however, is whether the leak is accurate.
With that said, here's the critical information: Windows 10 will be available for purchase on August 31, according to a page on the retailer's site. An OEM copy of Windows 10 Home will cost $109; an OEM copy of Windows 10 Professional will cost $149. Neither page lists any substantive differences between the Home and Professional editions of Windows 10, the two versions of Windows 10 designed for home PCs.
UPDATE: Microsoft just announced July 29 as the release date for the downloadable version of Windows 10. The company didn't say whether physical copies of the operating system—which Newegg sells—would be available the same day. Also, Microsoft has now released its official retail pricing for Windows 10—which makes this leak inaccurate. But, it also appears that Newegg may be honoring its posted prices.
By contrast, Newegg charges $100 and $140, respectively, for a 64-bit copy of Windows 8.1 and Windows 8.1 Pro.
Microsoft officials declined to confirm Newegg's information. "We are excited to offer a free upgrade to Windows 10 for qualified new or existing Windows 7, Windows 8.1 and Windows Phone 8.1 devices that upgrade in the first year," a spokeswoman said in an email. "Windows 10 will be available this summer, and we look forward to sharing more details about how the upgrade will be offered at a later date."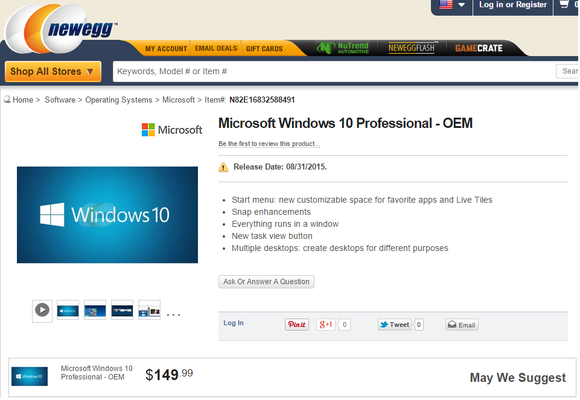 Why this matters: Even if Microsoft hasn't officially confirmed these details (and we suspect that's coming in short order), we now have a major retailer backing the prognostications of other industry sources. As for the price—well, it's good to know that Windows 10 will be in the same ballpark as Windows 8.1 was. The bottom line is that more and more pieces of the Windows 10 picture are falling into place.
A summer Windows 10 launch
Newegg's release date adds to the clamor of sources suggesting Windows 10 will launch in late July. On Friday, for example, two independent reports suggested that Windows 10 will launch in late July. In a recent earnings call, AMD chief executive Lisa Su actually used the phrase "the end of July" with regard to the launch of Windows 10.
However, those July dates refer to the dates in which Windows 10 will supposedly be finalized and released to manufacturing (RTM). The Newegg date reflects general availability, or when you'll actually be able to buy a copy. Microsoft has also implied that Insider testers of Windows 10 will receive the final version of Windows 10 that PC makers do—in other words, Windows 10 Insiders could have the final version of Windows 10 before Newegg puts it up for sale.
Newegg also revealed the minimum hardware specs for Windows 10:
Processor: 1GHz or faster
RAM: 1GB (32-bit) or 2GB (64-bit)
Free hard disk space: 16GB
Graphics card: Microsoft DirectX 9 graphics device with WDDM driver
A Microsoft account and Internet access
Otherwise, the Windows 10 description that Newegg attached to its Windows 10 Home listing reveals no major surprises. It highlights that it was developed using feedback from "millions" of people; that it will include Cortana and a new Web browser (Edge); that it will stream games from the Xbox One via the new Xbox app; and it will allow users to take their digital "stuff" everywhere using the OneDrive app.
Microsoft has already said Windows 10 will be a free upgrade for Windows 8.1 and Windows 7 users; Microsoft's official blogger, Brandon LeBlanc, confirmed that again Saturday night.
@robertmclaws @RogerKay @toddbishop Once you're on Windows 10, we're not going to charge for updates.

— Brandon LeBlanc (@brandonleblanc) May 31, 2015
// There's some question about how long Microsoft plans to support these free updates. Early on, Microsoft officials said they would support upgraded PCs through the "lifespan" of the device. Recently, however, Microsoft has seemed to imply that the update will be free essentially forever. Microsoft's Tony Prophet said recently, "once you upgrade, you have Windows 10 for free on that device."
This story was updated at 2:54 PM on June 1 with official pricing from Microsoft.