Compact. Powerful. Silent. If you were going to make one of those "Pick two" triangle charts for living room PCs, I imagine it would have those three slots on it.
Simply put, airflow is one of the biggest challenges facing living room PCs. People want power, but they also want the thing to be quiet—and small.
Which is why I'm intrigued by the new Corsair Bulldog. Is it more powerful than most of the other living room PCs we've seen? Sure. Is it more upgradeable? Almost certainly.
But most of all, it's quiet.
Why this matters: PC vendors have been laboring mightily to crack the living room market, but most candidates up to now have been lacking in some way. This model seems designed not to disappoint. For the DIY crowd, the Bulldog opens up quiet performance not previously available.
4K in the living room
Let's get this out of the way: Depending on what you plan to do with your living room PC, Corsair's Bulldog may be overkill. Early on in my demo, Corsair showed me a graph that positions the Bulldog between Steam Machines and desktop PCs in terms of power, so that should give you an idea of its capabilities. This is a gaming machine, aimed to drive high-end performance in the living room.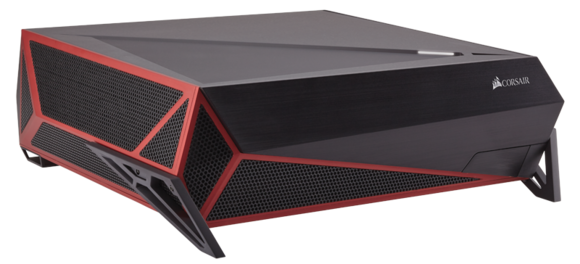 That positioning is a bit of a cheat on Corsair's part. Sure, most Steam Machines are aimed at the "console crowd," but there are certainly powerful, upgradeable Steam Machines too—Falcon Northwest's Tiki is an excellent example, as is Origin's ridiculously overpowered Omega line. Corsair's Bulldog is merely one of the most powerful living room PCs I've seen.
But damn is it powerful. The model used in our demo was plugged into a 4K TV, and its Titan X spit out a bunch of top-shelf games (Project CARS, Witcher 3, Grand Theft Auto V) in the neighborhood of 30-60 frames per second. Let me reiterate: This is a living room PC. Playing high-end games. At 4K resolution. At 30-60 frames per second. That's impressive.
Corsair's advantage is that the Bulldog is whisper-quiet, even at 4K load. And that's thanks to a ton of ventilation and some custom-designed parts.
"Custom-designed parts?" you might say. "But wait, I thought this thing was upgradeable!"
The Bulldog is an interesting piece of tech. Basically what Corsair has done is split the difference between "custom-built, boutique PC design" and "DIY computer using stock parts." You buy the Bulldog as a $400 bundle containing the chassis, mini-ITX motherboard, liquid CPU cooler, and 600-watt power supply.
Corsair didn't reveal much about the motherboard except for two things that you should care about: It's DDR4 and it'll run Intel's upcoming Skylake CPU. Skylake is the CPU beyond today's Broadwell chips and is expected to bring significant performance improvements when released later this year.
You then supply your own CPU, storage, RAM, and (if you want) graphics card.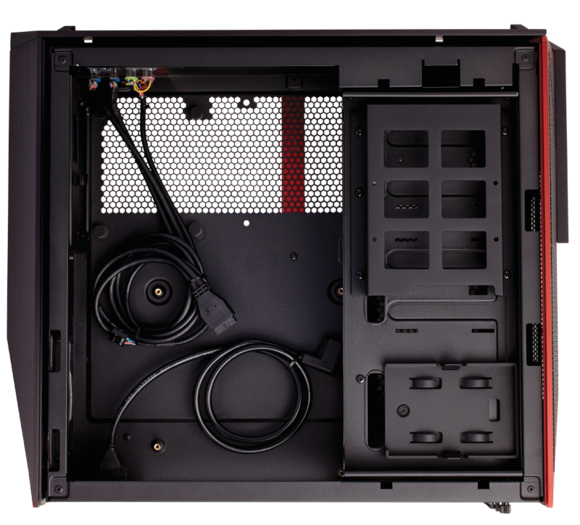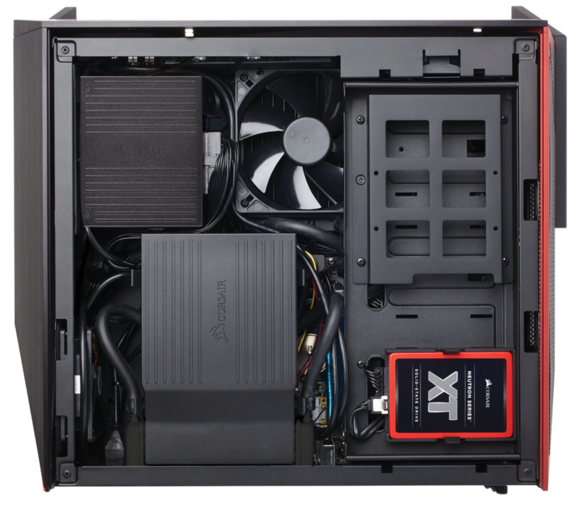 If you decide to toss in a graphics card, you'll probably want to take advantage of one more custom piece of kit—a liquid graphics card cooler.
It's those two liquid-cooled pieces that make the Bulldog one of the—if not the—most quiet living room PCs I've seen. The Hydro Series liquid CPU cooler in particular is designed for the Bulldog—it slots into the machine in such a way that it vents straight out the back of the case, rather than blowing hot air around inside and relying on other fans to pump it out.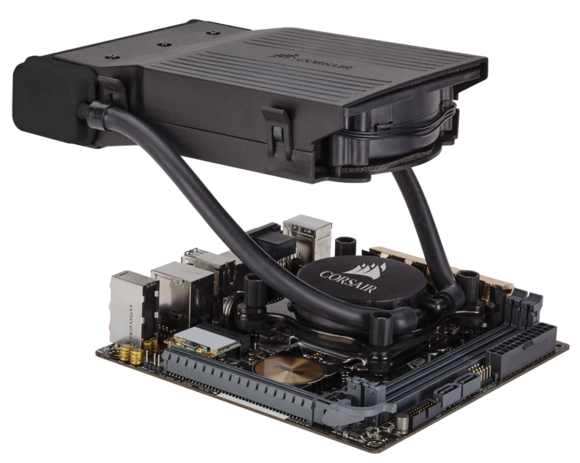 Then there's the liquid GPU cooling. Corsair's internal benchmarks show liquid-cooled cards running approximately 25 degrees Celsius cooler and pumping out (on average) about five more frames per second, because they can be overclocked higher. For instance, playing Far Cry 4 at 4K on a standard Titan X gave Corsair 40 frames per second. Liquid-cooled and overclocked, they managed to get 45—while simultaneously running the card cooler.
What does that mean for you? It means Corsair's Bulldog has the potential to be more powerful than even something like Falcon Northwest's Tiki in graphics performance (which liquid cools the CPU but not the GPU) although a multi-card setup like the much larger Origin Omega will still do better overall.
And it's also—to reiterate one more time—quiet. Liquid-cooled CPUs are fairly common nowadays, but most people are still using relatively loud fans on GPUs. That might not matter in the office or whatever where people are willing to put up with the noise, but in a living room environment, quiet is king.
Luckily Corsair will also be selling its GPU cooler separately as a DIY kit—plans are to support all current and upcoming AMD and Nvidia graphics cards, and you could use it in your tower PC if you wanted. You won't have to purchase Bulldog, to take advantage of some of its tech.
One last thing—in case you couldn't have guessed from the fact that you're already supplying your own components: The Bulldog is easily upgradeable, which is key to living room PCs as far as I'm concerned. Some of Valve's Steam Machine crop are designed more like gaming laptops than tower PCs—in other words, upgradeability sacrificed at the altar of "smaller is better." I disagree. PC hardware moves so quickly, I think it's silly to lock yourself into a PC that will only be good for a few years max.
With the Bulldog, you can swap out everything—CPU, GPU, RAM, storage, whatever. That's important. Add in a few goodies like out-of-the-box 7.1 audio support and room for 32GB of DDR4, and Bulldog has the potential to be one of the most powerful living room PCs on the market.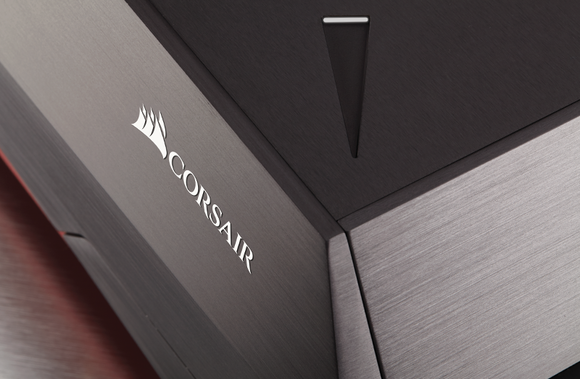 Or you could buy the $400 chassis, motherboard, CPU cooler, and power supply and just toss in some low-end parts to make a media box. That's fine too, because $400 for the parts is a pretty nice bargain.
As for how it looks? Well, that's a matter of taste. I can envision some people being turned off by the reddish-orange highlights on the machine, but I like the look overall. It's certainly more interesting than "another black box," and I love the prolific ventilation.
Take control
Alongside Bulldog, Corsair revealed "Lapdog." Get it? Get it?
Lapdog is Corsair's new mouse/keyboard "control center," a.k.a. something that's a bit more high-end than stashing a crappy wireless keyboard and mouse behind your couch. In point of fact, it's extremely similar to the Roccat prototype I saw at E3 last year that…never released. For some reason.
Basically, Lapdog fuses a mouse and keyboard into one large device that sits on your lap, aided by a big cushion on the bottom. The prototype I saw had a tenkeyless board embedded, but Corsair says a full K70 version is planned for launch.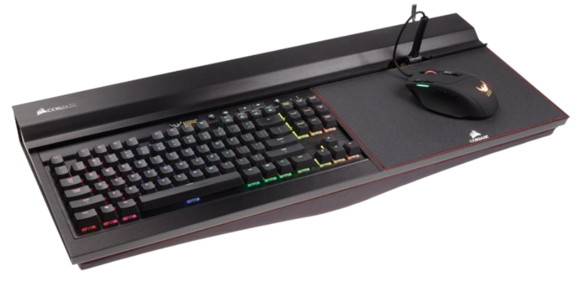 The only similar product I know of on the market is Razer's Turret, although the mouse area on that is much smaller and it doesn't feature mechanical keys.
On the other hand, Turret is wireless and runs on batteries. Lapdog requires you to string two USB cables across your living room. Corsair says it debated a wireless version, but ultimately felt gamers prefer wired peripherals (true, although maybe not in the living room) and this allows for three powered USB slots on the side (a nice touch if you're using a headset).
You'll be able to purchase just the Lapdog casing this fall for $90 or buy it with a keyboard already embedded for $200. Bulldog is also slated for a fall launch, which means it'll be just in time for the Steam Machine onslaught.
The living room war is starting to heat up. Even for PCs, apparently.