At a Glance
Pros
Crazy looking
Certified James Bond Super Villain Computer
Takes up a lot of desk space
You know how your sandal-wearing, tablet-toting partner insists on organically grown, free-range, gluten-free water? Gamers are the same way about their rigs and their need for industry-standard parts. Proprietary? Might as well be a genetically modified flesh-eating tomato.
Sure, proprietary gets you designs such as Apple's Mac Pro, but you're left high and dry when it's time to upgrade.
That won't happen with CyberPower's new Trinity Xtreme, which gives you a truly exotic look without the penalties.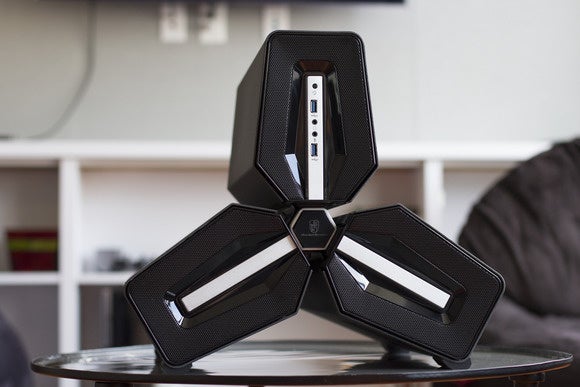 What's inside
CyberPower sells several different versions of the Trinity. Its Trinity 100 runs on AMD APUs and rings in around the $1,000 mark. The Trinity 200 is the mid-range part with Intel's Haswell quad-core inside, while the unit you see here is dubbed the Trinity Xtreme. Like the Falcon Northwest Tiki it uses Asrock's X99 E-ITX/AC motherboard, which lets CyberPower shoehorn a six-core Core i7-5820K CPU inside. There are eight-core options, but the Core i7-5820K lets CyberPower put more cash toward the GPU. In our case, it's a GeForce GTX Titan X. You could argue that a GeForce GTX 980 Ti makes more fiscal sense now, but the Trinity Xtreme arrived right before the 980 Ti was released.
For storage there's a 2TB hard drive and a 250 GB Samsung 850 EVO SSD. It's all powered by an 850-watt Corsair CS-series PSU.
Remember, these are all off-the-shelf parts. What you're probably wondering is how it all fits in there.
Each of the pods, or "blades," as CyberPower calls them, store different components. The right pod holds the Mini ITX motherboard, CPU and radiator. The left unit holds the PSU and has enough space for two 3.5-inch hard drives. The top pod holds a standard GPU. In our case, again, it's a standard GeForce Titan X inside and it definitely looks like there's room for a dual-GPU card such as a Titan Z or an older GeForce GTX 690 card. Sorry Radeon R9 295X2, there's no place to put your radiator, but maybe give me a call when the fabled dual next-gen card shows up in this timeline.
For expansion, there's room in the Trinity Xtreme for another two 2.5-inch drives and another 3.5-inch drive. Believe it or not, there's actually room for a slimline optical drive between the two 3.5-inch drives. Our unit though didn't come with it. Perhaps CyberPower figured you couldn't play your fantasy of being a James Bond supervillain while burning a CD.
How it all works
You're probably wondering how exactly it works. The case used here—DeepCool's TriSteller—delivers a clever sleight of hand. All three hefty pods connect though a steel center shaft that has cutouts to run the PSU and SATA cables, as well as the folded PCIe cable for the GPU.
DeepCool's TriSteller is available to DIYers who want to build their own but right now, I'm not seeing it in the US. The only seller I could find was Amazon in the United Kingdom and only if you're willing to pony up $750 for this "hand made PC case" that's also a limited edition item, according to DeepCool.
That's a steep price for the TriSteller case. That with Titan X helps push the price of the Trinity Xtreme to $2,700. That's above CyberPower's typically super-affordable prices and has me wondering how they can even afford to sell the PCs.
Performance
As cool as the Trinity Xtreme looks, it wouldn't matter if it couldn't perform. The good news is a single Titan X and six-core Haswell-E chip performs where you'd expect. I compared the Trinity Xtreme with the MicroExpress MicroFlex B20, our quad-core Core i7-4770K and GeForce GTX980 reference system and the Falcon Northwest Mach V with its three-Titan X cards. The Mach V is there mainly for reference so you can see what two more TItan X cards (and three times the price) buys you.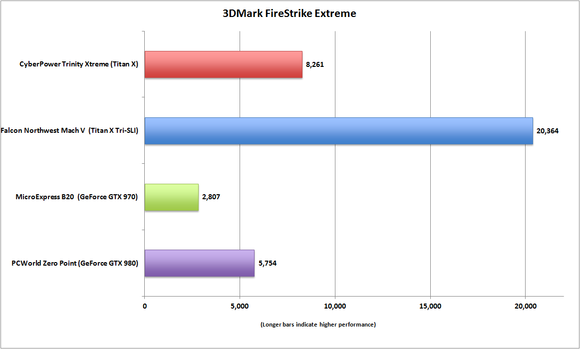 If you're concerned over the shorter red bar, don't be. For a practical game, such as Tomb Raider set to Ultimate quality and playing on a 30-inch, 2560×1600 resolution monitor, the Trinity Xtreme will have you moving along at almost 90 fps. You should be fine at 4K resolution too, but I'd recommend coupling a single Titan X with a G-Sync monitor to help compensate for the occasional frame rate dips.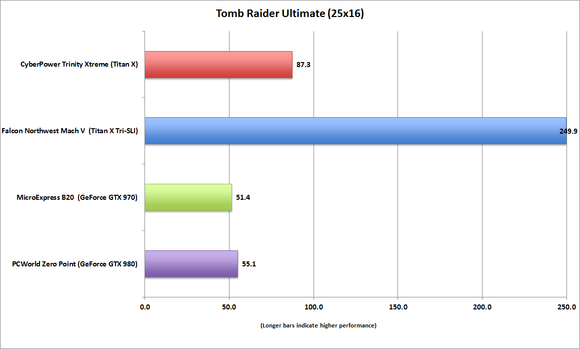 It's not all about the GPU though, so I also compared all four systems in our hefty Handbrake encode test, where we transcode a 30GB file to format for Android tablets. The six-core setup shows why it's the best bang for buck for those who do a lot of multi-threaded tasks. I still have some questions about the impact of the bandwidth limitation on the Trinity Xtreme. Like the Falcon Northwest Tiki, the Asrock board used here gets the six-core CPU into a small frame by compromising on system RAM bandwidth. It's essentially only two channels instead of the available four channels. but it doesn't appear to hurt much that I can see here.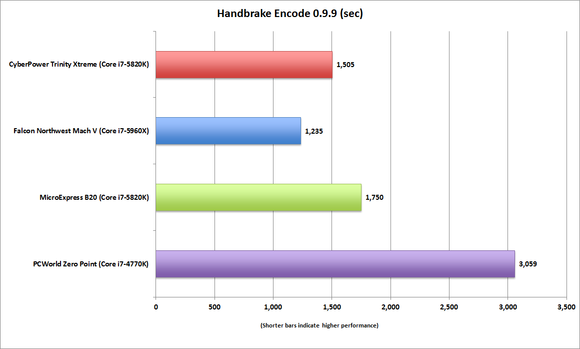 Why? Just why?
The real question with the Trinity Xtreme is whether it's worth the bulk and the weight. The same system built into a standard micro-tower PC would save you a lot of desk space– and frankly, given the cost of the TriSteller case, a lot of cash.
That's a question only you can answer. Maybe you're just tired after years and years and PCs that stole their design plans from a cereal box. You just want something that looks truly unique.
Maybe you really want to show up your friend who likes to talk about how cool their gaming rig is. Or maybe, just maybe, you just want to think different but don't want to pay the penalty when it's time to upgrade down the road.