Google's search results are pretty darn good in general. Most of the time I find what I'm looking for on the first page. But there are times when a simple keyword or plain language search just won't do.
When that happens, it's good to know about Google's search tools that let you refine your results with a few simple filters.
Search tools
Let's start by searching for something basic, such as the movie Apollo 13, which turns 20 this year. In 2015, the results you get for the movie are mostly recent, but what if you want to see news articles talking about the film from when it came out?

To go deeper, click the Search tools link at the top of the page right above the results. This will reveal three drop down boxes. The one we want to look at right now says Any time. Click that and you get a bunch of general time options including the past hour, day, week, month, and year.
What we want is the last item, which says Custom range… Click that and you'll get a box where you can enter a specific date range. Apollo 13 came out in June 1995 so let's search for items between May 1, 1995 and July 1, 1995.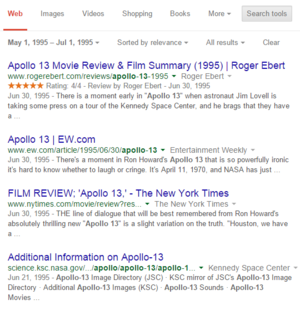 There you go! A whole bunch of reviews from 1995 appear front and center, as well as information about the movie from NASA.
Once you search by date you can also filter results by keyword relevance or calendar date.
Verbatim
Sometimes you have to insist when you want to use a certain search term on Google. If you were searching for a strange computer error, you probably want to see results that have the exact phrase of that error and little else.
One way to do that is to first search for the error on Google and then go to Search tools > All results. Under that drop-down menu, select Verbatim to find the exact phrase you're looking for.

Finally, the last filter Google offers to show you local results based on your location. You can use this search for local restaurants, coffee shops, computer stores, whatever. Location should be set already, but if you want to change your location or make sure it's working, then check under Search tools.
That's about all there is to the Search tools. You won't use them everyday, but you'll be glad you know about them for those times your search is a little trickier than usual.