When Blocks Wearables started showing off a prototype of its modular smartwatch at CES in January, it was best treated with a healthy dose of skepticism.
The idea sounds clever enough: Each link in the watch band houses a swappable component ,such as a battery, a cellular radio, GPS, or heart rate monitor, so users can decide exactly which features they want. But the CES prototype was barely functional, and considerably chunkier than the slick concept renderings that Blocks had been showing off for months. The five-person startup also hadn't decided whether to use Intel or Qualcomm processors, and in turn wasn't sure whether the software would be based on Android or Tizen.
Six months later, the project isn't looking as vaporous. New concept renderings (pictured above) look thicker and therefore less fantastical, and they're roughly in line with new prototype parts (pictured below). Blocks has settled on a round watch face for its initial design, with a Qualcomm Snapdragon 400 processor inside. As for the operating system, it'll be a custom version of Android Lollipop–not Google's Android Wear platform–that's compatible with both Android phones and iPhones.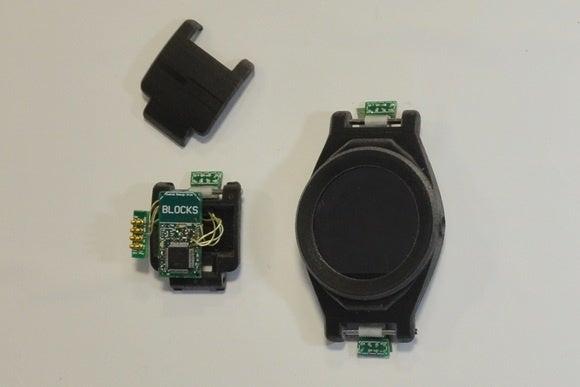 Blocks has also made a few partnerships to build the actual product. The hardware will be put together by Compal, a major Taiwanese manufacturer, while British accessory and jewelry brand Tateossian will offer removable shell designs for the modular band components. (Those connectors, by the way, have been refined, with snap-in mechanisms instead of 3.5 mm plugs.)
As we suspected, however, the project is at least a few months behind its original schedule. Blocks now plans to launch a crowdfunding campaign in late summer, and to deliver the finished product seven or eight months later, pushing it beyond the November time frame that Blocks had been aiming for. Blocks says it wanted to finalize the core design and sign a manufacturing deal before it went to the public for pre-orders. That alone is breath of fresh air, given how many crowdfunded wearables seem to work in the opposite direction.
Why this matters: Blocks still has a long way to go, and questions remain about how the software will work and what sorts of modules will be available. The watch also faces some competition from the Pebble Time, whose "smartstraps" system will let users attach new features through third-party bands. But for such an ambitious project, it's at least encouraging to see Blocks make some measurable progress toward building something real.