Microsoft may be spinning Skype WiFi into a separate service called Microsoft WiFi, with expanded coverage and tie-ins to Office 365 for businesses.
A new website at MicrosoftWiFi.com appears to be under construction, but a domain search lists the owner as MarkMonitor, a brand management firm that also owns the domain for Microsoft.com. We've reached out to Microsoft for comment.
UPDATE: Here's a statement from Microsoft: "We are evaluating a new service, called Microsoft Wi-Fi, that will bring hassle-free Wi-Fi to millions. We look forward to sharing additional detail when available."
Assuming the site is legitimate, it seems to be a revamp of the existing Skype Wi-Fi service, bringing together multiple providers' hotspots under a single login. Engadget notes that Boingo, Xfinity WiFi, and Gowex hotspots are part of the plan, and we've also found lots of hotspots from Hilton hotels on the coverage map.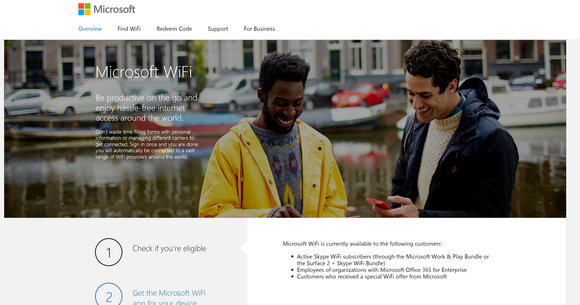 Office 365 for Enterprise subscribers will get Microsoft WiFi at no extra charge, the site says. Consumers could get the service through Microsoft's Work and Play Bundle, which costs $149 per year and includes Office 365 Home, Skype Unlimited World service, and Xbox Live Gold. People who bought a Surface 2 tablet with a Skype WiFi Bundle may also get Microsoft WiFi, the site says.
Why this matters: Skype WiFi was already a nice way to get cheaper Internet service while traveling, but only if you remembered to put some Skype credit into your account. And even then, the pay-as-you-go model might not make sense for frequent travelers. Assuming Microsoft WiFi is real, it looks like a way to simplify the process in exchange for subscription-based pricing.