Dell's PCs largely use Intel chips, but the company is once again warming to AMD processors for its new Inspiron laptops and desktops.
The Inspiron 5000 laptops with 14-inch, 15-inch and 17-inch screens contain AMD's new A-series chips, code-named Carrizo. The laptops are now shipping worldwide even though the chips aren't due to be announced until Wednesday.
The desktop-replacement laptops start at $449.99 for the 15-inch model, $599.99 for the 14-inch model, and $699.99 inch for the 17-inch model.
Dell once used AMD chips in a range of laptops, but slowly dropped them from product lines as the chip-maker dealt with quality and production problems. Hewlett-Packard has stayed loyal to AMD, but many other PC makers have dropped AMD's chips over the years for not standing up to Intel's chips in performance.
This is a good start for AMD's Carrizo chips, which offers up to twice the battery life when playing video as the previous A-series chips, codenamed Kaveri. They also deliver up to 65 percent better graphics performance, but only nominal improvements in CPU performance.
During a short hands on, the Inspiron 15 5000 with a 15-inch screen booted in under 10 seconds, and the graphics shined during video playback. AMD will bring a new level of graphics to Dell's mainstream laptops, most of which have Intel's high-definition graphics, which are not as good. The PC had a quad-core A10-8700P CPU running at 1.8GHz with six integrated graphics cores.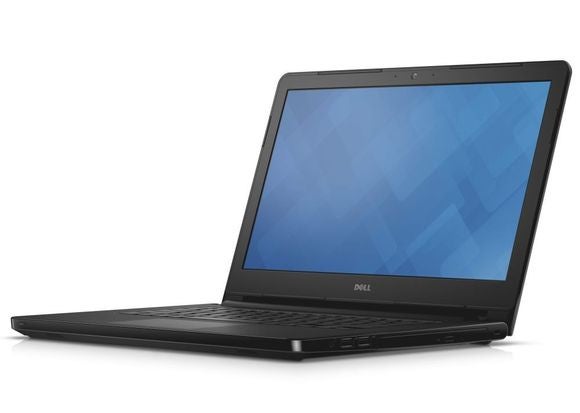 The laptop included USB 3.0 and HDMI ports. A full sized keyboard with separate numeric keys made typing easy. With its optical drive, though, the laptop felt heavy.
The unit tested didn't have a touchscreen, but higher resolution and touch screens are available on the Inspiron 5000 laptops.
The 14-inch and 15-inch models will also be available with Intel Celeron and Pentium chips code-named Braswell next month. Dell didn't say if Core chips would be offered as an option on the laptops.
Dell showed other interesting PCs at Computex. If you want a 15.6-inch mainstream laptop that can also be a tablet, consider Dell's Inspiron 15 7000 (pictured at top). It has a screen that folds 360 degrees to put the PC in tablet mode, much like Lenovo's Yoga. Dell says the laptop offers nine hours of battery life with an Intel processor. It will ship in the U.S. later this month with prices starting at $529.99
Dell is also using AMD chips in the 23.8-inch Inspiron 24 3000 and 19.5-ich Inspiron 20 3000 all-in-one desktops. The PCs have high-definition displays with USB 2.0, USB 3.0 and ethernet ports. The Inspiron 24 3000 starts at $429.99 and is shipping in the U.S. and China, while the Inspiron 20 3000 will ship later this year starting at $329.99.