Gamers, buckle up—AMD will launch its highly-anticipated graphics processing unit, code-named Fiji, on June 16 at the E3 conference.
Many were expecting Fiji to launch at a press event at Computex on Wednesday, but that didn't happen. Instead, AMD did show off key technology, which will first appear in Fiji and could give significant speed and power saving gains to future graphics chips.
On stage, AMD CEO Lisa Su showed a chip for technology called HBM (high-bandwidth memory), which could make graphics chips faster and more power-efficient.
HBM offers 3.5 times the bandwidth per watt of GDDR5, which is currently used in memory chips. Instead of being placed next to each other, HBM stacks memory chips, which are connected through a high-speed thread. HBM is also faster due a wider bus and its closer location to graphics processors.
Further reading: AMD shines light on high-bandwidth memory, pokes Nvidia
The new memory technology could also help shrink the size of GPUs, or add more memory in the same area. About 1GB of HBM memory takes up 95 percent less than the same amount of GDDR5 memory, so you free up a lot of room on a circuit board, said Robert Hallock, technical marketing manager at AMD.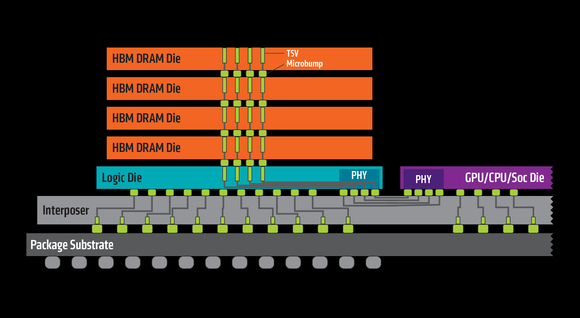 "HBM satisfies the appetite for smaller device. There is this appetite for powerful, portable systems… but they don't want to give up performance either," Hallock said.
The need for more memory bandwidth comes as 4K games, video and other multimedia tasks place more demands on GPUs. AMD developed HBM with SK Hynix for over seven years.
There was speculation that AMD would announce Fiji at Computex, where the company holds a big press event every year. But the E3 trade show later this month in Los Angeles, which has a heavy gaming focus, would be a better launchpad for the GPU. AMD instead focused at the press event at Computex on its latest mainstream PC chips code-named Carrizo, which will be in laptops and desktops in July.
The company's graphics rival Nvidia is developing similar stacked memory technology that will appear next year in GPUs code-named Pascal. Nvidia CEO Jen-Hsun Huang didn't share much about Pascal during a media breakfast at Computex, but promised significant performance and power saving improvements.