iPhone dongles can do everything from high-speed data transfers to testing for HIV.
At Computex 2015 in Taipei this week, a local manufacturer is showing off a laser pointer for the Apple phone that can precisely measure short distances.
The iPin Laser Ruler is a thumbnail-sized dongle that fits in the iPhone's audio jack. It houses a class 2 laser pointer that shines a dot of a light on a nearby object, such as a wall or piece of furniture. An app on the phone uses the camera to focus on the dot to determine the distance.
The app can also be used to measure shapes in the camera's view, which could be useful when trying to figure out how large a window or wall hanging is without having to measure it directly.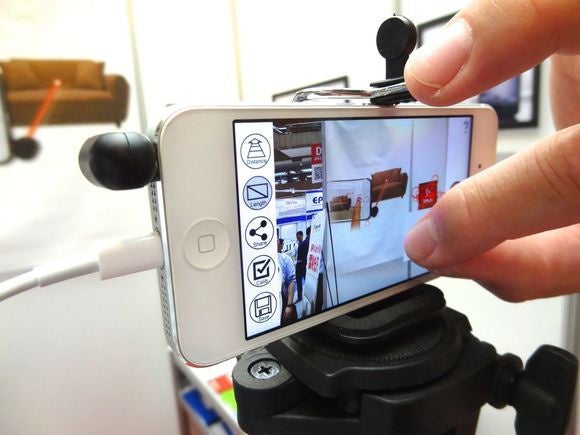 During a demo at the Taipei World Trade Center, the dongle was attached to an iPhone mounted on a tripod and pointed at a wall. When the camera was made to focus on the dot it gave a reading of about 1.8 meters. A staffer then chose a few other points on the wall, forming a triangle in the app's camera view, and it instantly showed the length of each side of the triangle.
The laser pointer has an accuracy of within 1 percent when used at a range of up to 3 meters, according to maker Conary Enterprise. The device follows on an earlier dongle-style laser pointer that Conary claims is the world's smallest.
The company wants to market the device to interior decorators and others working in home renovation, promising greater convenience than using an unwieldy tape measure, especially when measuring distances of several meters. It can be used on a tripod or handheld.
The iPin Laser Ruler is slated to go on sale by the end of this year for around US$56. There's no plan for an Android version of the app because Android phones don't provide enough power to the earphone jack, the company said.