At a Glance
Expert's Rating
Pros
Lasts a very long time
Read compatible with nearly all existing drives
Cons
M-Disc DVD-R can only be written with compatible burners
You're done with optical discs as a means of data and media delivery, or soon will be. But when done right, as it has been with Millenniata's M-Disc, optical has a particular advantage—longevity. Hard disk mechanisms fail, and the data stored on them can be erased by magnetic fields. Tape stretches and is also magnetically vulnerable. NAND won't last forever, because cells leak and eventually fail. That leaves M-Disc looking pretty good in the media preservation, aka archiving role.
Optical is dead. Long live optical.
In the enterprise, optical has enjoyed continued success. Companies such as Sony and Panasonic have continued development both because of its longevity and the minimal environmental support it requires. You think your hard drive generates a lot of heat? Try operating thousands of them. AC bills can be rather high.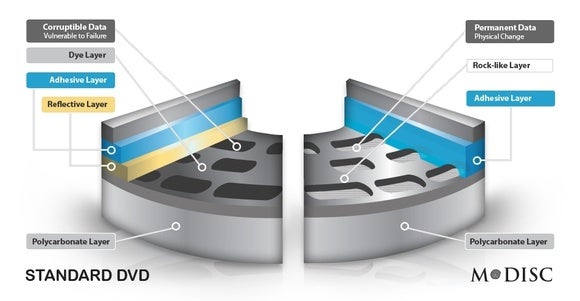 The advent of relatively unstable, dye-based CD/DVD recordable and rewritable, as well as the lack of quality standards governing them, caused many users to forget that pressed optical discs are very long-lived. CDs from the 80's and 90's should still play fine, assuming you haven't scratched them up. Same deal with DVD and Blu-ray moves, which are manufactured similarly. And, even though few are aware of it, write-once BD-R HTL (High to Low, i.e., reflectivity, as in bright to dark) is rated to last 100 to 150 years. Why? Because the data layer is a non-volatile substance, as opposed to the light-sensitive organic dye used in CD/DVD-Rx and less expensive BD-R LTH (Low To High, dark to bright).
M-Disc also uses a non-volatile data layer, but an even better, rock-like one which is said to last ten times longer than BD-R HTL. If you can't trust media that's rated for 1,000 years, you're pickier than I am. One note: Don't freak out when you see an M-Disc DVD+R. It's nearly transparent, but there is a data layer present.
DoD tested
As to that thousand-year claim, the U.S. Navy will back that up. It tested M-Disc DVD+Rs along with archival quality DVD+R/RW and DVD-R/RW, subjecting them three times to a 185-degree, 85-percent humidity, full-spectrum light environment for 26.25 hours. Every DVD failed—except the M-Discs, which suffered no noticeable degradation. The Department of Defense hasn't tested the new M-Disc BD-R, but as the technology is largely the same, the results should be as well. (We'd guess that BD-R HTL would survive as well.)
The only failure point for the material used in the M-Disc data layer is oxidation, which, according to Millenniata materials scientists, shouldn't be an issue for about ten millennia. Yikes. The comparative delicacy of the polycarbonate outer layer of the disc is why the media lasts "only" a thousand years.
DVD and Blu-ray Compatibility
I'm not going to live a thousand years, so the only thing I could test was compatibility. Millenniata was nice enough to send me an M-Disc-compatible optical writer, the Samsung/TSST SE-506CB.RSBD, for write testing. I also tried a vintage 2006 Plextor PX-B320SA, but it didn't recognize the M-Disc BD-R media as legitimate media for writing.

As BD-R HTL was part of the Blu-ray standard, and M-Disc functions much the same way, any BD burner is physically capable of writing M-Disc BD media. But as my experience with the PX-B320SA proved, if the firmware doesn't like it, it won't work.
The logo on the front of an optical burner is actually only for M-Disc DVDs, and then only for writing, as many non-logo drives will read it just fine. Laser strength must be increased beyond that normally used with CD/DVD R/RW to ablate the data layer in M-Disc DVDs, so compatible firmware must be in place. Older drives could be upgraded for writing, but as there's little financial incentive, don't hold your breath.
The SE-506CB.RSBD burned flawlessly, so I took the discs it created and tried to read them using every drive I could find. M-Disc says its recordable DVDs should be readable in 90 percent of the DVD drives installed, or being sold now. I didn't hit 90 percent, but even though recognition could be slow, the majority of the drives I tested read M-Disc just fine. See the table below.
| | | |
| --- | --- | --- |
| Make and model | Read M-Disc DVD | Read M-Disc BD-R |
| LG WH16N540 | Yes | Yes |
| Asus DRW-24B1ST | No | NA |
| Teac DV-W516C | No | NA |
| Matshita BD-MLT UJ272 | Yes | Yes |
| Matshita UJ8B0AW | Yes | NA |
| TSST SN-208FB | Yes | NA |
| Teac DV-W28S-V | Yes | NA |
| Plextor PX-B320SA | Yes | Yes |
Though your old drive might work fine, if you're going to commit to optical for the long haul, it might not be a bad idea to grab one of the latest, greatest Blu-ray burners. Make sure it supports triple-layer, 100GB BDXLfor less disc swapping
Not dirt-cheap and other negatives
M-Disc released 4.7GB DVD discs, which are suitable for archiving documents and perhaps your most treasured photos, last year. For video or other larger files, the recently released 25GB and 100GB BD-R, as well as the soon-to-be-released (Q3) 50GB BD-R discs should take care of business.
But M-Discs aren't cheap. At retail, the DVDs are about $3, the 25GB discs about $5, the upcoming 50GB discs around $10, and the 100GB $20 or so. Just keep in mind that this is not media that you'll have to roll over every few years, as with CD/DVD R/RW or dye-based BD-R LTH. It's a one-time deal. At least until the next technological storage shift.

Because the media is expensive and not as capacious as a hard drive, you'll have to choose what's really important and perhaps divvy it up across discs. You may view this as an opportunity to clean house or a deal-buster.
Also, as always, optical is relatively slow: M-Disc BD discs write at a rather pokey 4X/18MBps (6X/27MBps is the BD max), and M-Disc DVD is also 4X, or 5.28MBps. That's way off the DVD maximum, which is 16X or 21MBps. But it's a once-in-a-while deal, so just start your backup, minimize it, and go on about your business.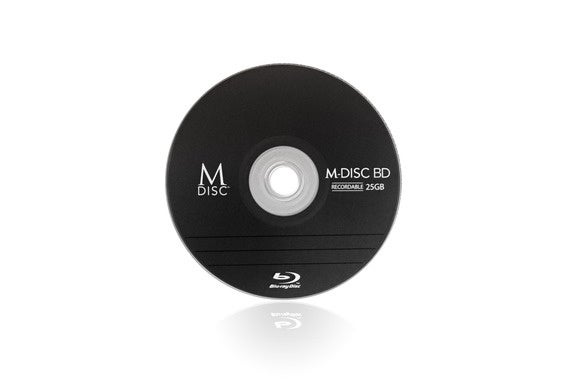 Why not online archiving?
Online archiving is certainly an option, but even in the age of ubiquitous broadband, online storage is relatively slow, even slower than optical in many cases. And relatively expensive. And unavailable when communications systems are down. You don't know who has access to the data, and you don't know how well the data center is backed up.
Yes, I have a streak of paranoia, but it's born of experience. There's nothing quite like knowing there's a backup in your safe deposit box or at your relatives' house. Not that you shouldn't store a copy online as well.
I'd strayed from optical for all the usual reasons: lack of speed and capacity, expense, bad discs, etc. But I'm back and fully intend to keep my most important data, the stuff that can't be replaced, archived on M-Disc. BD-R HTL would do, but just in case I do live a thousand years, I'll use M-Disc.