Your email deluge is not in your imagination. According to a recent study, the average worker spends 28 percent of the workweek managing email. It's a lot like leveling up a video game, where each time you fend off an assault, another wave is on you before you've had a chance to catch your breath.
But you can get the edge on your inbox. The following services take the reins of email management, highlighting, sorting, and deleting messages so you can process the daily onslaught quickly and get back to your actual full-time job. Best of all, they all take only minutes to set up, and in most cases you'll see your inbox slimming down within a week.
SaneBox
SaneBox is like automated triage for your email. It stands sentry at your inbox and prioritizes messages as they arrive. Those deemed important remain in your inbox, while all others are corralled into a SaneLater folder so you can deal with them at a more convenient time. SaneBox learns how to filter incoming email by monitoring which ones you open quickly and which you archive, trash, or, ignore. You can accelerate its learning curve along by moving messages in and out of the appropriate folders as well.
SaneBox also offers several optional features, such as a SaneTomorrow folder, which will hold messages until the next day; SaneNotSpam, which monitors your spam folder for messages that belong in your inbox; and SaneBlackHole, to which you can consign senders you never want to hear from again. There's even a couple of custom options: one that lets you defer email to a time frame you specify, and another that allows you to create your own filtering criteria.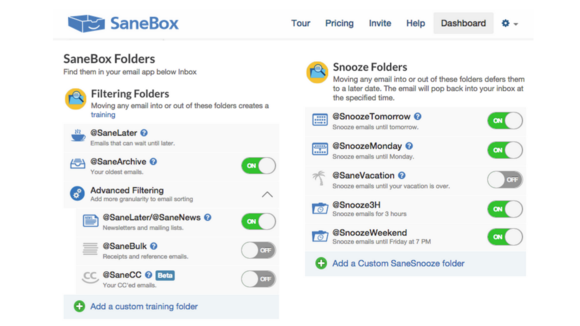 After its initial scan of my inbox, SaneBox reduced my email overload by about a quarter—not bad for a few seconds' work. But the real benefit came after a week of using it, during which I "trained" it to prioritize messages better. Keep in mind, SaneBox works better the longer you use it, so give it time. I found it to be the best service for keeping my inbox in check.
Email sanity doesn't come cheap, however. The Snack plan gives you SaneLater, SaneArchive (which collects your oldest emails) and one additional feature of your choice for $7 per month. For $12 a month, the Lunch plan increases that to five additional features, and the Dinner plan will give you all nine of SaneBox's optional features for $36 per month. Signing up yearly or bi-yearly will get you a discount of 30 or 40 percent, respectively.
Unroll.me
Sometimes your worst email enemy is you—or, more specifically, your compulsion to sign up for newsletters, daily deals, notifications, and other email subscriptions. In many cases, taming this daily influx of impersonal email is all you need to get your inbox under control.
Normally this would require you to manually pick through your messages and unsubscribe from each sender individually. Unroll.me offers a much simpler alternative. Once you sign up for the free service, Unroll.me scans your email and presents you with a list of all your subscriptions. All you have to do is scroll through it and click the "unsubscribe" button next to each one you no longer want to receive. You may find there are some subscription emails you do want to read, you just don't want to read them "right now." In those cases, you can opt to have them added to a "rollup"—a daily digest of messages you choose to have sent to you each morning, afternoon, or evening.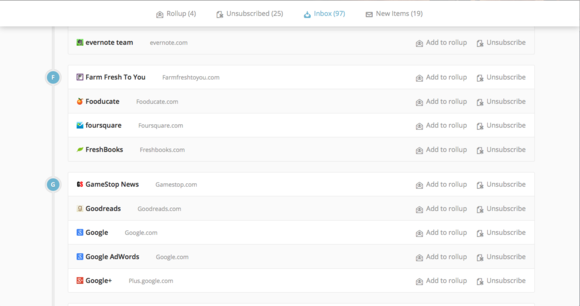 When Unroll.me presented me with my list, I was surprised to find I had 127 subscriptions, many I had long since forgotten signing up for, and the majority of which I had no interest in keeping. As I started unsubscribing, I discovered you can unsubscribe from only five items before you have to share the Unroll.me service on one of your social networks to continue—not much to ask for the convenience of using the service, I suppose, but annoying if you're not gung-ho about sharing everything on Facebook or Twitter.
In the end, I whittled my subs down to a dozen, which I compiled into a rollup I receive each morning when I'm most receptive to reading email. The winnowing process only took about 15 minutes. For me, it was the easiest and most impactful measure I took to reduce the size of my inbox. Regardless of which service you use to manage your email over the long haul, it makes sense to use Unroll.me first to clean out the junk.
Alto
Aol's Alto takes the unique approach of sorting your email into virtual stacks. To connect Alto to your email account, you just click on your email provider—the free service works with most of the big ones—and in seconds it sorts your messages into default categories of "daily deals," "social notifications," "retailers," "photos," "attachments" and "starred." You can create your own stacks by dragging and dropping messages from the inbox scroll on the left to the stack window. Once you place an email in a stack, all future messages from that sender will be sorted to it.
Alto makes it exceptionally easy to scan your email for what needs to be attended to now and what can wait, particularly for those who process information better visually. The one drawback is it requires you to work out of your browser rather than your email client, which may be a deal-breaker for some.
ActiveInbox
ActiveInbox is rooted in David Allen's Getting Things Done methodology—it started out as "GTDMail"—and helps you turn email messages into tasks so you can get to inbox zero. It requires you install an add-on to your browser that lets you process and sort each message with a few mouse clicks.
When you read a message, you have the option of designating it an "action" if it requires you to do something or "waiting on" if you need someone else to take action. In the former case, you assign it a due date, add the required action, and archive it. It's then moved from your inbox to a folder with all your other action emails, which you can access whenever you want to tackle those tasks. Similarly, emails that require others to act will be moved to a "waiting on" folder, where they'll be tracked until the person replies or you decide to track them down.
ActiveInbox's Personal plan gives an individual full-feature access for one Gmail account for $3.30 per month. The Professional plan bumps that up to three accounts for one person for $5 per month. For teams, the Business plan adds multiple accounts, a team admin panel, and one-on-one support for the team leader for $9 per month.
While ActiveInbox is a sound solution to email overload, it's not a quick fix. It requires you to adopt a new set of habits, and developing them takes time. But if your job is email-driven, ActiveInbox–or at least the workflow it's built on—is probably your best bet for long-term control of your inbox.