Battery-powered portable chargers seem to be a dime a dozen these days—they've replaced USB keys as the complimentary shwag at trade shows, for instance. But Microsoft has entered the market with three new, reasonably priced chargers under its own brand.
Microsoft will begin shipping the three new Portable Dual chargers over the next few weeks: a 5,200 mAh, 9,000 mAh, and a 12,000 mAh model, for $35, $45, and $55, respectively. The concept is pretty simple: you charge them via a USB cable from an outlet or USB port, then use the included microUSB cable to connect them to a portable device and power them up as well.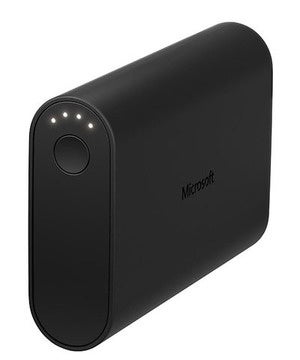 As the name suggests, the new chargers can power two devices at once, or can charge themselves and one other device by "daisy-chaining" between the wall and your phone. Each comes equipped with a power button and four LEDs to indicate the available charging capacity.
How much battery power do you need? Well, the recently launched Lumia 640 has a 2,500 mAh battery, so the cheapest 5,200 mAh Portable Dual model should power it through two full power drains. The Surface 3 contains a 5,400 mAh battery, so the cheapest version could serve as a backup to it, too. Microsoft claims that they'll charge either your Lumia phone or Surface as fast as its AC-60 wall charger. (The Surface 3 uses a microUSB charger, while the Surface Pro 3 uses a standard wall charger that ships with the tablet.)
Why this matters: They're not the cheapest battery packs around—a quick spin around Amazon or another retailer will reveal that there are far better deals. But if you'd feel more comfortable buying from a brand you trust, Microsoft has you covered. That sort of security can be worth a few bucks more.