We've talked about anti-tracking extensions before. These are the tools that prevent online advertisers from tracking you online, allowing you to retain your privacy. There are many to choose from—including Disconnect, DNT+, and Ghostery—but recently AVG came out with a new extension for Chrome called Crumble that's worth trying out.
AVG already offered an anti-tracking extension for Chrome, Firefox, and Internet Explorer. The difference with Crumble is that it doesn't rely on blacklists. Instead, Crumble is designed to identify and block tracking cookies on its own without the need to rely on a central database of domain names.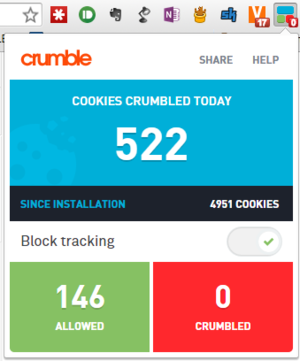 AVG also says it doesn't block third-party advertising cookies so much as it controls them to prevent data leakage. That way, you still get full web functionality and privacy at the same time—privacy-guarding extensions can make some websites difficult to use.
The other added bonus is that Crumble is dead simple. There are no settings to speak of or any real preferences to tweak; you just install it and go.
Test drive
Right now, Crumble is in alpha mode so you might run into a few problems here and there. In my experience, however, the extension worked very well. The only issue I had was that it prevented me from using the bookmarklet for the read-it-later service, Pocket—a problem I solved by using the service's Chrome extension. Other than that, I noticed no differences in my web browsing.
The only other quibble I have is that Crumble presents a pop-up in the lower left corner of your browser when you first land on a page. This pop-up shows you the names of the cookies it has found and quickly details which cookies it has allowed and which it hasn't. That's a nice feature, but I really wish there was a setting that would allow me to turn it off.
Nevertheless, for a no-nonsense approach to protecting your privacy without too many hiccups that sacrifice web functionality give Crumble a try.