At a Glance
Expert's Rating
Pros
Fastest powerline network performance available
Cons
Higher-than average MSRP; much-higher-than-average street price
Our Verdict
D-Link stomps the competition with the fastest powerline networking products on the market.
Editor's note: We originally reviewed the D-Link DHP-701AV powerline adapter on June 15, 2015. We found it to be the fastest product in its class until we reviewed the Extollo LANsocket 1500. This review replaces our earlier review in its entirety, although the score has not changed (the LANsocket is rated higher).
The D-Link Powerline AV2 2000 (model DHP-701AV) kit was the first kit we tested that uses Broadcom's high-performance HomePlug AV2 MIMO chips, and while it's no longer the speed champ (the Extollo LANSocket 1500 overtook it), it remains one of the fastest we've seen. In my tests using the Jperf network performance tool, throughput averaged almost 350 megabits per second—more than 50 Mbps higher than its closest competitor at the time, the ZyXel HD Powerline 1200 PLA5405.
Broadcom's chipset (which LANSocket also uses) achieves excellent performance by operating on the full 2- to 86MHz frequency range the Homeplug AV2 standard supports. Other chips top out at about 68MHz because their manufacturers are concerned about interference.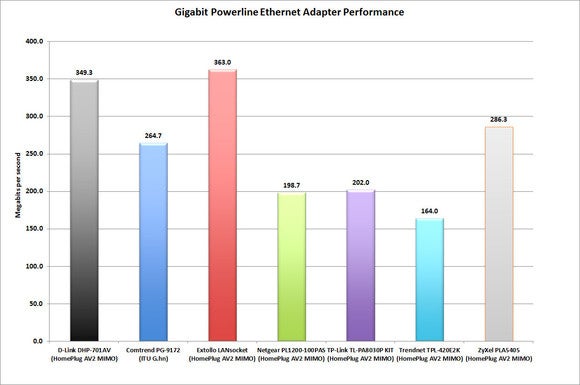 You'll only realize this performance advantage, however, between devices equipped with other D-Link HomePlug AV2 MIMO adapters. In fact, in my tests, all powerline products performed best when paired with adapters of the same make and model. Performance degrades dramatically on a network with AV2 MIMO adapters from different vendors.
D-Link DHP-701AV adapters are large and chunky compared with most competitors; good luck trying to use a second wall outlet for something else (and there is no pass-through outlet).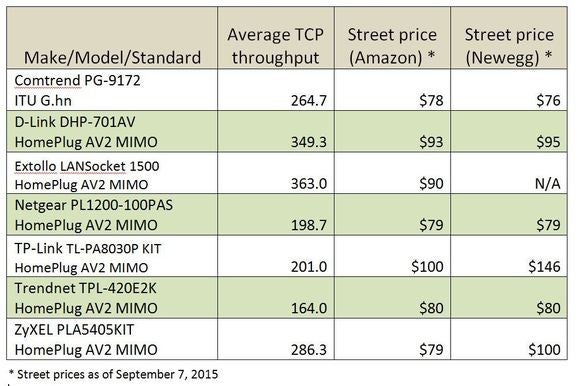 When the DHP-701AV first shipped, street prices for the two-adapter starter kit soared. But now that there's more competition, prices have gone down dramatically—at this writing, the kit was going for about $93 on Amazon. That's still more than the $90 Extollo is getting for its LANSocket kit (if you can find it in stock). Clearly, prices for HomePlug AV2 MIMO gear are in flux, so it pays to shop around before you buy.
The D-Link DHP-701AV remains a strong performer at a good price, but the Extollo LANSocket's pass-through port and even more attractive price makes it a very compelling alternative.