First there was Oculus. Then there was Valve. Then Razer. And now…Starbreeze?
It's true. On Saturday at a pre-E3 event in Los Angeles, Starbreeze (developer of Payday, Chronicles of Riddick) announced it's getting into the virtual reality game with a new headset, dubbed "StarVR." The team showed off a vertical slice based on its upcoming Walking Dead game—though like Sega's Alien: Isolation VR presentation at E3 last year this is a custom-built demo and not necessarily going to be included in the final game.
The headset, built in collaboration with InfinitEye (now Starbreeze Paris) reportedly features a 210 degree field-of-view and a 5120×1440 resolution. If true, that's both the highest resolution and highest FOV in any current VR headset—compared to 2160×1200 for both the Oculus Rift and the SteamVR-powered HTC Vive.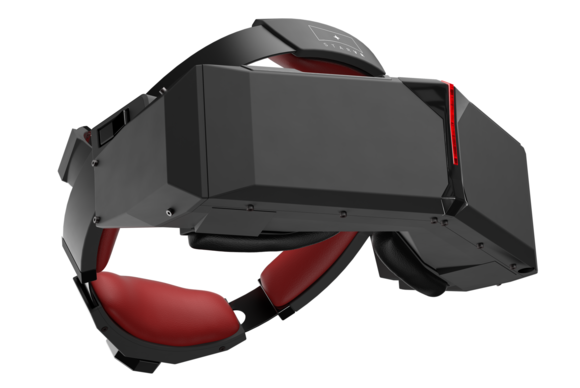 I say "if true" for a couple of reasons. First of all, Mike Futter over at GameInformer said in his hands-on "There was some pixelation and screendoor effect." I didn't notice a significant screen door effect on the HTC Vive or Oculus's Crescent Bay prototype, so it's hard to believe Starbreeze is pumping a 5120×1440 resolution and still having issues.
Second of all, 5120×1440 at a 90Hz refresh rate is a massive graphics burden. The 2160×1200 resolution and 110 degree FOV used by Oculus and Valve isn't perfect by any means, but it's a good compromise between "Doesn't feel like you're looking through a pair of ski goggles" and "Not wasting a ton of rendering power on stuff your eyes won't even see." You'd need a hefty rig to push 5K resolution at 90 frames per second. A really hefty rig.
As for controllers, the Walking Dead demo apparently featured a position-tracked shotgun—one that not only tracked where you were aiming, but tracked where your hands were positioned on the gun itself, which is an interesting twist.
We'll have more information about StarVR as soon as possible—I'm heading down to Los Angeles for E3 today so it's only a matter of time. And don't be surprised if this is just the first trickle in an absolute flood of VR news this week.
Be sure to stay tuned to PCWorld's E3 2015 coverage starting Sunday, June 14 with Bethesda's first-ever E3 press conference. And for minute-to-minute updates from the ground, check out my Twitter feed—I'll be posting live updates all week.