Cortana will be one of the major features to come to Windows 10, and at least one PC vendor plans to treat her especially well. Toshiba's Windows 10 laptops will feature a dedicated Cortana button, for launching Microsoft's digital assistant from your keyboard.
The Cortana key will be on all of Toshiba's Windows 10 PCs—"across the board, top to bottom," according to Jeff Barney, the general manager and vice president in charge of Toshiba America's PC business. The key will sit in the upper left area, near the function keys, he said. Triggering it will launch Cortana, Microsoft's digital assistant.
Cortana was first introduced as part of the Windows Phone platform as a way for users to interact with the operating system without using a keyboard. Tapping and holding the phone's search key triggers the service, which can respond to oral questions, set reminders, navigate to nearby locations, and perform a number of other tasks when verbally requested. With Windows 10, Cortana will live inside desktop PCs as well as phones and tablets.
But on both the phone and the PC, Cortana's ability to "actively listen" has been problematic, with difficulty picking up and reacting to the use of the "Hey Cortana" phrase that triggers it. In practice, it's been far more successful when manually triggered.
The idea behind the dedicated Cortana button, Barney said, is to make sure that "Cortana is listening when you want it to." The company has added high-fidelity array mics to its PCs to improve Cortana's ability to understand what you say.
Why this matters: If a user wants to use the Cortana feature on Windows 10, he or she has either had to tap the Cortana icon on the screen or move the mouse to trigger the service. Placing a dedicated Cortana button on the keyboard is a smart idea, especially if the service proves to be a hit. Frankly, I'd be willing to bet that Microsoft also releases a mouse that does the same thing. (Logitech, a rival peripherals maker, declined to comment.)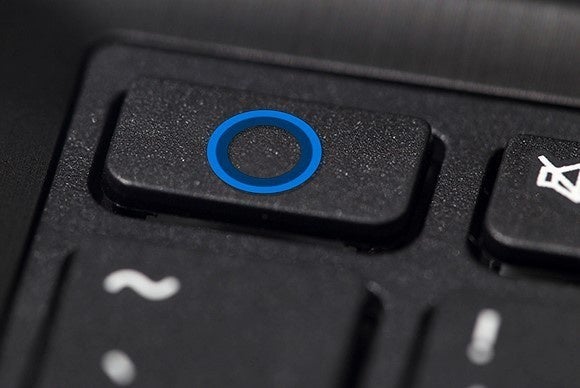 One small click for Toshiba, one giant leap for the keyboard
A dedicated Cortana key would be one of the more significant changes to the keyboard since the Windows key was added at about the time Windows 95 was introduced, in 1995. Although Microsoft added touch support for Windows 8, most external monitors still don't support it, leaving the mouse and keyboard still as the most popular ways of interacting with your PC.
Voice commands could help change that. Even with a keyboard dock, a dedicated hardware Cortana button would be within easy reach of a PC user's hands. (IDG News Service reporter Blair Hanley Frank also notes that the Windows key + C combination also launches Cortana.)
As Bob O'Donnell of TECHnalysis Research points out, Toshiba is a niche PC vendor—fifth in the United States, with a 6.5 percent share, according to IDC—that could use an idea like this to distinguish itself from the competition. And the company may do just that: So far, no other PC vendor, including Hewlett-Packard and Dell, have publicly indicated that they, too, plan to use a hardware-based Cortana button.
O'Donnell said he's installed Windows 10 on a Surface Pro 3 and an HP Spectre, and found that the Cortana integration was "just OK." O'Donnell has hardy given up on Cortana at this point, though. "It's hard to pass judgement on that," he said. "They're going to keep working on it up until the last minute."
Updated at 5:35 PM with comments from Blair Hanley Frank.