It seems like everybody wants to get into the photo-sharing game. One day after Facebook announced Moments, a stand-alone photo-sharing app for Android and iOS, BitTorrent Inc. announced BitTorrent Shoot, a tool for sharing photos and videos between Android, iOS, and Windows Phone devices.
There are already several ways to share photos and videos across different platforms, such as email, messaging services like WhatsApp, and cloud storage solutions like Dropbox and OneDrive. These solutions usually have file size transfer limits, however, making them ineffective for sharing images quickly on the spot.
Moments is great for people who are all-in on Facebook, but many people prefer to limit the kinds of data they share on the world's largest social network—especially when it comes to something as personal as photos.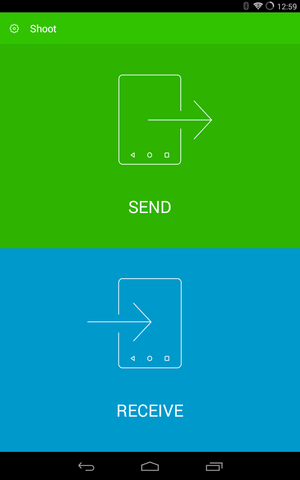 Enter Shoot, which uses the BitTorrent protocol to privately transfer photos and videos between devices without file size limits. In fact, the app is designed to transfer photos or videos in large batches so you can swap great shots from a family reunion or friend's birthday party with relative ease. The only real limit is your carrier's bandwidth if you're not using Wi-Fi. For anyone with a seriously restrictive data cap, Shoot can limit transfers to Wi-Fi only.
Unlike previous BitTorrent apps, Shoot is not a free service. The app allows you to send photos a maximum of three times to others at no charge. After that, you'll have to pay a one-time fee of $1.99 to continue sending photos and videos. Receiving data is always free so if you want to send photos and videos from your Android smartphone to an iPad you only need to pay $1.99 for the version of Shoot on your phone.
Why this matters: Ever since Google shut down Bump there hasn't been a good option for quickly sharing photos across multiple platforms. It's easy to share photos if you're on the same platform. Android users have AirDroid and Android Beam, iOS has AirDrop, and Windows Phone has a basic NFC solution. Where it gets tricky is when an iPhone user wants to share with someone on Android or Windows Phone.
Facebook wants to fill that void with Moments and its advanced features, like built-in facial recognition technology. There are also other third-party solutions like ShareIt and FotoSwipe, but so far none have really dominated. Shoot is now another contender looking to make it easy to share photos across different platforms.
How it works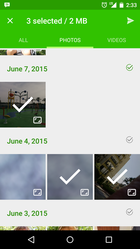 If ever there was a no-frills app, it's Shoot. The home screen offers two choices: Send and Receive.
Tapping the Send tile opens your phone's gallery where you can select as many photos as you want to share with someone else. In our tests on Android, you had to long press a photo or video to add it to your sharing batch. Simply tapping it would open the app's photo viewer.
Once you've got all the photos and videos selected, hit send (this differs by platform) and Shoot will display a QR code.
Now the person receiving the photos taps the Receive tile on their device, scans the QR code on your screen and the app starts transferring. Both devices don't even need to be on the same network for this to work—as long as both devices are online the data will transfer.
That said, Shoot is not recommended for remote photo sharing. It's better for sharing photos with a person you're sitting next right now, similar to the now defunct Bump. The use of QR codes means remote Shoot sharing is a pain. First you'd have to send the QR code over email or messaging. Then the other person would need a second screen like a tablet or PC to view the QR code and scan it with Shoot before they could receive the photos. On top of that you'd need to keep the sending device open to the QR code the entire time.
Contrast that with Moments, which makes it easy to share photos between Facebook users thanks to its use of suggestions powered by face recognition. With Moments, however, you lose the anonymity that Shoot offers.
If the idea of BitTorrent-based sharing appeals to you, but you want to share remotely, consider using BitTorrent Sync instead.
Shoot is available now from the App Store, Google Play, and the Windows Store.