Powerful miniature PCs fascinate me as much as ships in a bottle, so when AMD unveiled its Project Quantum at E3 I was intrigued.
I wanted to know just how AMD jammed not one new Fiji GPU into this mini PC, but two of them, and managed to "water"-cool them too. Yes, 17.2 teraflops of power in a PC smaller than a breadbox. And yes, I've seen a breadbox.
Why this matters: We've had mini-PCs for a while now, but they've generally lacked oomph. Project Quantum points to a future where powerful things will come in small packages, and that's going to be fun to watch.
What you can do with a Fiji GPU
To find out what made Project Quantum tick, I spoke with Devon Nekechuk and Victor Camardo of AMD.
First, they told me, Project Quantum is mostly a proof-of-concept from AMD. Compared to a GeForce GTX Titan X or say, a Radeon R9 290X, the Fiji's use of HBM memory, stacked close to the GPU itself, means very tiny graphics cards can be built.
Believe it or not, it's not cheap to make an actual computer case, even a $50 one. It can cost a hundred thousand dollars to tool up a case factory for production. Rather than do that, AMD hand-built and machined the Project Quantum chassis out of metal and plastic. One nice touch apparent in the picture above: AMD intentionally put a polished surface between the two compartments, so the LEDs would put off a nice red glow. Obviously green LEDs were not an option.
You can see from the above shot, the top holds the radiator and fans, while the bottom holds the components. To give you an idea of how small Project Quantum is, here's an image Legitreviews.com snapped of it during AMD's announcement at E3. Legit also has some shots of it cabled up.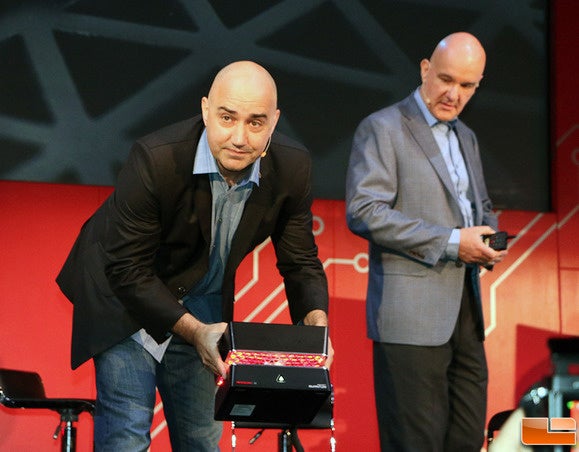 While you've probably seen plenty of pictures of the outside, the intriguing part is the interior. It's a little hard to tell what's going on in this image, but in the top compartment there's an off-the-shelf, 180mm radiator and 180mm fan. Vents under the fan allow air to be sucked in the bottom and blown out through the top for cooling. Wires for power and hoses for the cooling makes their way through the central trunk. AMD tells me that although this picture makes it look like a solid pipe is used, it's actually conventional flexible hosing.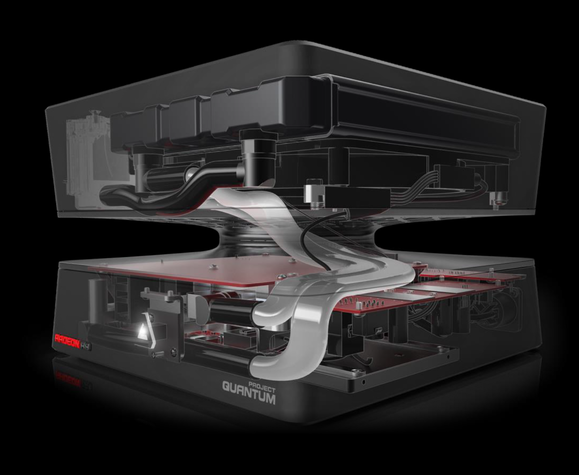 What's hard to tell from that image is what AMD cleverly did with the Project Quantum. The 180mm radiator cools both the dual GPUs and the CPU. The water block or cold plate is then laid on top. The pair of Fiji GPU cores and memory then sits on the other side of the cold plate, and another cold plate appears to sandwich it. It's like a layer cake of cooling, basically.
Again, this was an impressive undertaking for AMD. For the liquid cooling, the company even machined custom water blocks or cold plates out of pure copper. Here's a shot of the a pair of the cold plates used.
But what about the motherboard?
There was speculation that Project Quantum would use an AMD APU or CPU. The truth is, AMD knows where the performance curve is, and even though the CPU division will bitterly complain, there's actually Intel inside–a Devil's Canyon Core i7-4790K CPU. Before you run to the Internet to rub it in your favorite AMD fanboy's face, company officials said it is a standard Mini ITX design, so theoretically an AMD CPU could be used too.
AMD said that for the most part, Project Quantum's an off-the-shelf design, but this shot of the motherboard being readied for a Project Quantum box tells me it's been heavily modified. If it were off-the-shelf, for instance, the back of this motherboard would have more ports.
With such little room in the system, AMD resorted to an external power brick for electricity. In power consumption, AMD officials say it ranges from 300 watts to 400 watts under heavier loads. For a dual-GPU box, that's not bad.
Dual Fiji inside
Project Quantum was created to showcase just what kind of crazy things you can do with Fiji. When AMD CEO Lisa Su surprised everyone by showing off the dual Fiji card at E3, she didn't mention the card she was showing was actually created just to power Project Quantum.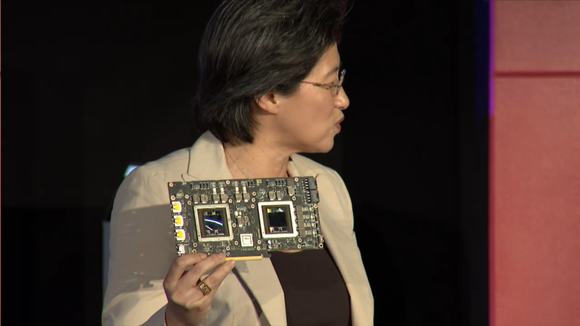 The card uses two Fiji cores with 4GB of HBM RAM each on a single 9-inch PCB. Anandtech got a great shot of the board that shows a pair of 8-pin power connectors and a PCIe 3.0 PLX chip switch used to the share the single x16 PCIe connector.
A dual Fiji card won't be available until later this year, but most likely its design will draw from the design of this card, which looks like it could get even shorter. Still, at nine inches, it's amazingly short for a dual-GPU board. AMD's previous Radeon R9 295 X2 was 12 inches long, and killjoys will point out that Nvidia's Titan Z was 10.5 inches.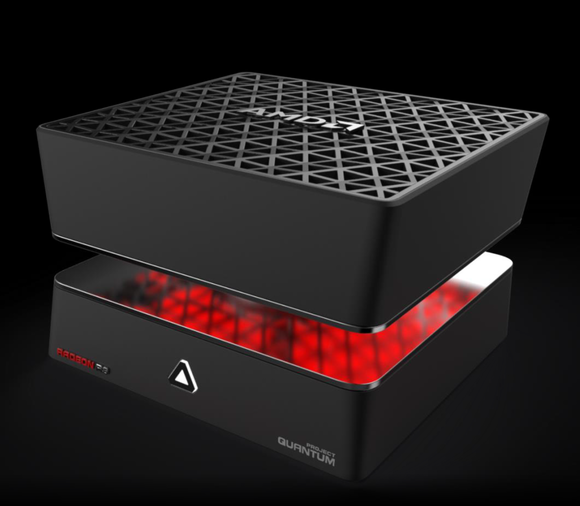 Can you buy it?
AMD told me it built fewer than a dozen of the Project Quantum boxes to showcase its new cards. I'd be fine if just one partner tried to turn it into a product consumers can actually buy.
Unfortunately, it would be very expensive from the looks of it. Most of the semi-custom cases I've seen, such as the Deep Cool TriSteller case CyberPower uses in its Trinity Extreme, takes far less tooling and custom cooling—and even that will set you back at least $400 when it goes on sale this month.
Tack on the custom water blocks, a PSU on a production version of the Project Quantum would likely cost significantly more. Are people ready to pay that much for a Project Quantum rig?
The average gamer will not. But my experience tells me there's always someone who wants something unqiue, something cool that no one else can have. Maybe you'll have your chance with Project Quantum someday.