If Cortana is indeed the sleeper hit of Windows 10, those who buy from Toshiba's new back-to-school lineup will have special access. The company is going all in with Cortana by integrating a button to summon Microsoft's personal digital assistant—and perhaps more importantly, dual-array mics, so she can hear your voice commands.
Budget Satellite
The Satellite C-series, starting at $395, will appeal to students on a budget. Although it seems like every picture you see in the news is of a class rolling $1,400 brushed-aluminum computers, the vast majority of college kids don't and can't spend that much.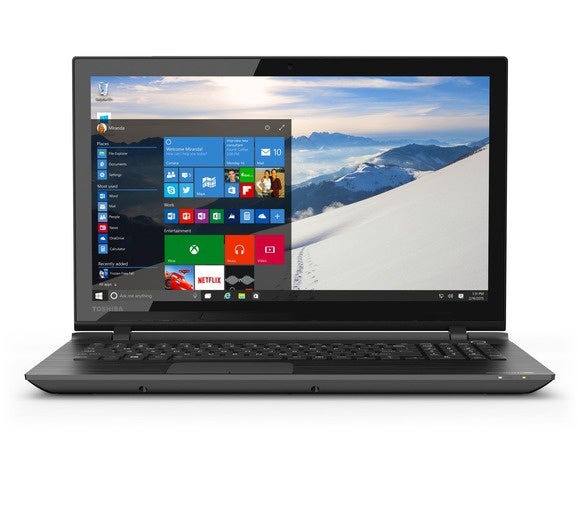 The Satellite C-series will come in 15.6-inch and 17.3-inch screen sizes and use either Intel or AMD CPUs. Though some think the optical drive is dead, Toshiba is also including DVD burners in the C-series.
One step up from the C-series will be the Satellite L-series, which starts at $530 for the 15.6-inch model and $570 for the 17.3-inchers. The main difference appears to be the option for 1920×1080-resolution IPS panels.
The top of the line for the Satellite will be the S-series. Its 15.6-inch and 17.3-inch sizes start at $720 and $875, respectively, but you could pay more to get more goodies, such as a 4K (3840×2160-pixel) display, quad-core Intel Broadwell CPUs, or discrete Nvidia graphics.
Toshiba isn't ignoring those who want convertibles, either.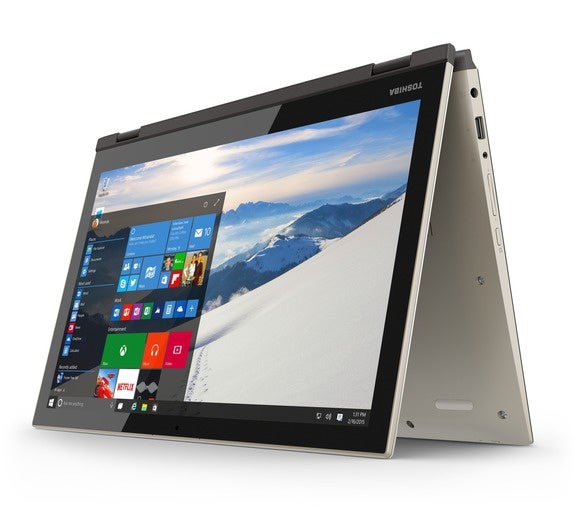 The Satellite Fusion convertible touch-enabled laptop will pack 802.11ac Wi-Fi and a dual-core Broadwell CPU. Toshiba officials said they know most people will use this as a laptop primarily, but having the option of flipping the screen around will appeal to some. Toshiba said the HDMI port on this model will also support 4K output via its HDMI, but because it's HDMI 1.4, its refresh rate will top out at 30Hz. It takes HDMI 2.0 to get to 60Hz.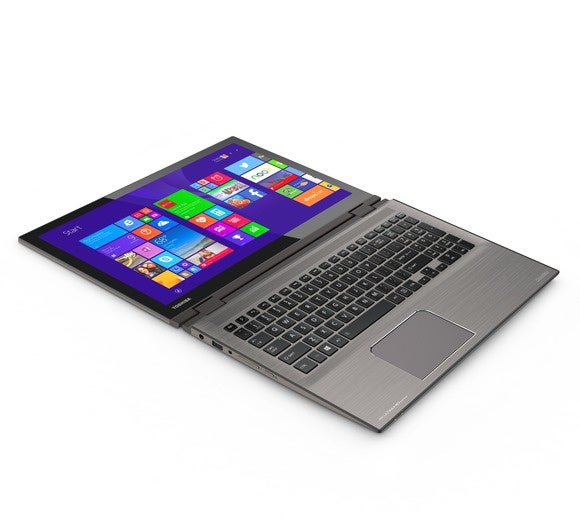 The last two Toshibas for the back-to-school crowd are the 14-inch and 15- inch Radius Laptops. Like the Satellite Fusion, both offer the ability to fold the screen back 360 degrees. The 14-inch model will come with either Intel or AMD processors. The 15-inch version, though, will offer a 4K panel option using only Intel processors. With its 15-inch screen, that pushes it to a pixel density of 282 pixels per square inch. Both have speakers tuned by Harman Kardon.
The 14-inch Radius will be exclusive to Best Buy and start at $585. The 15-inch Radius will start at $843 and have wider availability. Much of Toshiba's lineup will be available next week, but some models won't ship until July. All, Toshiba says, are ready for Windows 10 but can be purchased now with Windows 8.