Microsoft has rolled out a new OneNote feature to the iPhone first before any other platform, showing off the company's interest in promoting cross-platform use of its note-taking system.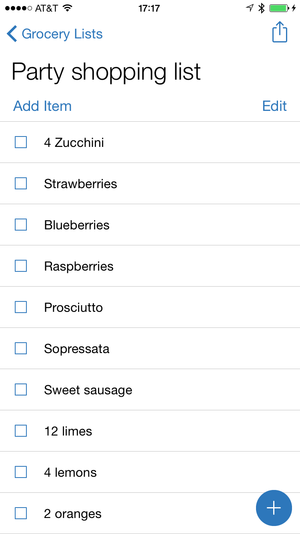 OneNote users with Apple's smartphones will now be able to convert notes with checklists in them into a special list mode that will organize items based on whether they're checked off or not. A note formatted as a list also includes an "add item" button at the top that will create a new blank to-do.
The feature is designed to make it easier for people to quickly interact with their checklists on touch devices without having to deftly pick out a single checkbox in a long column of little boxes. At any time, notes that have been converted to the new checklist format can be converted back without much fuss, and the notes will still be readable by other versions of OneNote as long checklists.
The enhanced list feature hasn't appeared on other platforms yet, including on Microsoft's own Windows Phone app for OneNote. The move is another sign of Microsoft's cross-platform shift with OneNote and Office, and it's particularly interesting because the iOS app has traditionally played catch-up with features available on Windows.
Speaking of catch-up, OneNote users on the iPhone and iPad will finally be able to read equations saved in notes. iPad users will also be able to edit those equations, which will help teachers, students and professionals who rely on complex equations. The iPad app was also updated with support for lined and graph paper, something that hadn't yet made an appearance on iOS.
Finally, the iOS and Mac apps now feature a streamlined sign-up process so first-time users without a Microsoft account only have to provide an email address and password before they can jump into the app and start editing notes.
It's all part of Microsoft's massive cross-platform push for its notetaking service, which competes with other apps like Google Keep and Evernote. Last year, Microsoft released a desktop version of OneNote for the Mac, and made the service free for anyone to use.