In another sign that Japan loves cute robots, SoftBank's Pepper is proving to be a hit with its consumer launch.
The mobile carrier said 1,000 units of the household robot sold out in one minute on Saturday, its first day of consumer sales.
The humanoid machine is designed to be a personal robot and a member of the family. It can't do housework, but it can converse, recognize people's emotions, develop its own "feelings" and retrieve information from the Internet such as messages and weather forecasts.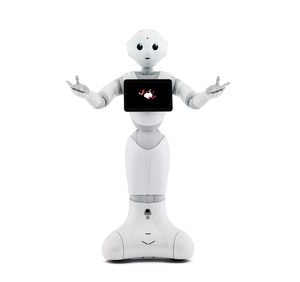 SoftBank describes Pepper as the world's first personal robot that has its own emotions.
Most of the Peppers were purchased online Saturday, but 30 units were ordered through a drawing held Friday at a SoftBank shop in Tokyo. No information about the first buyers was available, a SoftBank spokesman said.
The company plans to make more Peppers available in July.
Designed by SoftBank group company Aldebaran Robotics of France, Pepper has a raft of sensors and cloud-based artificial intelligence chops. It's cheap compared to other robots of comparable sophistication, but it's still a major purchase—it costs ¥198,000 ($1,600) plus ¥24,600 in monthly data and insurance fees.
Pepper's strong first day is an auspicious beginning for a global rollout of Pepper that will start next year by SoftBank and its partners, Apple manufacturer Foxconn Technology Group and Chinese e-commerce giant Alibaba Group. The trio are planning to focus on business applications for Pepper starting this fall.
SoftBank CEO Masayoshi Son said Thursday that the partners are willing to sell Pepper at a loss for at least four years, but he expects the business to be a major contributor to SoftBank's revenue in 20 or 30 years. He and partners Terry Gou of Foxconn and Jack Ma of Alibaba see robots becoming as important as automobiles and consumer electronics in the coming decades.