Intel is giving Android users a free way to control their PCs from a smartphone or tablet.
The free Remote Keyboard app popped up in the Google Play Store late last week. While the app is designed for Intel's Compute Stick and NUC miniature PCs, we've confirmed that it works with other Intel-based machines running Windows 7 or higher.
The app is easy enough to set up. Just download it from the Google Play Store, then install the free host software on your PC. The mobile app automatically detects the host computer, and you can complete the pairing process by scanning a QR code on the computer screen with your phone's camera. Similar to other smartphone remotes, Intel's app uses Wi-Fi to communicate between the phone and the PC.
Why this matters: While Intel is hardly the first company to offer remote mouse software for smartphones and tablets, other apps such as Unified Remote and Mobile Mouse either cost money or are ad-supported. Intel's solution isn't as full-featured, but it could be all you need for remotely controlling a PC in your living room or during a presentation.
A bare-bones app that just works
Once paired, the app provides a full keyboard (including arrow keys and a Windows button), along with a trackpad that supports multi-touch gestures such as two-finger scrolling. There's also a scroll bar on the side of the screen if you'd rather scroll with just a thumb. In a thoughtful touch, the keyboard slides out of the way while using the trackpad in landscape mode, then pops in again when you take your fingers off the screen.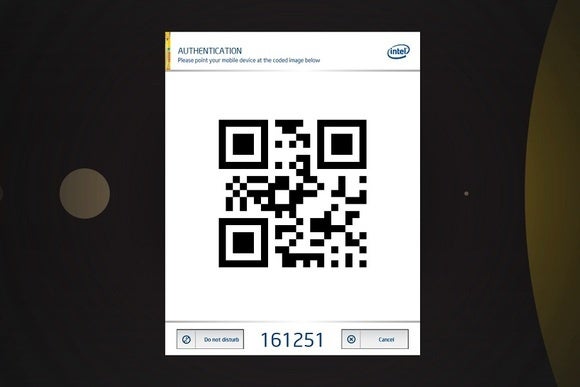 Overall, it works pretty well, though the cursor seems too sensitive by default. While you can dial down cursor speed through the general mouse settings in Windows, this also affects any physical mouses you're using, so it's not ideal. Another nitpick: The app takes a few moments to reconnect any time you leave the app or turn off the screen.
If you've tried other remote mouse apps, you might miss some of their luxuries while using Intel's version. There are no shortcut buttons for opening programs or managing windows, and no media control buttons either. And because the keyboard is built into the app, you can't use your phone's voice dictation capabilities. Intel's app does just a couple things, but does them well and doesn't cost a dime.
For Apple users, Intel's documentation says an iOS version is coming soon.