Just in time for the AMD's big Radeon Fury X rollout on Wednesday, Samsung recently announced street dates for its first FreeSync-compatible 4K monitors. The 28-inch U28E590D is available now for $600, with the 23.6-inch U24E590D $400 monitor coming July 26—three days before the Window 10 debut. Both displays feature 3840-by-2160 resolution.
FreeSync is AMD's competing technology to Nvidia's G-Sync. Both force your display and compatible graphics card to sync their refresh rates in order to create a much smoother visual experience, as well as eliminate stuttering and screen tearing.
This kind of tech is especially important for playing games in 4K with graphics cards like Nvidia's GeForce GTX 980 Ti and, presumably, the Radeon R9 Fury X. Neither is supposed to require a second graphics card to help boost your game into a premiere 4K experience. However, frame rates may still go below that golden standard of 60 frames per second, which the variable refresh tech in FreeSync/G-Sync helps compensate for by offering a smoother experience than you'd normally expect at lower frame rates.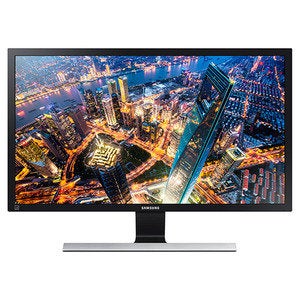 Beyond gaming, Samsung's new 4K FreeSync monitors offer other multi-media features like picture-in-picture technology, and picture-by-picture that lets you connect two PCs to one display. Both monitors feature one DisplayPort, one HDMI 2.0 port, and HDMI 1.4. HDMI is especially important as FreeSync hopes to one day end the reliance on DisplayPort for variable refresh monitors.
Response times between the two monitors differ slightly. The 23.6-inch model is a plane line switching (PLS) panel with a 4 millisecond response time, while the 28-inch twisted nematic (TN) display is 1 ms.
The story behind the story: Both Samsung monitors have been a long time coming. We first heard about Samsung's new monitors in November during AMD's Future of Compute event, and they appeared again in January during CES as part of AMD's roster of the first 7 FreeSync gaming monitors. Now they're finally here as both AMD and Nvidia tout new gear with the competing (and non-compatible) FreeSync and G-Sync technologies.
[via AnandTech]