Every time you buy a notebook PC, you have to make a choice: low-cost integrated graphics, or expensive, discrete GPU? With the upcoming PCI Express OCuLink cable, you may not have to—you could dock your notebook into an external graphics card, instead. (Editor's note: That spelling of the brand name is not a typo, but we'll be writing it as "Oculink" for the rest of this article.)
And the best part? It's almost here.
The PCI Special Interest Group (PCI-SIG) has been quietly working on the Oculink cable for at least two years. In a press briefing Tuesday, executives said that Revision 0.9 of the spec is being reviewed now, and that the final specification, version 1.0, is due in the third quarter. Historically, hardware makers have begun developing final products once the 0.9 specification was completed, implying that Oculink-capable products are just months away.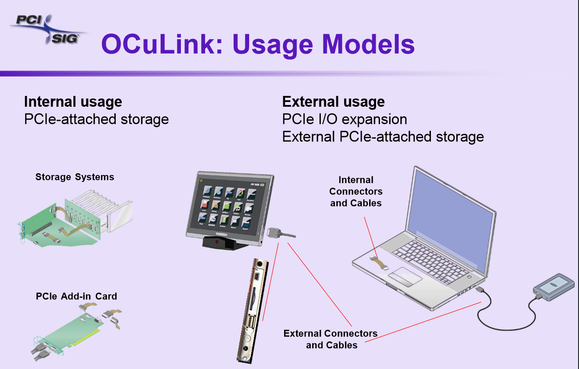 "The primary usage model is as a docking cable," said Al Yanes, president and chairman of the PCI SIG. "But it could be graphics, it could be storage, it could be networking…but yes, graphics could be one."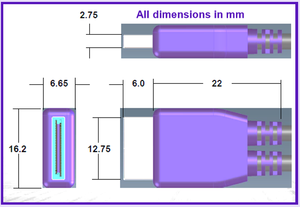 More bandwidth, less power
The PCI SIG is responsible for advancing the main PCI Express spec forward, but also expanding the technology outside the box, so to speak. On Tuesday, Yanes and others said that the next version of PCI Express, version 4.0, is due in the second half of 2016, with support for 64Gb/sec from a x16 connection. A version for M.2 storage (the flash storage built into tablets and some laptops) is currently in its earliest definition stages. Finally, the SIG continues to cut power, developing a "quarter swing mode" for PCIe 4.0 that will consume only 200 milliwatts.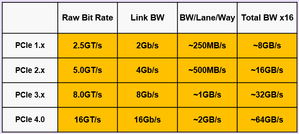 But it's the Oculink cable that could have the most profound impact upon the industry.
"Oculink is pretty much done," Yanes said. "We went through a little feedback and change from the final review."
According to Yanes, Oculink could be used both inside and outside the PC. Inside the PC, it's possible the cable could be used to allow extra flexibility, allowing hardware makers to place components as they like. Externally, the SIG sees Oculink as a standard cabling solution for very low-cost I/O disambiguation.
But there's one catch right now: the bandwidth. Right now, Oculink supports only X1, X2, and X4 widths, rather than the 16 lanes (x16) usually allocated to graphics cards. Support for x8 and x16 is coming, but in a future revision. That doesn't mean, however, that external graphics solutions will be as underpowered as you might think—as our Gordon Mah Ung reported, Alienware doesn't believe that a 4X PCIe connection will be a problem, and other vendors back up Alienware, too. (An X4 connection will support 32Gb/s in each direction.) The SIG says that they'll have both copper and optical cables, as well.