After rolling out preview versions in mid-May, the final versions of Microsoft's Office suite of apps have landed on Android Phones. As of Wednesday, you can download the official versions of Word, Excel, and PowerPoint from Google Play for your phone or tablet. The apps themselves are a free download and are available to anyone for basic document editing, but an Office 365 subscription is required to unlock the suite's complete features.
The official Office for Android phones follows a tablet-only Android release in January. It also succeeds Office Mobile for Android phones, the all-in-one productivity suite Microsoft introduced in nearly two years ago.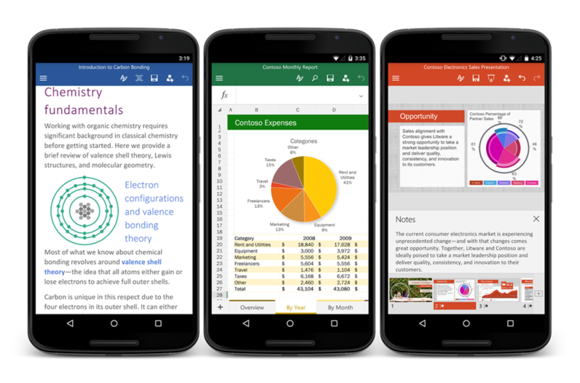 Microsoft says the new apps for phones are the same as the tablet versions with some tweaks to make the apps better suited to phones. The Show Ribbon button in Word, for example, prompts menus to show up from the bottom of the screen instead of dropping down from the top as on tablets.
The company also added some welcome features following user feedback during the preview period, which included testing 1,900 phone models in 83 countries. Chief among the feedback upgrades was the ability to connect to Google Drive and Box accounts. The apps also include Dropbox integration as a continuing part of the alliance between Microsoft and the cloud storage provider.
Why this matters: We loved Office for Android tablets when it first rolled out and now it's getting even more productive with the addition of phones. As with other versions of Office, the build for Android phones uses Microsoft's modern design language and corresponds very closely in look and feel to Office 2013 on the desktop. It also shows yet again how serious Microsoft is about bringing its key software across all platforms as part of the company's strategy to reach users no matter what device they're using.
As with tablets, Microsoft is working to pre-load the Office apps on upcoming phones from manufacturers such as LG, Samsung, and Sony.