Google recently killed an extension in the open source Chromium browser that enabled "OK, Google" hotword detection. The move follows developer concern that the proprietary functionality was included in Chromium to begin with.
Chromium is the open source basis for Chrome and is a project controlled by Google. Chrome hotword detection didn't come built-in to Chromium. Instead, the extension downloaded silently in the background after a user installed the browser. Many in the open source community took exception to this approach, especially since the code for hotword detection was not available for users to look at.
A foundation of open source is the ability for anyone to check out the source code of a program they wish to install. Proprietary code, meanwhile, is usually only tolerated if users install it freely and knowingly. That's why, for example, Ubuntu Linux asks during a new installation if you want to install the codecs required to run common media files.
The impact on you at home: Regular Chrome users have the same extension included in their browser that Chromium used to, as well as many other bits of proprietary code that are not found in Chromium. If you don't like the notion of hotword detection, simply don't enable it in your settings. But without access to the source code it's not possible to know for sure that the hotword detection feature only accesses your microphone when enabled and only on Google search sites. If that notion disquiets you, there's always Firefox.
Hotword fury
Developers and users began to take issue with Chromium's hotword extension in May, when the issue first popped up on the bug tracker for Debian Linux. Things got worse when users checked out the extension's functionality at chrome://voicesearch/, which said the extension was enabled by default and that it had access to a user's microphone.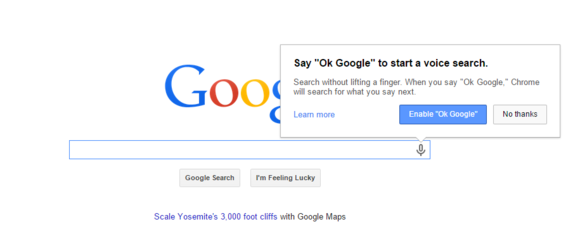 A Google developer clarified on the Chromium bug tracker that while the page at chrome://voicesearch said the extension was enabled, it wouldn't actually work unless you enabled Chrome hotword detection in the browser's settings.
When hotword detection is enabled the extension should only be accessing your microphone when you're on Google.com or the new tab page, which includes a Google search box.
Google's reassurances weren't good enough for the open source community, however, and Google ultimately decided to respect Chromium's open source nature. It removed the hotword extension download from Chrome as of Wednesday. In the future, any developer or dedicated power user on Chromium will have to build the hotword detection feature from source if they want it in the open source browser.
[via Ars Technica]