There's an invasion of mini PCs going on right now, and they don't get much mini-er than Chromecast-style dongles that slap into any HDMI port. The latest entrant to the computer stick game is the Archos PC Stick, a $99 Windows 10 PC that measures 4.45-inches long—a little shorter than an iPhone 4S—and 1.48-inches wide.
At about half-an-inch thick, you'll definitely notice when this is in your pocket—especially compared to a modern cell phone. But hey, it's a full PC, and at least there's no fan.
Archos did not announce a release date.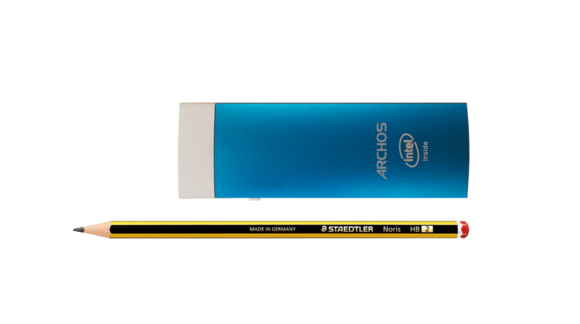 Under the hood, you get a quad-core 1.33GHz Intel Atom Z3735F processor, 2GB of RAM, 32GB of onboard storage, and a microSD slot for more space if you need it. To make it easier to connect to wireless devices—you need to connect this device to a keyboard and mouse somehow—the PC Stick comes packing Bluetooth 4.0, but also has a USB port.
If those specs sound familiar, it's because they are the same as Intel's Compute Stick, Lenovo's recently announced ideacentre Stick 300, and BeeLink's Pocket P2. Intel's Compute Stick basically kickstarted a new device concept, so all of these are using the same processor and component configuration—something that's to be expected.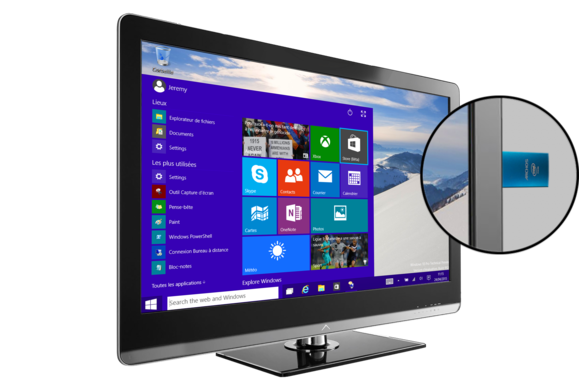 As the compute stick concept matures, the devices will start to differentiate. However, Archos did manage to make its PC a little bit unique compared to its competitors. Instead of going with the basic black, Archos chose a blue color for its PC Stick, making it easy to confuse the PC for an unusually wide highlighter.
The $99 Archos price is also a big drop from the competition. Intel's Compute Stick started out at $150, Lenovo's stick is $130, and Beelink's had an announced price of $300, but has since dropped down to $130 on Amazon.
The impact on you at home: As we said when we reviewed the Intel Compute Stick in April, don't expect this puny-sized PC to be a power house. It should run a browser just fine, stream videos at 1080p, and run Office and other desktop programs. Considering it will run Windows 10, it may even be a little faster than current PCs-on-sticks since Windows 10 is designed to use fewer resources than Windows 8, and has a smaller footprint.
At $99 it might be worth it for tech types to have Archos' PC stick in your backpack for those emergency moments when only a PC will do. But you'll still need a mouse and keyboard in addition to a monitor to make it usable.