Was E3 really just a week ago? It seems like we've already been waiting forever for Fallout 4, Deus Ex, Master of Orion, Shadow Warrior 2—all the great games unveiled (or at least talked about) last week.
And now it's time for the long, dry summer months when both releases and news slow to a trickle. Time to…go outside? That's a thing people do in the summer, right?
This week we've got Fallout 4 bartering, The Rock starring in a Rampage movie, Grand Theft Arthur and more. Here's your gaming news for the week of June 22.
Caps for sale
If you want to know the exchange rate of bottle caps to dollars, it's apparently in the realm of 33:1. Earlier this month, Reddit/Imgur member GatorMacheteJr posted he'd sent over 2,000 bottle caps (the currency in Fallout, for those who don't know) to Bethesda's headquarters as a "preorder" for Fallout 4.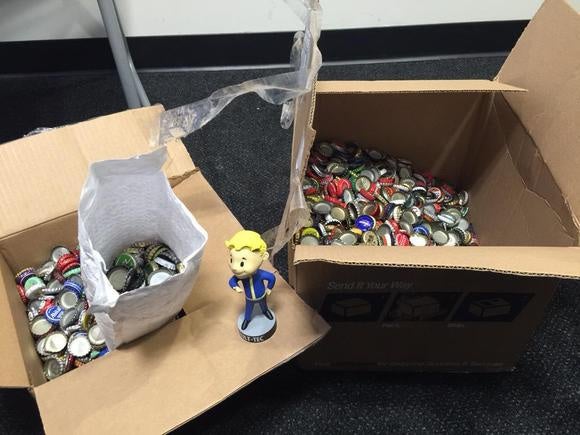 It worked. Bethesda and GatorMacheteJr confirmed that since he was the first to do so, he'll be receiving a copy of Fallout 4 at launch. Emphasis on "since he was the first to do so." No, Bethesda doesn't want your college dorm collection of beer bottle caps. Yes, we are all impressed how much beer you drink.
Also in Fallout 4 news: Bethesda clarified this week that "Resolution and FPS are not limited in any way on the PC" after some earlier rumors it might be capped at 1080p, 30 frames per second. But that would be insane! No game would put a 30 frames-per-second cap on a PC game in 2015. Oh wait.
Unification Day
We already wrote about our XCOM 2 demo at E3 and why it's shaping up to be a great game, but now you can see for yourselves (if you're so inclined):
Military industrial complex
This week marks the fifteenth anniversary of the Total War series, and you know what that means: Steam Sale! Pretty much every Total War game is discounted this weekend, including new Steam releases of the original Shogun and Medieval games.
And if you've never played a Total War game and you're curious? Every game since 2006's Medieval II is free-to-play for the weekend. Check your Steam library and you should see the games, ready to install and try out from now until Sunday morning.
Here we go again
Game development is weird and crowdfunding is not a science, but one surefire way to alienate your supporters is to release a game with some issues/missing features and then follow up less than two months later by asking for more money—not to fix the original game, but for a full-blown sequel.
Enter Project CARS 2, which basically promises to be "The Project CARS everyone thought they were getting the first time around," except now you have to pay for it again. I can sympathize with Slightly Mad because I'm sure only a small portion of the studio is working on DLC/fixes and the rest need a new project to transfer onto ASAP or it'll be time for layoffs, but…This crowdfunding campaign seems like not the best idea. Especially judging by the comments on the announcement page.
Gamer grub
The road to hell is paved with junk food aimed at people who love video games, whether it's Mountain Dew Game Fuel or G Fuel or Gamer Grub or "Destiny Edition Red Bull Cans." Starting July 1, Destiny players will be able to buy cans of Red Bull and unlock an "EPIC NEW QUEST" and an experience boost.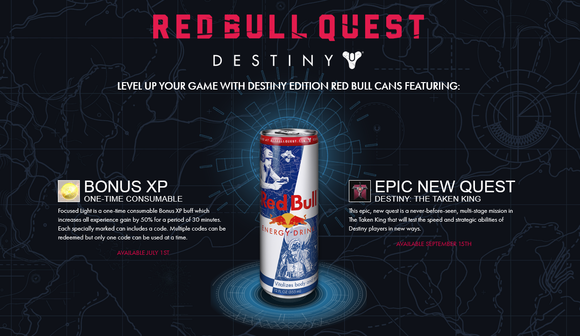 …And I wouldn't even bring up this dumb tie-in garbage except that Dying Light fired back with this amazing post about "THE REAL KING OF HYDRATION" a.k.a. water.
Bright lights, big city
This week in "Hollywood tries to understand video games:"
The Uncharted movie lost another director, either because of a lower budget (as reported by Heroic Hollywood) or because it's going in a new direction (reported by io9) or because the film is going in a new direction because it has a lower budget (most likely). There is the slimmest of slim chances this movie doesn't suck.
Even more absurd: Dwayne "The Rock" "Can you smell what The Rock is cooking?" "I am the best part of every movie I'm in" "That new show Ballers on HBO is pretty silly/good" Johnson is going to star in a film adaptation of Rampage. Yes, the '90s arcade game Rampage. Like, the one where a giant wolf, gorilla, and lizard destroy buildings and eat people. (Thanks, Deadline.)
And you thought Hollywood was all out of ideas.
Grand Theft Arthur
A headline I did not expect to read this week: "GTA V remakes the opening of PBS children's show Arthur." So uh…thanks GameSpot for bringing this into my life.
More reading
It's all about that E3 wrap-up this week. Oh, and Batman.