Microsoft is hurtling toward the release of Windows 10, pushing out Build 10158 on Monday to early testers. The new build provides yet more clues as to what the OS will look like when it ships at the end of next month.
One of the biggest changes involves Microsoft Edge, the company's replacement for Internet Explorer. Microsoft announced the browser's name at its Build developer conference last month. Today's update finally shows off the new Edge branding ahead of its public launch with Windows 10. As seen in leaked builds, it's a blue "e" very similar to the one used for Internet Explorer.
Running on the desktop, Edge now has a black theme that matches the Windows 10 taskbar, along with new menus for sharing content. The browser now supports filling in forms and password fields, bringing it closer to other modern browsers, including its predecessor. Users can also customize Edge's New Tab page to display only their most visited sites, or their most visited sites along with suggested content that may interest them.
Like the launch of Edge's branding on Windows 10 Mobile, this update brings a new app ID to the browser, which means that testers will lose their favorites, cookies, history and Reading List items from Project Spartan after the upgrade. Microsoft has instructions for backing up that data, for people who want to maintain continuity in their browsing experience.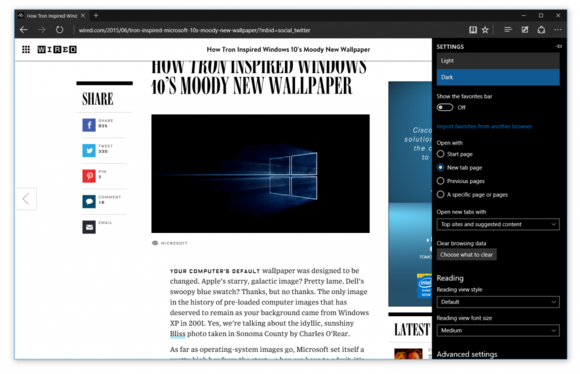 The Start Menu receives some added utility with the update as well. With build 10158, users can now swipe up on the left-hand side of the menu to view all of the apps they have installed.
Microsoft has also improved the experience using Windows 8/8.1 "Metro" apps and Win32 "classic" apps in Tablet Mode, so that people who have the new build running on a Windows tablet will see improvements. Tablet mode also received some improved animations for added visual fit and finish.
As usual, the new build contains a number of bug fix updates, including a change that will allow Surface 3 users to upgrade properly to Windows 10. (Remember, Surface and Surface 2 users aren't getting full Windows 10.) Surface Pro 3 users should see improved battery life thanks to the changes, as well.
This is the first build for which Microsoft did not call out any significant known issues in its announcement. That doesn't mean it's ready for prime time, since it's only available to members of the Insider Program's Fast ring. In other words, it's still only recommended for people who are comfortable mucking around with Windows's innards.
That said, Microsoft is only a month away from Windows 10's launch, which means that this build is likely pretty close to what consumers will see when they install the new update after its release on July 29.