Google recently upped Gmail's personalization game with a string of new themes to customize your inbox background, as well as a revamped set of emojis. The new updates are available only to free Gmail users and are not yet available to Apps subscribers.
Top of the list for the new updates are hundreds of new high-resolution theme photos. Google says many of the new photos were uploaded by "fellow Googlers," but if you don't like any of those you can still upload your own photo.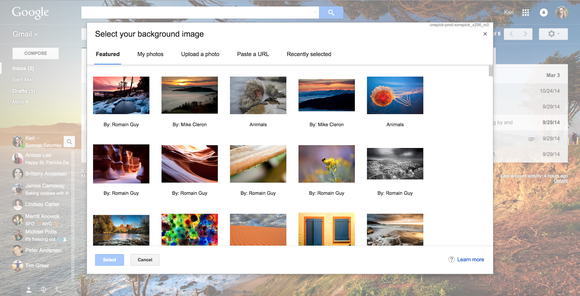 Gmail also has a few new tools to augment your background image. Beyond switching between light and dark inbox text, you can also add a blurring effect or a vignette affectation that darkens the image from the corners and moves inward.
The two new tools are pretty straightforward to use, with sliders that increase or decrease the amount of blur of vignette that you want.
Gmail is also getting better at emojis. The change comes after the service beefed up its "emoticon" selection to more than 1,000 in 2013. This time around, the emoji are larger and better organized. They should be immediately familiar to anyone who's used the emoji on Hangouts.
Instead of a scrolling list, the emoji are organized into five categories for easier selection.
If you don't see the new themes and emoji yet Google says they are rolling out over the next few days.
Why this matters: Themes are cool and will probably look great on a large screen, but for many, the big addition will be the new emoji set. Although originally created as a novelty, emojis are taking on a life of their own as people regularly them to express something in a sentence or communicate entirely with the little pictographs. Emoji are such a big deal that Taco Bell lobbied for the Unicode Consortium standards body to create a taco emoji, which was approved in June.