With the launch of Windows 10 less than a week away, here's what you can expect to find when the operating system launches on July 29. It's not quite as simple as "Windows 10 will be available that day."
Windows Insiders (read: Windows 10 preview testers) will get first dibs when Windows 10 launches on July 29, while everyone else will see a staggered roll out over the following days. In other words, if you haven't yet "reserved" your free upgrade from Windows 7 or Windows 8.1, now would be the time to do so. Microsoft recently began offering reservations through a pop-up message in the Windows notification center.
Further reading: PCWorld's Windows 10 review
Microsoft says it will use the rollout to check compatibility and to "listen, learn, and update the experience for all Windows 10 users." However, the company notes that "the vast majority" of PCs running Windows 7 and higher should be fully compatible. As a reminder, all users running Windows 7 or Windows 8.1 can get a free upgrade to Windows 10 within a year of the July 29 launch, after which the price will be $119.
Why this matters: New Windows versions and upgrades are usually a free-for-all, with Microsoft's servers struggling to keep up. This time, it seems Microsoft wants to avoid that situation by limiting the rate of downloads. Some users will likely be frustrated by this approach, but the good news is that Microsoft is experimenting with alternative methods such as peer-to-peer distribution for future Windows 10 updates.
Windows 10 at retail
As for sales of boxed, pre-made PCs, well, it's complicated.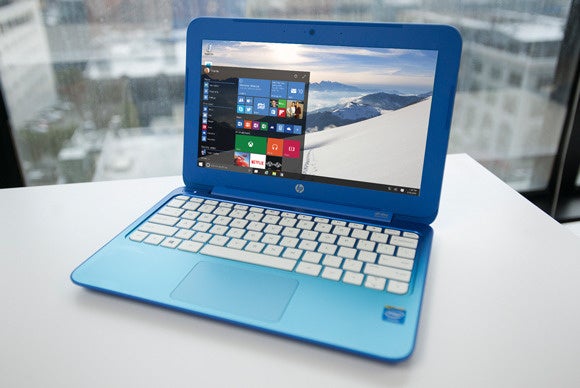 If you preorder a Windows 10 PC from Dell, it will ship out on July 29, and one-day shipping options are available so you can receive your computer on July 30. HP, meanwhile, will let you preorder a Windows PC now in order to have it on your doorstep on July 29. But only "select" retailers will have boxed Windows 10 PCs from HP in stores by August 2. And orders for Windows 10 PCs from Lenovo won't ship until mid-August.
Retail stores will also be getting a Windows 10 build, so they can offer free upgrades to people who buy any remaining Windows 8.1 PCs. (Computers that are fully compatible with Windows 10 will have a sticker letting buyers know about the upgrade.)
Users, however, won't be able to buy boxed copies of Windows 10 from stores on launch day. Discs packing the OEM version of Windows 10—which doesn't include technical support—won't be available until August 5 on Amazon, while flash drives bearing the consumer version of Windows 10 Home and Pro won't go on sale until August 30. Newegg has more aggressive shipping targets for the operating system: The OEM version of Windows 10 will release on July 31 there, with the consumer flash drive versions hitting the streets on August 11.
For businesses, Windows 10 Pro will launch on July 29, alongside the consumer version, while volume licensing for enterprise and education customers will kick off on August 1.
Editor's note: This article was originally published on July 2, but was updated on July 24 with much more additional information.