Microsoft has always struggled to establish its own identity in the music business, and the turmoil may continue: Microsoft said Monday that Xbox Music is being rebranded as Groove Music.
As Windows Central reported earlier, Microsoft's own Phone Companion app now refers to Groove Music Pass as the presumed replacement for Xbox Music Pass, Microsoft's unlimited, a-la-carte music service. Microsoft later made the name change official. It's still unclear, however, whether Microsoft has purchased Zikera's Groove Music service, as some have suspected. Zikera did not return an immediate request for comment.
Under the new rebranding, Xbox Music will become Groove Music—that's it. Microsoft will still charge $9.99 per month or $99 per year for the service, and existing Xbox Music Pass subscribers will convert over with no change needed on their part. Xbox Video will become the TV and Video app, and continue to offer rentals and sales.
Microsoft's chief blogger, Brandon LeBlanc, said the new Groove interface and branding would be more "intuitive." "Groove provides an improved experience for listening to and managing your music in Windows 10," LeBlanc continued. He also touted a redesigned interface: "Getting into music is faster than ever with easy-to-use menus and navigation controls that work well with both mouse/keyboard, and with familiar touch gestures on touch-screen devices." Albums can be pinned to the Start menu, tracks can be dragged in and out of playlists, and the interface can be adjusted using pinch-to-zoom gestures, LeBlanc said.
Why this matters: Dating back to the Zune music player—a cult classic, beloved by its fans but unable to find mainstream appeal—Microsoft has never succeeded in establishing a brand that competed strongly with other service providers—including, say, Apple. Then there was the confusing name: While users aren't required to own an Xbox to access the millions of songs available with the Xbox Music Pass, that's certainly what the service's name implies. (Xbox Video implies that you need to own Microsoft's game console to access it, but guess what: You don't.)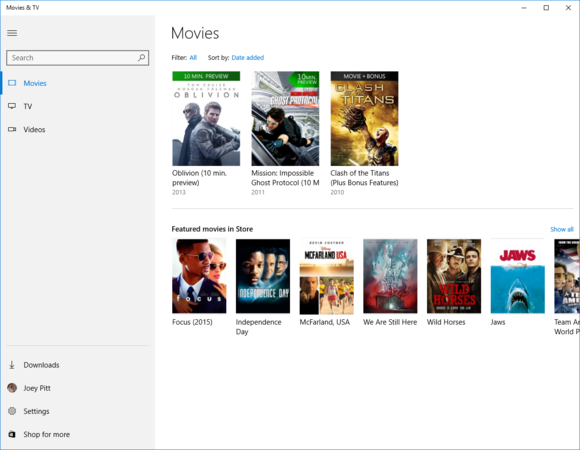 Why Microsoft is in the music business
Some might wonder why Microsoft is in the music and video business at all. Music can't be a money-maker for Microsoft in the way that, say, a Windows Server license is. (Microsoft executives haven't mentioned its music or video services on an earnings call in ages, if ever.) If there were just a bare handful of music services available, Microsoft's presence in the market might make more sense. But with Spotify, Rdio, Slacker, and many more, providing access to streaming music via third-party apps is arguably more important than delivering the service itself. Video's even more of a head-scratcher: When was the last time you heard of anyone buying something from Xbox Video?
One has to assume that at this point, Microsoft wants to provide a viable alternative to Spotify and the other services, if only to compel them to continue developing apps for the platform. Ordering Microsoft's Cortana assistant to stream a particular song is probably easier to do when Microsoft owns the service, too.
If Microsoft has purchased Groove Music, it hasn't purchased a streaming music business. Zikera's app merely mines your music files and "resurfaces forgotten gems" that you haven't heard in years. It also comes up with playlists depending on who you're with and what their tastes might be. That could offer a bit of differentiation as music services elbow each other to provide the most personalized song recommendations.
Microsoft certainly made waves when it offered 100 classic albums for free download last December. But did it lasso a user base who will pay $10 per month for the privilege of subscribing to its music services? That's doubtful, and rebranding Xbox Music to Groove probably won't change that.