It's summer, which means two things: 1) There's pretty much nothing new to play, so crank through that backlog, and 2) Make sure you turn up your AC. Treat your computer right. Don't let it melt.
Or give your computer a break and read about video games instead. That's probably what I would do. I'm definitely not hopelessly addicted to You Must Build a Boat. I definitely didn't play it until 4 A.M. last night.
This week: EA's giving away a new freebie, Doctor Who gets Lego-fied, and Black Ops III comes with an actual mini-fridge. Also, Jeff Goldblum. This is gaming news for July 6.
Freebie
EA's new On-the-House promotion started earlier this week. For a limited time, you can download Zuma's Revenge for free, provided you have an Origin account.
It's not a bad puzzle game but it's also nowhere near as interesting as some of the past offers, which includes SimCity 2000, Syndicate, and Crusader: No Remorse. On the other hand, Zuma's Revenge takes over for Ultima VIII which is quite literally one of the worst games ever made, so…
Puuuuush
The Bard's Tale IV Kickstarter campaign ends today at 6 P.M. Pacific, so if you're looking to back it this is your last chance. The game's still well-shy of its $1.9 million Chris Avellone stretch goal, although it has hit its initial funding. Here's one last, silly infomercial trailer before the campaign closes:
Company of Heroes 2.5
Two years and multiple expansions later, Company of Heroes 2 continues to grow. This week, Relic announced an upcoming British Forces expansion which will…well, I'm sure you can guess from the title. More important is this line from the press release:
"Coinciding with The British Forces' release, every title in the Company of Heroes 2 catalogue will receive a major design upgrade that will greatly improve the overall balance of all five factions featured in Company of Heroes 2. The game also features animation and visual improvements to most infantry units in the game, which further increase the authenticity of Company of Heroes 2."
Translating from PR-speak, it means even if you don't buy British Forces you'll still benefit from overhauled visuals and rebalanced multiplayer. Not a bad deal.
Is anyone here a Doctor?
The new console-only Lego Dimensions game (the one that's basically Lego Skylanders) keeps sounding better and better.
While we've already seen quite a bit of the game's Portal, Scooby Doo, and Simpsons sets, this week we finally got a look at Doctor Who—and it sounds pretty amazing. Not only is the Twelfth Doctor voiced by Peter Capaldi himself, but when you die the character will gradually regenerate through all thirteen of The Doctor's forms. And the TARDIS will step through all of its incarnations too.
For "collectors"
This week we've got not one but two tales of Collector's Editions gone insane.
First up is Call of Duty: Black Ops III which is selling a $200 "Juggernog Edition" replete with a working mini-fridge: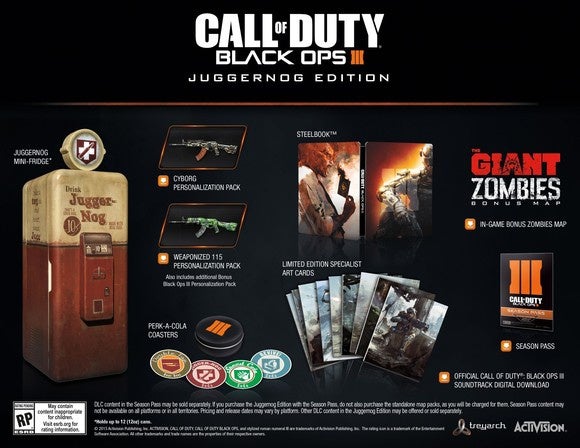 And then there's the Just Cause 3 Collector's Edition which comes with a fifteen-inch grappling hook. Okay, not a real grappling hook—it's just a model. But still.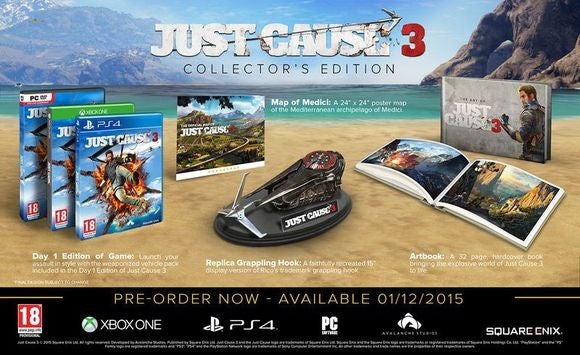 Jeff uh…finds a way
In other Black Ops III news, the Zombies mode will feature Jeff "How dare you speak to me" Goldblum in the lead role this time around. Sold!
Rounding out the cast: Heather Graham, Neal McDonough, Ron Perlman, and Robert Picardo. That's a hell of a lineup for what's technically still a spin-off mode. Truth be told, I'm more excited for Zombies right now than I am for the bit I've seen of Black Ops III.
Can't get any worse
Finally, in the least improbable news this week: The TV show Heroes is returning and bringing with it…a console tie-in game.
Yeah, I have a feeling I won't be too sad if this one doesn't get a PC port.
More reading