In our review of AMD's Radeon R9 Fury, we discovered that the Fury X's air-cooled sibling packs a performance punch that justifies its competitive price tag. In fact, it punishes Nvidia's GTX 980 and proved to be the true champion of AMD's new Fiji lineup. Which begs the question: If one Radeon Fury performs this admirably, will two of them in CrossFire start a flame in our PC-gaming hearts and earn those coveted slots in our 4K gaming rigs?
To find out, we tossed a pair of Radeon Fury cards into our test system and put them through a series of trials at both 2560×1440 (1440p) and 3840×2160 (4K) resolutions.
Because it's just not an entertaining analysis without injecting some competition from Nvidia, we also grabbed a pair each of GeForce GTX 980 and GTX 980 Ti graphics cards. Oh, and since we're using Sapphire's Tri-X Radeon Fury, which leaves the factory with a four-percent overclock beyond AMD's reference speeds, it was only fair to boost our reference Nvidia cards by that same four percent using EVGA's Precision X utility.
Essentially, we want to find out whether taking the plunge and adding a second Radeon Fury to the mix is worth the investment. But arriving at a conclusion means more than checking raw framerates. We're also going to put an emphasis on scaling, which is the boost in performance we see when jumping from a single video card to a second identical card.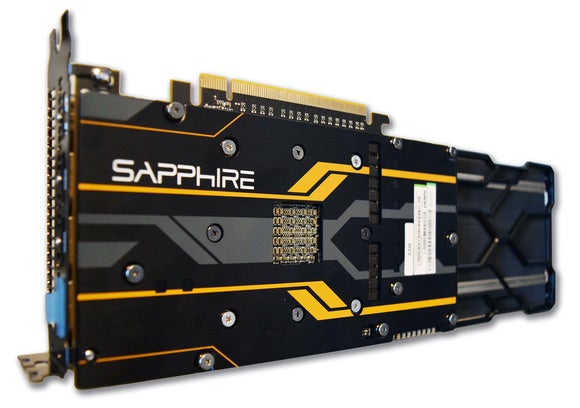 Here's how the highlighted video cards in our testing will impact your wallet:
Nvidia GeForce GTX 980: Begins at $499
AMD Radeon Fury: Begins at $549
Nvidia GeForce GTX 980 Ti: Begins at $649
Yep, to justify spending more than a grand on GPU eye candy, we'll need our dual Radeon Fury cards to squarely beat the pants off a pair of GTX 980s and prove that they can even challenge a double dose of Nvidia's $649 flagship cards.
But first, some housekeeping. For this particular evaluation we're rocking a monster 8-core Intel i7 5960x to prevent any kind of bottlenecking. It's chilled by a NZXT Kraken X41 liquid CPU cooler, supported by 8GB of lightning-fast G.Skill Ripjaws 2400MHz DDR4 memory. It's stacked onto an ASUS X99 Deluxe motherboard and powered by a Corsair AX1200i power supply. We're running clean installs of AMD's Catalyst 15.7 and Nvidia's GeForce 353.30 drivers on a fully updated Windows 8.1 system.
Taking it to the bench
3DMark's Fire Strike benchmark tests your system's DirectX 11 performance and murders video cards with a heavy dose of physics, tessellation, ambient occlusion, and other features you're used to seeing when you tweak those graphics settings on your favorite games. We can't use it as the perfect performance gauge, but it normally gives us a clear picture of how various cards stack up next to each other.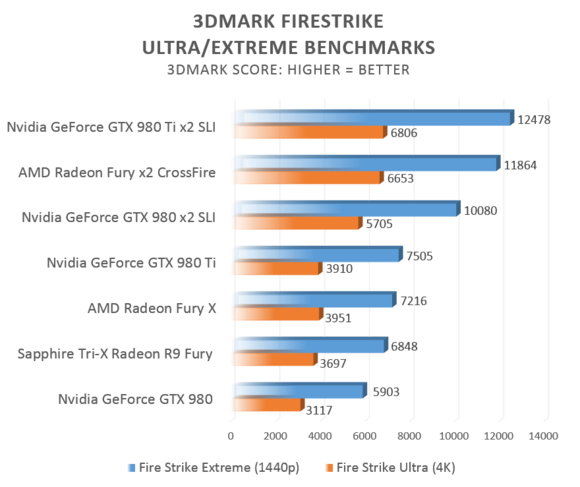 As you saw in our single-card Fury review, the Radeon Fury sneaks in dangerously close to Nvidia's more expensive GTX 980 Ti, and that's mirrored in multi-card testing. At 4K, Fury in CrossFire is 16 percent faster than GTX 980 in SLI, and only 2 percent slower than 980 Ti in SLI.
But what about scaling? How much of a boost do we get over single-card performance by throwing in the twins? Since we're talking about a serious cash investment, let's gloss right over the 1440p picture and zero in on 4K. Nvidia's GTX 980 scales at 83 percent, with AMD's Radeon Fury just behind it at 79 percent. The GTX 980 Ti comes in last at 74 percent, although all 3 cards actually improve their scaling performance when jumping from 1440p to 4K.
Will this trend carry over to real game testing? If so, the recommendation is a no-brainer.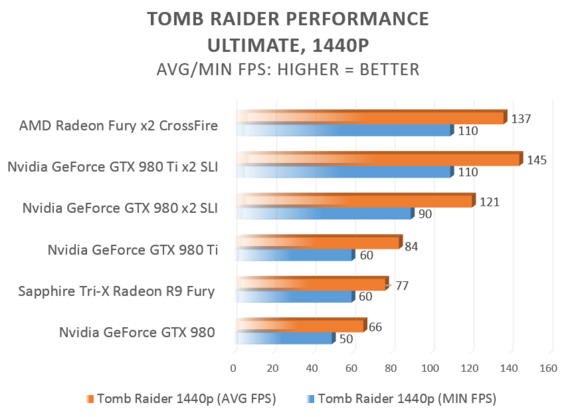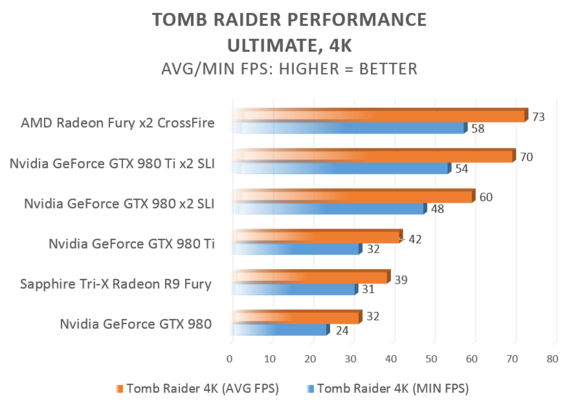 Lara Croft's last adventure slightly favors AMD hardware, but it's no surprise to see the pricier 980 Ti outpunching the Fury by a few frames in both single and multi-card configurations at 1440p. At 4K, however, the picture tilts and the Fury twins take the lead. Also, check out that exceptional 87 percent scaling improvement from the Fury at 4K. Nice minimum frame rates too!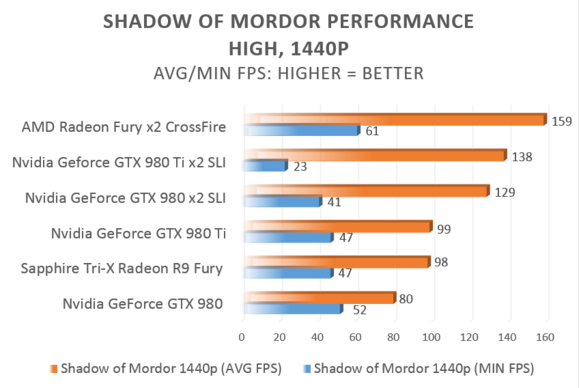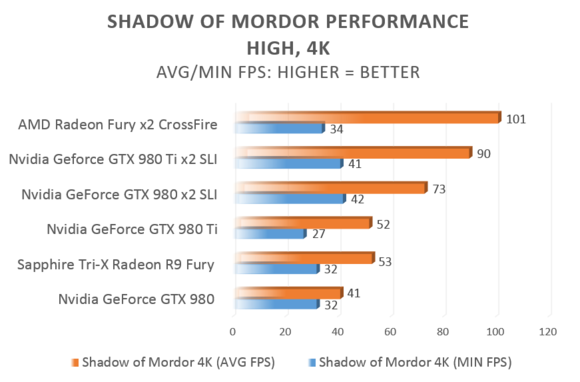 Middle Earth: Shadow of Mordor is where things start to get interesting. Notice how the 980 Ti and Fury are neck-and-neck in single-card shootouts, but here, the Fury takes a decisive lead over the 980 Ti in multi-card benchmarks. It's all because of scaling, baby. The Radeon Fury exhibits a whopping 90-percent scaling improvement, versus 78 percent on the 980 and 73 percent on the 980 Ti. I shouldn't whip the fanboys into a frenzy by mentioning that Nvidia splash logo during the game's opening credits—but I will anyway.
Time and time again across both of AMD's new Fiji-based cards, we're seeing that vaunted High-Bandwidth Memory make a difference at Ultra HD resolution. If only we could overclock it!
Putting the pedal to the metal
Let's move on to the real demanding stuff.
Our next set of benchmarks zeroes in on just the Radeon Fury, GTX 980, and GTX 980 Ti in dual-card setups. No compromises here, folks. You're forking over the cash, you want to see maximum graphical fidelity. That means Metro: Last Light Redux and Grand Theft Auto V on Very High Quality, Shadow of Mordor kicked up a notch to Ultimate, and Battlefield 4 running in Ultra Quality mode.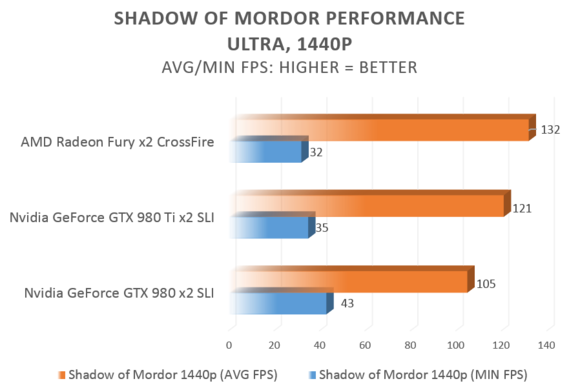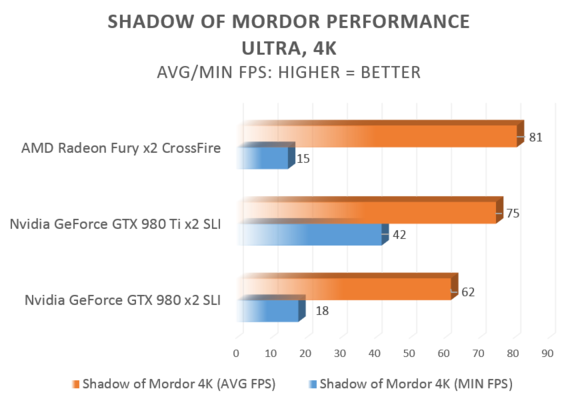 Even with Shadow of Mordor maxed out, we see the Fury twins besting their more expensive Nvidia competitors, although they risk some embarrassment with that minimum 15-frames-per-second result.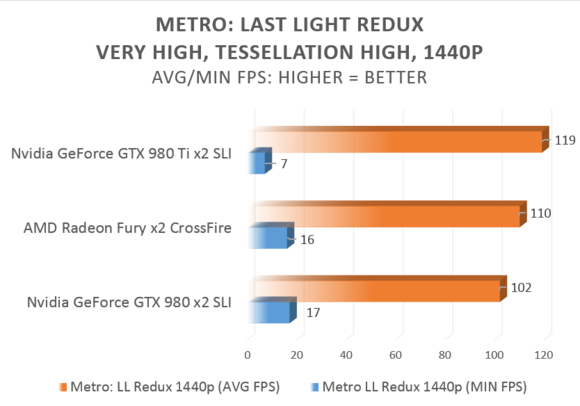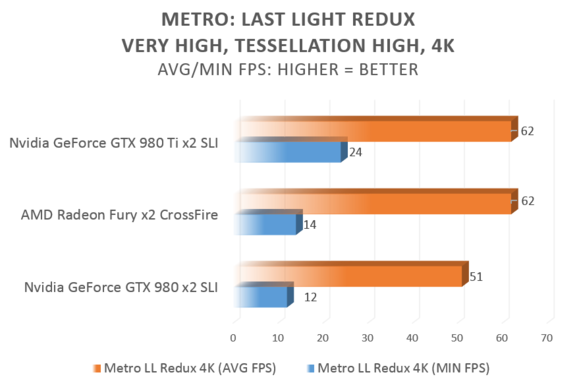 Metro: Last Light Redux, or as I call it, "The Other Crysis." It's here in this tessellation-heavy, Nvidia-optimized shooter that Team Green gets some relief at 1440p, but are once again challenged by the CrossFired Furys at 4K. They lock horns at an average 62 fps, but once again Nvidia gets the edge with concern to minimum framerates. Still, it's becoming obvious that the lower-priced Fury ascends to surprisingly competitive levels at 4K in a dual-card configuration.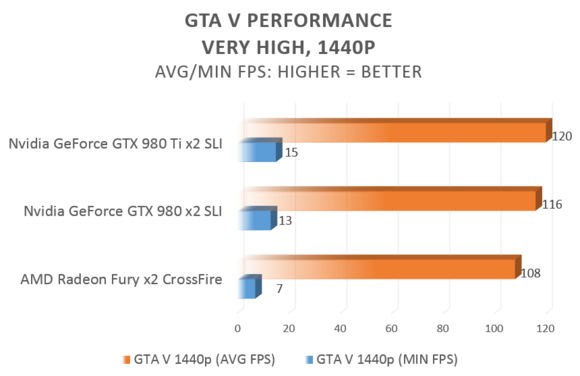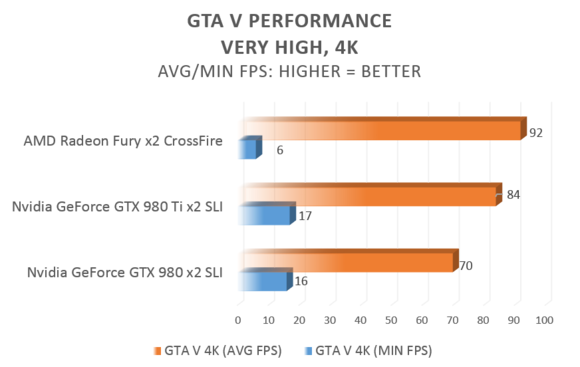 Rockstar Games did a superb job of optimizing their PC port of GTA V for a wide range of hardware. Nvidia clearly takes the prize at 1440p, but, surprise! Look who's out in front once again at 4K. Though the minimum fps is deplorable, Fury's 4K horsepower claims another crown.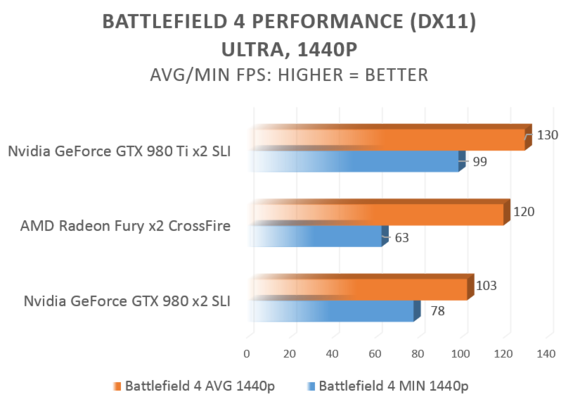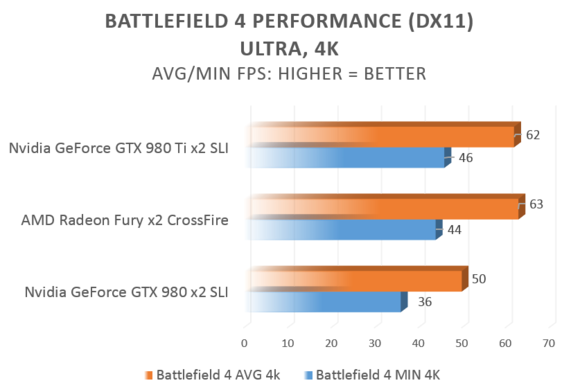 Finally we jump into Battlefield 4, and this is running in DirectX 11 mode, not AMD's Mantle. Once again, Nvidia's GTX 980 Ti wins at 1440p, while AMD's Fury leads—if by a hair—4K. Sure, it's awfully close, but the air-cooled Fury is this year's bang-for-buck king so far and is holding its own above its weight class. It's still baffling why the liquid-chilled Fury X isn't as strong a contender (though it'll be worth revisiting that card with more mature drivers), but there's no denying the fact that AMD is finally playing for keeps again with the release of the Radeon Fury.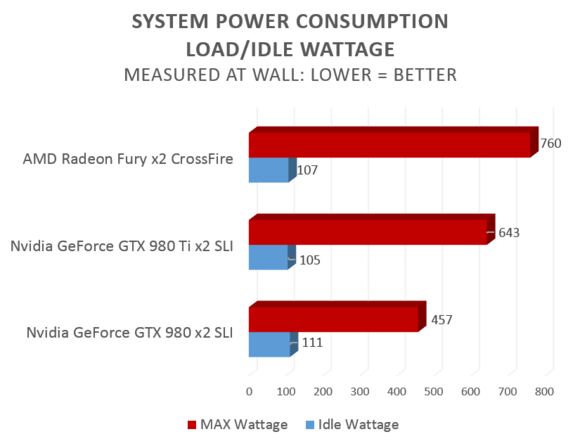 If I had to reach for a downside, it would be power consumption. Although AMD's Fiji architecture delivers better energy efficiency compared to Hawaii/Grenada (cards like the Radeon 290X/390X), Nvidia's power-sipping Maxwell cards still require far less power at the wall.
Taking the wheel
We've seen fantastic scaling performance and eye-pleasing 4K average framerates out of the Fury, but as you know the decision to run a high-end gaming PC with multiple video cards often comes with a serious compromise: Driver support.
One recent example? Before it was yanked, Batman: Arkham Knight shipped without AMD CrossFire support. If you had the Fury Twins in your rig, that meant one was effectively impotent. It took AMD about three months to institute CrossFire support for Far Cry 4. AMD CrossFire setups can still suffer from visual corruption issues in The Witcher 3 when anti-aliasing is enabled, even with the new Catalyst 15.7 drivers installed. Nvidia's not entirely innocent here, either, despite its recent onslaught of day-one Game Ready drivers. Games like Titanfall, Ryse, Shadow of Mordor, and Wolfenstein: The New Order—some of the top titles of 2014—all shipped without SLI support at launch.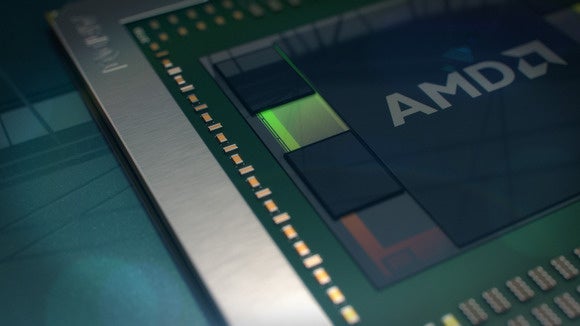 Both companies have recently taken serious strides to improve their multi-GPU support in new releases. If you want multiple video cards in your rig, the word of the day is "patience," but man, is it pure gaming bliss when everything's firing on all cylinders.
On the plus side, AMD's FreeSync display technology now boasts support for CrossFire, making smooth 4K gaming even more approachable—if not quite affordable enough to be adopted widely.
Had this been written before AMD's Catalyst 15.7 driver, which finally brings CrossFire support to FreeSync monitors, the bottom line would be murky. With that new driver support, however, the conclusion is clear. A pair of Radeon Fury cards in your system flat-out rocks, provided you're willing to pay a few extra pennies to the utility company and exercise patience when high-profile games are released without multi-GPU support.