Windows 10's alluring blend of bribery and compromise will surely win back disillusioned Windows 8 users once the operating system hits PCs on July 29.
On the surface, Windows 10 is nothing short of a major walking-back of Windows 8's most irritating aspects and a full-on love letter to traditional PC enthusiasts, replete with new keyboard shortcuts, virtual desktop support, paste functionality via keyboard shortcuts in the Command Prompt (finally!), and—oh yes—the return of the beloved Start menu. It's been a daily joy to use the Windows 10 Preview builds, and the near-final build 10240 shows much to look forward to.
Don't let that fresh new coat of paint fool you, though. Windows 10 may mask the nasty symptoms that made users shrink away from Windows 8, but it doesn't cure the underlying causes. Windows 10 still advances most of Windows 8's core missions—and those core missions are what made Windows 8 so controversial to many defenders of the traditional desktop.

It's what's inside that counts
Windows 8's touch-friendly interface was the target of the bulk of the operating system's criticism, and for good reason. It was an unmitigated disaster, blending an over-the-top, "my dog just barfed up a bag of Skittles" aesthetic with mechanical design that flat-out didn't work.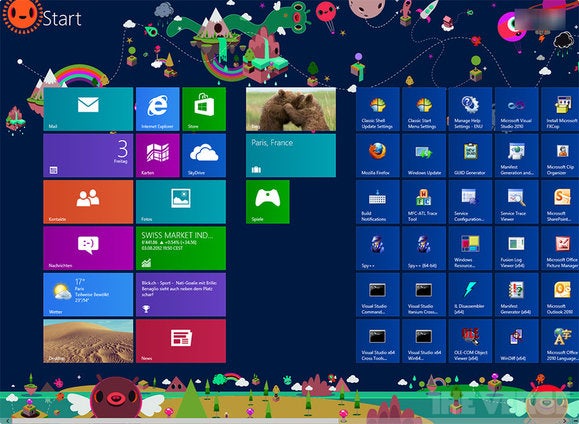 The interface formerly known as Metro seemingly basked in its abuse of wasted space, eschewing desktop functionality in exchange for mobile aspirations. Critical options were hidden in off-screen menus that gave no hint of their existence, or split between the traditional control panel and the Metro settings. Worst of all, the operating system insisted on frequently ripping you from one interface and dumping you into the other without warning until you learned to tame it.
It was a mess. Windows 10—thankfully—fixes it for the most part, after Windows 8.1 started the job.
But the Metro UI was only an ugly, overt manifestation of Windows 8's deeper mobile ambitions: The birth of the Windows Store and Microsoft's push towards coaxing more revenue out of users via subscription services. Both are still at the forefront of Windows 10.
If anything, Windows Store apps have been pushed even further into the limelight in Windows 10. Just like Windows 8, all of the core day-to-day software in Windows 10 are Windows Store apps, not traditional desktop programs. They're vastly improved, of course, by blending into the revamped Start menu, slipping into traditional desktop windows, and sporting a much more PC-centric interface—at least on PCs.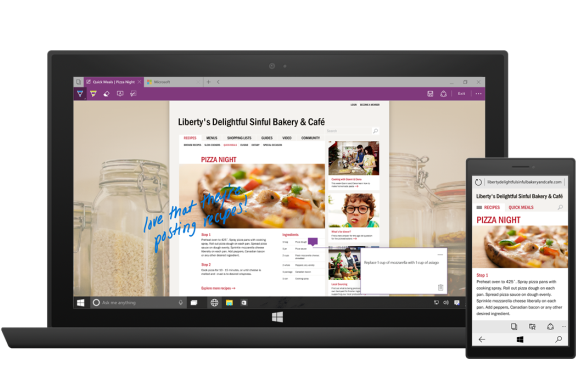 That last part is key. While Windows 8's apps worked on Windows 8 PCs and tablets alone, shoehorning the same interface across screens, Windows 10 revolves around "universal Windows apps." Universal Windows apps work across all versions of Windows 10, scaling their interfaces to fit the screen, from itty-bitty phones to wall-sized PCs and everything in between.
Universal Windows apps—software that is written once and works across all Windows hardware—are key to winning developers over to the Windows Store ecosystem. Universal Windows apps are the key to Continuum, a compelling new feature that lets you use your Windows 10 Mobile phone as a proper PC when it's connected to an external display. Universal Windows apps are a key to unlocking Microsoft's mobile potential, moving away from its reputation as "that PC company."
It's no wonder that the Windows Store is given prominent placement on the taskbar of both Windows 10 and Windows 8.1. Microsoft's future depends on it—and Windows 8 got the Windows Store off to a rocky start.
Microsoft as a service
But universal Windows apps aren't the only pony Microsoft has in the mobile race. Another underlying philosophy of Windows 8 was enticing users into Microsoft's warm embrace of services.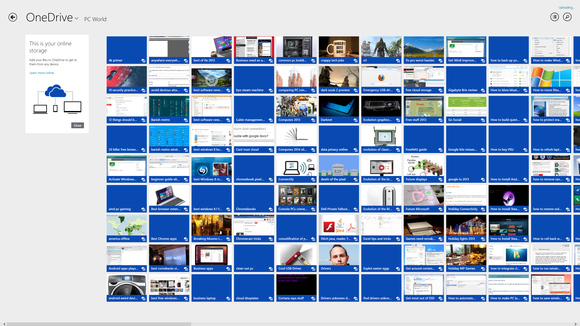 Native OneDrive integration. Dedicated Xbox Video and Music apps. Skype, Bing Maps, and Health & Fitness apps, all preinstalled by default. Search results that scour the Internet with Bing to mix web and Windows Store results in with locally stored files (complete with the occasional full-screen ad). The list of Windows 8's cloud service hooks goes on and on, all tied together neatly by an underlying Microsoft account.
That services integration goes even furthered in Windows 10, bolstered by new CEO Satya Nadella's command to get Microsoft services in front of as many people as possible, on as many devices on possible.
All—well, most—of Windows 8's default apps return in Windows 10, but they're joined by some newbies. The new Xbox app ties into Microsoft's console gaming ecosystem, allowing you to track your Xbox Live friends, achievements, and game clips, as well as stream games from your Xbox One to your PC. It's joined by new "Get Office" and "Get Skype" apps that, well, encourage you to do exactly what you'd expect.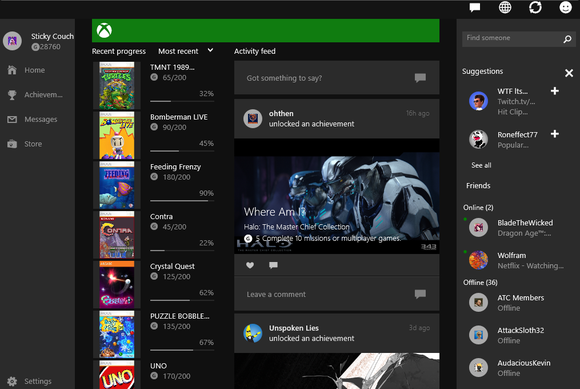 Coaxing users onto Microsoft services makes absolute sense for Microsoft, giving it the capability to transform consumer Windows customers from one-time license/PC buyers into yearly cash cows—no doubt a huge concern as PC sales continue to plummet.
A Windows license costs roughly $100 for lifelong use. An Xbox Live Gold subscription, on the other hand, will set you back $60 a year. Use up the free 15GB of OneDrive cloud storage? (It's easy, with Windows and the OneDrive mobile app prompting you to back up everything to the cloud.) Monthly subscriptions cost $2/mo. for an extra 100GB or $4/mo. for 200GB. Or you could spend $70 to $100 a year for Office 365, which also comes with 1TB of additional OneDrive storage (synergy!) and 60 minutes of Skype calling. Did I mention Windows 10 has a "Get Skype" app and Windows 10 Mobile includes native Skype integration?
But Cortana, a key Windows 10 feature that replaces Windows' search function and comes baked into the new Edge browser, is even cleverer.
Let's get one thing straight: Cortana rocks! She has spunk, something Siri and Google Now can't claim. But more to the point, on Windows Phone 8.1, the digital assistant proves insanely helpful, surfacing local establishments, setting reminders, scouring the web, and more.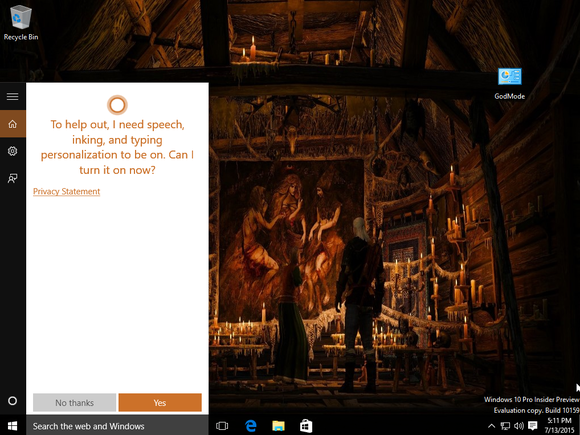 In order to do so, however, she taps into Bing's knowledge engine, pulling information from the web to augment her results. To deliver the best, most tailored information, Cortana needs to build up detailed personal information about your personal quirks and preferences (which you can manage, of course).
In other words, Cortana's built from the ground up to get you using Bing—even if you aren't aware you're doing so—and to create a remarkably detailed profile about you for Microsoft. And once you're hooked on your PC, Microsoft hopes you'll stay loyal to Cortana, with plans to bring the digital assistant to Android and iOS in the coming months.
Glass half-empty or glass half-full?
That's fine, of course, if you're fine with it.
Most people will find Cortana's tailored help useful, and the assistant's eventual ability to search your local files using natural language—"Find me photos over 5GB in size from December of last year"—sounds much more intuitive than the programmatic drop-down menus Windows searches relied on in the past. Microsoft's services can be a blessing as well. As a writer I live in Office, and I rely on OneDrive and Windows 8's cross-device account syncing on a daily basis.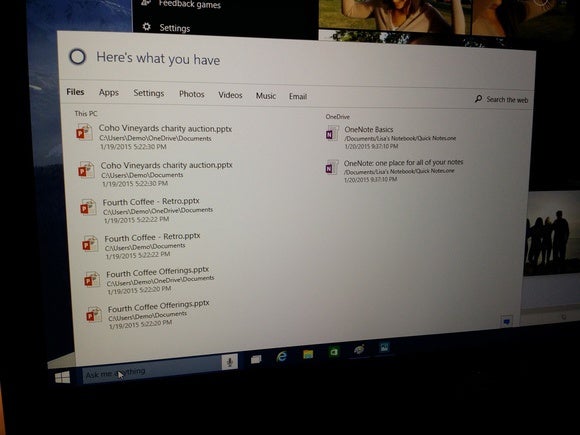 The beauty of Windows 10 is that it morphs Microsoft's central vision from the multi-hued monstrosity that was Windows 8 into something that feels like it truly belongs on traditional PCs. Rather than slamming you over the head with Windows apps and Microsoft apps, Windows 10 (mostly) seamlessly integrates them with the desktop paradigm. It's a massive step forward from Windows 8, and I look forward to using it every day for the foreseeable future.
But for people who disdain the idea of trapping desktop software inside a walled garden dubbed "The Windows Store," or people who prefer to have their PC completely under their control rather than brimming with web hooks and enticements to buy Microsoft services—people who consider Windows 8's Live Tiles and full-screen apps a symptom of Windows 8's core disease, in other words—Windows 10 will do nothing to cure that ill, even though you can opt to ignore it all and work offline with third-party software.
Just something to think about.