At a Glance
Expert's Rating
Pros
Based on Microsoft's Type Cover keyboard
Three-month battery life
Connected to all the phones we tested against
Cons
Odd quasi-ergonomic key layout
No way to tilt or otherwise adjust keyboard
Our Verdict
Microsoft's Universal Foldable Keyboard connects to all three mobile platforms, and it folds. Aside from a slightly odd quasi-ergonomic design, it's a solid product.
Who cares about a mobile keyboard? After all, I can thumb-type quite handily, I can dictate text to Windows 10 via Cortana, and I'm never too far from a physical keyboard, especially with thin-and-light ultrabooks or a Surface tablet. So why bother with Microsoft's latest Universal Mobile Keyboard?
Because eventually, if Microsoft's Continuum vision comes to pass, it will become your PC's keyboard, too. And that makes evaluating it more important than you might think.
Fortunately, the Universal Mobile Keyboard can be summed up quite neatly: it's essentially Microsoft's very good Type Cover keyboard, but in a split-keyboard, quasi-ergonomic layout that connects to all three major mobile platforms via Bluetooth. It's spill-resistant. And, of course, it's foldable. I've confirmed this.
Using it couldn't be easier. Simply unfold it, and it automatically turns on and connects to any devices that you have previously set up to connect to it. Microsoft claims the battery will last for three months, after which you'll have to charge it using the included microUSB charger. The keyboard measures 11.61 inches wide by 4.9 inches high when unfolded; and 0.45 inches thin, when folded.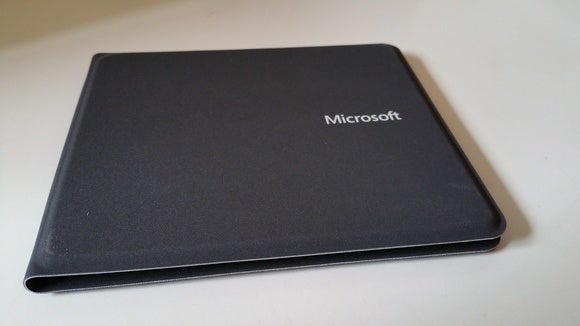 Ergonomic keyboards usually split down the middle to allow a user to position his or her wrists in a line drawn from the elbow straight to the tips of the fingers. In practice, that usually means that a typist has her forearms pointed slightly inward, or pigeon-toed, and an ergonomic keyboard will accommodate that.
Though Microsoft makes no claims that its Universal Folding Keyboard is ergonomic, the split keyboard features includes both "N" and "T" keys that are twice the width of the others, characteristic of an ergonomic keyboard. Yet the keys are aligned vertically, much like any other standard keyboard. The keyboard also lies perfectly flat.
There's no getting around it: I was able to type at about half the speed I normally would using the Universal Foldable Keyboard, primarily because the split keyboard and the oddly-sized keys felt unnatural. Keep in mind, though, that I'm both a relatively lousy typist as well as someone who generally doesn't use an ergonomic keyboard. After several hours of use, though, I still didn't like using it.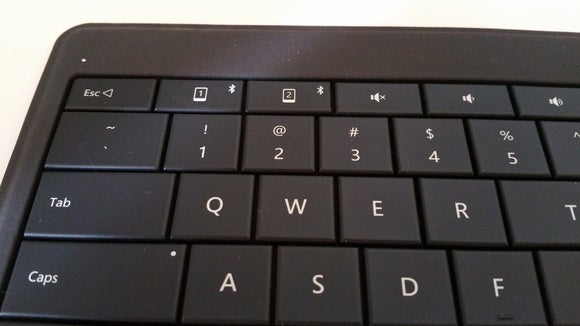 And that's a shame, because otherwise, Microsoft's keyboard is very well built. I'm probably slightly biased here because it's nearly identical to the slightly smaller Surface 3 version of Microsoft's Type Cover; I've used the Surface Pro 3 as a daily driver for more than a year, and become quite fond of Microsoft's Type Cover keyboard for both machines.
Still, there are differences. The key layout doesn't follow either the Surface 3 or the Surface Pro 3, but tucks a subset of the most common functions into the top row: volume and playback controls, search, a key to lock the phone or tablet, and a button to change the keyboard to adjust its layout to the three different mobile operating systems—Windows, Android, and "iPad /IPhone" (not iOS). Microsoft doesn't actually label the top row of keys with function controls at all, although a Function key is indeed present on the keyboard.
The keyboard itself also includes two Bluetooth buttons, each of which can be held down to pair with a particular device, allowing you to set up the same keyboard to connect to a tablet as well as a phone, for example.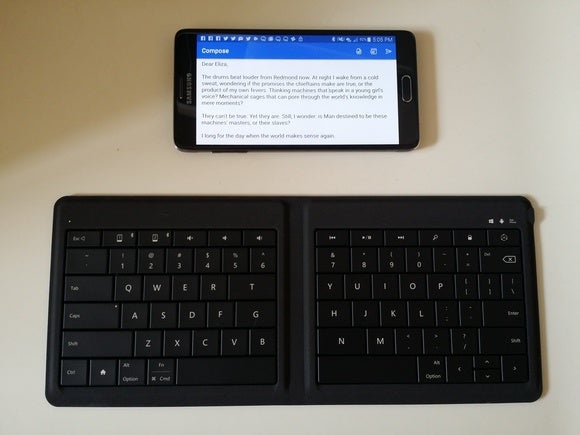 Microsoft dubs its Bluetooth keyboard a "universal" one, and the keyboard will connect to phones running Windows Phone 8, 8.1, 8.1 Update 1, Apple iOS 7 through 8.1, and Android 4.4.2 through Android 5.0.
I had no problem connecting the keyboard to either a Windows phone, and Android phone, or to phones running Microsoft's latest version of Windows 10 Mobile. (Just be sure that when the phone asks you to enter a password on the keyboard itself that you hold down Shift to type numbers, and hit Enter.) The only device that wouldn't connect to the keyboard was a Surface Pro 2 tablet running a pre-release version of Windows 10.
Eventually, phones with Windows 10 Mobile built in will be able to connect to an HDMI monitor through a cable (or wirelessly) via Microsoft's Continuum vision. Mobile versions of Universal apps like Office will expand to cover the vast expanse of the desktop display, transforming the mobile phone into something more like a full-fledged Windows PC. If all goes as planned, some day you may be leaving your Windows tablet at home, swapping it out for something far less bulky.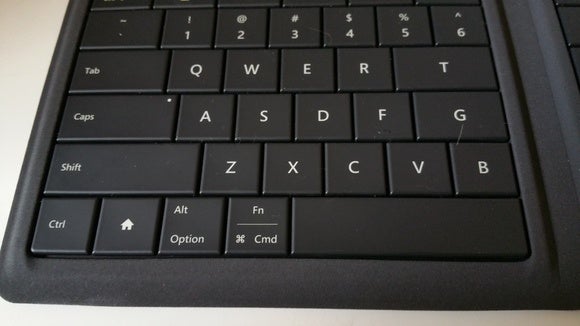 If that day ever comes to pass, you'll need a keyboard to accompany that phone. And that's where the Universal Mobile Keyboard comes in.
Some might think that we're going to be somewhat generous in awarding this keyboard the rating we did, given that I felt it was uncomfortable to use. But I tend to feel that keyboards tend to be subjective experiences; those that prefer split keyboards may love Microsoft's device. I don't. But there's no denying that the keyboard is well-built, and stands on the shoulders of a keyboard I've used daily and quite enjoyed. From that standpoint, I'd recommend it.
Updated at 12:03 PM with the keyboard's dimensions.