Twitter's stock spiked in midday trading Tuesday after a fake Bloomberg news report said the company had received an offer to be acquired for US$31 billion.
The story appeared convincing, with a Bloomberg Business logo, but Bloomberg quickly tweeted that it was fake. There were some telltale signs it wasn't authentic: the URL was businessweek.market rather than businessweek.com, and CEO Dick Costolo's name was misspelled.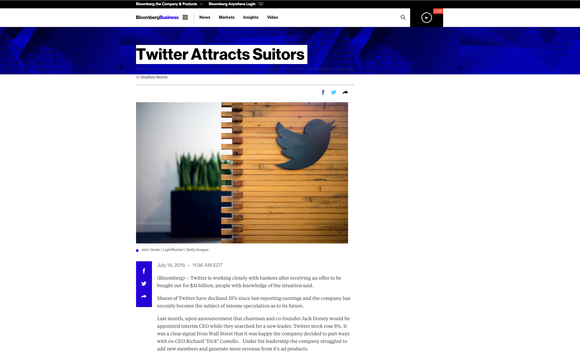 That didn't stop Twitter investors from reacting. The company's shares on the New York Stock Exchange spiked briefly just before noon Eastern Time, surging about 10 percent from Monday's close to more than $38 before settling back down as news spread that the report was fake.
It wasn't immediately clear where the fake story originated. In a video on its site, Bloomberg said it was investigating.
Twitter has been rumored to be an acquisition target for sometime, making the story seem more credible. It's also faced scrutiny lately over the health of its business. Costolo left his post as CEO earlier this month amid investor concerns about sluggish user growth and the strength of Twitter's advertising business. Twitter cofounder Jack Dorsey is now interim CEO.
Twitter is due to report its second-quarter financial results later this month. Last quarter, it failed to meet analysts' expectations for revenue.
A Twitter spokesman declined to comment on the fake news story.