Microsoft said late Friday that game streaming from the Xbox One to Windows 10 PCs has come out of preview, opening it up to everyone running the latest build (currently build 10240) of Windows 10.
Microsoft also said it planned several feature updates to the Xbox app over the next few days, including the ability for the app to mine your old PC games and add them to your game collection.
As the name suggests, game streaming relays game play from Microsoft's Xbox One console to a connected PC, allowing a gamer to play Forza Horizon in the family room, for example, while other family members watch Monday Night Football on the living-room TV.
Why this matters: There's two ways of looking at this: On the one hand, it ties Microsoft's ecosystem together, giving bonuses for owning various sets of Microsoft gear, including the Xbox One and a Windows 10 PC. On the other hand, it's just plain cool.
From preview to public
Previously, Microsoft had made game streaming a preview application, requiring users to run a special preview version of the Xbox One dashboard to access it. With the update, all users need to do is ensure they're running the latest Windows 10 build and the latest version of the Xbox app.
Microsoft said Xbox app should automatically update via the Windows Store, but you'll need to go into the Settings menu of the Xbox app and ensure you have version 7.7.16004.00000 or higher. (You may actually need to search for the app in the Store and download it; I had to.)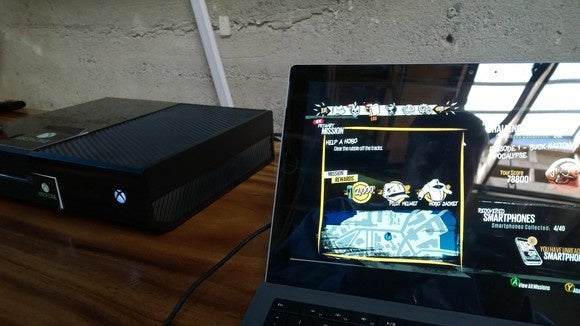 Note you'll have to enable game streaming on both your Xbox One console and your Windows 10 PC. On the One, enter Settings > Preferences > Allow game streaming to other devices, and make sure streaming is enabled. On your Windows 10 PC, launch the Xbox app, then scroll down the left-hand menu to the Connect icon. You'll be offered the option to connect to your Xbox One. (You may need to enter the console's IP address manually.)
Once connected, you can pick a game out of your collection and then select Play from Console, or else just use the Xbox One native menu. Finally, you'll need to own and connect either an Xbox One or wired Xbox 360 controller to your PC or tablet to make it all work.
Other Xbox app updates
Throughout July, Microsoft said it would be adding new capabilities to the Xbox app. The updates will include support for older PC games, allowing gamers to show off older titles from their collection. Gamers will also be able to upload game clips and screen shots from Windows Store games to Xbox Live.
Finally, gamers will be able to take a photo of their avatar and use it as their "gamer pic," or representation of themselves. Users will have access to many more customization options, Microsoft said.